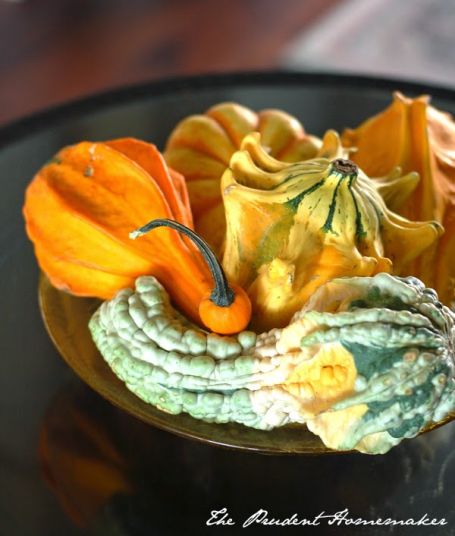 My mom offered me some gourds that she bought from a farmer (in Oregon earlier this week). I was to choose 5 for myself, so I chose the 5 above and put them in a shallow bowl on my entry table.
I cut and brought in three huge bunches of basil.
I cut Armenian cucumbers and green onions from the garden. I cut up one Armenian cucumber and put it into two pints, and covered it with pickle brine from other pickles I had previously canned (that we ate this week) and put those two pints in the fridge.
I planted radish, beet, and parsley seeds in the garden. Hopefully these will come up; the other seeds I planted during a cool spell a couple of weeks ago never germinated, as the weather quickly returned to temperatures over 100ºF.
A wonderful storm came through and gave us some good rain. (It's now rained twice this month; this is highly unusual for here. Normally it rains one good day in January and one day in July, each for a few hours. About 5 other days in the year are about 30 seconds of rain.) I turned off the drip system and sprinklers so that they wouldn't come on the next two days. I have never seen a storm like this in Las Vegas; it was like watching a summer storm over the plains states. Even though it rains so infrequently here that the houses do not have rain gutters, I collected 16 gallons of rainwater in buckets to use to water my potted plants from below the valleys on the roof where the rainwater flows more heavily.
I was able to have the air conditioner off for a good portion of the day on Saturday, which saved about $7 in electricity. I am looking forward to the cooler days in the coming months that will allow me to lower my electric bill. In a month, we won't need to run it at all, but I will keep it off for as many extra hours as possible this month. A summer month of electricity is $13 a day, while a day when I don't run it (in the spring) is less than $3 a day. We still have several more hot days coming (it was 100º several days this week) but each extra hour I can keep from running the air conditioner will add up, resulting in a $100 or more savings on the next month's electric bill.
I found a book that I was planning to buy for Ezrom for Christmas in the clearance section of a bookstore for $2.99!
I used a gift card that I received years ago (but didn't have that store in our area) while on our trip to purchase a container of face lotion, 3 dozen eggs, and some candy (the candy will be a gift to my husband.
Before we left on our trip, I reprogrammed the air conditioner to 84º, so it would run less while we were gone (turning it off would have meant the house was over 100º, as it was over 100ºF outside. When it gets that hot inside, cabinets and door frames can be damaged by the heat). When we returned, I reprogrammed it back to 79ºF.
In the early mornings (when we returned), I turned off the air conditioner and opened up the windows for several hours to keep the house cool and freshen the air.
I updated my garage sale list in preparation for the neighborhood garage sale that I shop each October. I now have a tally of how many of each item of clothing I need.
I worked out an arrangement to have piano lessons for Wren for trade. I will watch the piano teacher's children in exchange for a lesson every two weeks. Wren was wanting lessons and our piano teacher suggested this to us this week. My mom pays for a lesson for Winter and Liberty (every two weeks, rather than every week, to keep the cost down) and paying for another child to have piano lessons was not in her budget or mine. I will watch her two youngest while my other two have their lessons (our piano teacher comes to the house, so she can bring her children with her).
What did you do to save money last week?