My first Christmas after I was married, I made a wreath with my sisters-in-law as a project where my mother-in-law provided the supplies. I still use that wreath; for years it hung on my front door, and now it hangs in my kitchen over my stove. It was made with an inexpensive wreath from Michael's ($4), pinecones from my mother in law's yard (some of which were painted gold with spray paint), some ornaments, a ribbon bow, a few sprigs of gold and white balls, and a faux bird.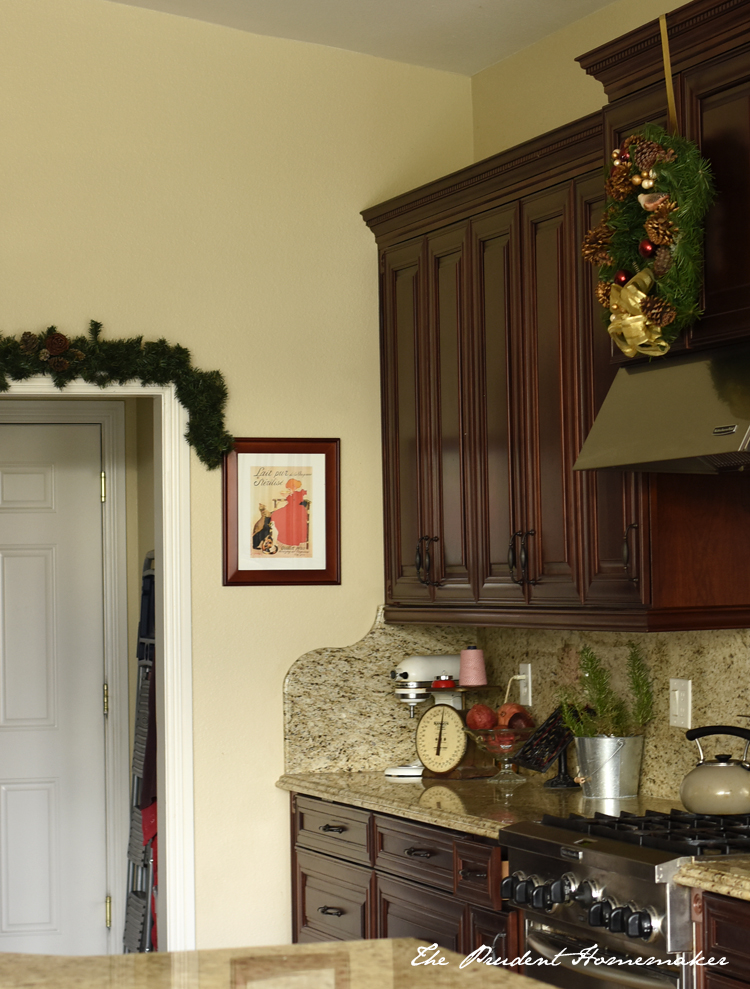 Here are a few ideas to deck the halls and spruce up your house for less: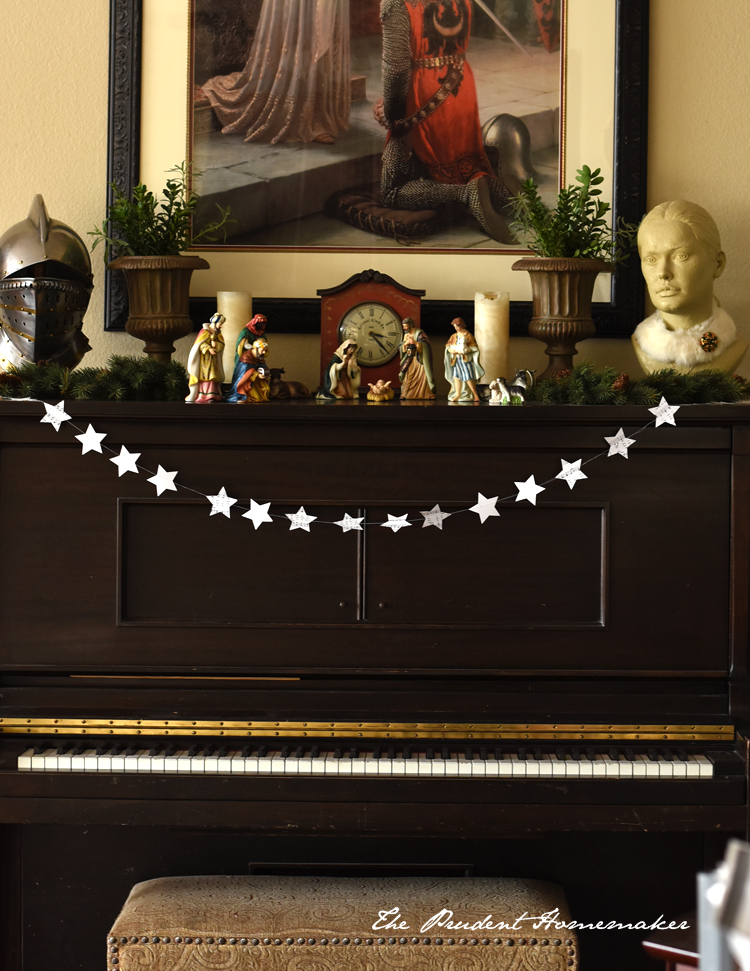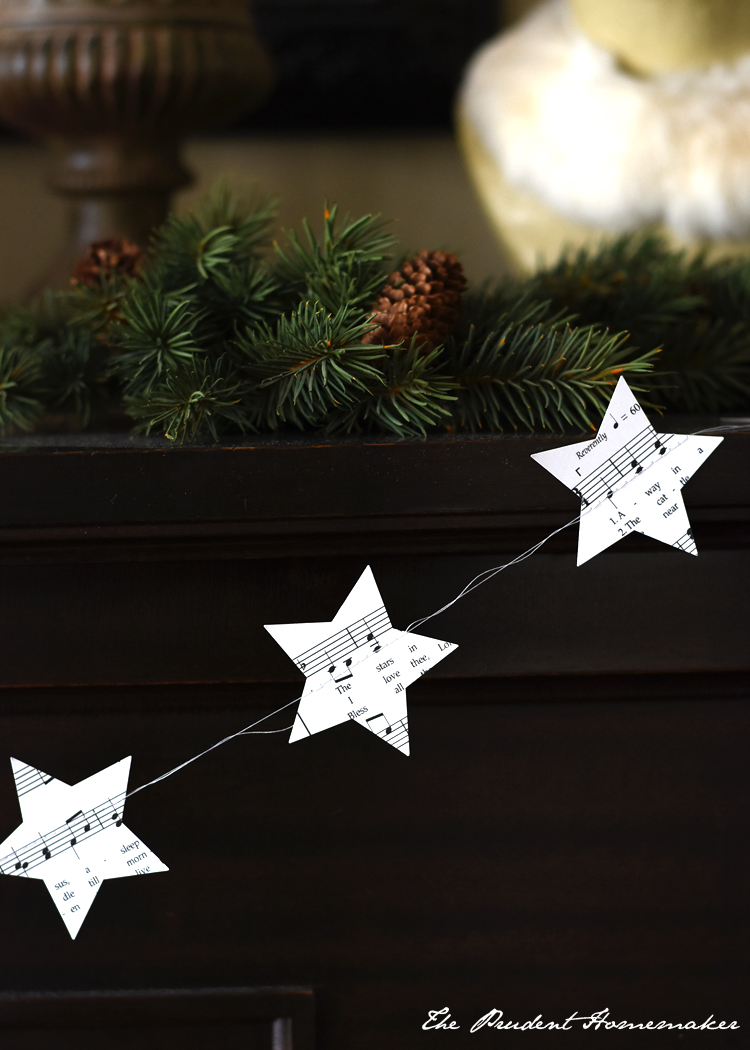 Use paper
Make garlands, bunting, or paper chains. Make wreaths and miniature trees. Make paper ornaments. Print out some free images to hang or frame.
If you want Christmas music, print some out before making your project. The Graphics Fairy has lovely free images. Here's a beautiful tree topper project from there.
Check out my Christmas crafts Pinterest board for lots of fun ideas to make with paper.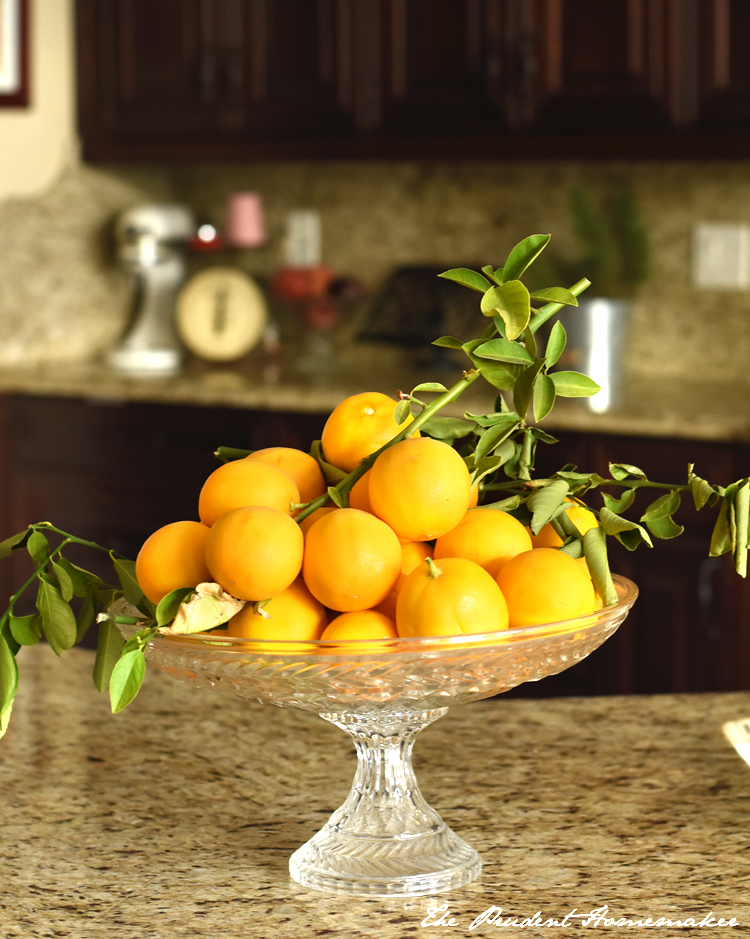 Decorate with fresh seasonal fruit
Use a bowl or a cake stand to display apples, pears, oranges, clementines, or lemons. Nuts in the shell are another great seasonal option that lasts even longer.
Decorate with fresh greenery from your yard
Use any evergreens you have in your yard to tuck on pictures, on gifts, in vases, and in displays. Make a wreath on a wreath form or on a wire hanger, or make a fresh greenery garland. Collect pinecones and use them in your displays. If you don't have evergreens, see if a friend has a tree or two in need of a trim who will allow you to trim from their trees.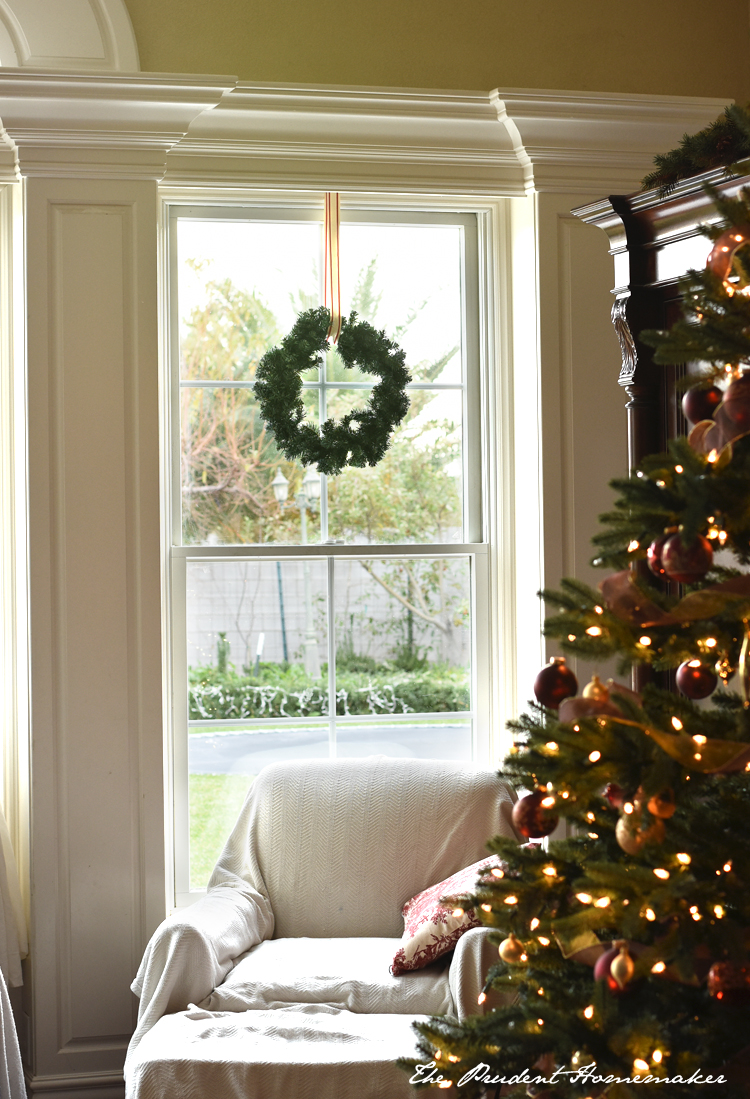 Invest in some artificial greenery
This doesn't have to be a lot, and it doesn't have to be all at once.
Michael's carries inexpensive wreaths and garland. These are currently 50% off this week. The 24 inch wreaths are $3.99. They also have a 9 foot garland that is $2.99 this week. Closer to Christmas, these can go even lower; I paid $2 each for 2 wreaths like this years ago that I hang in my windows.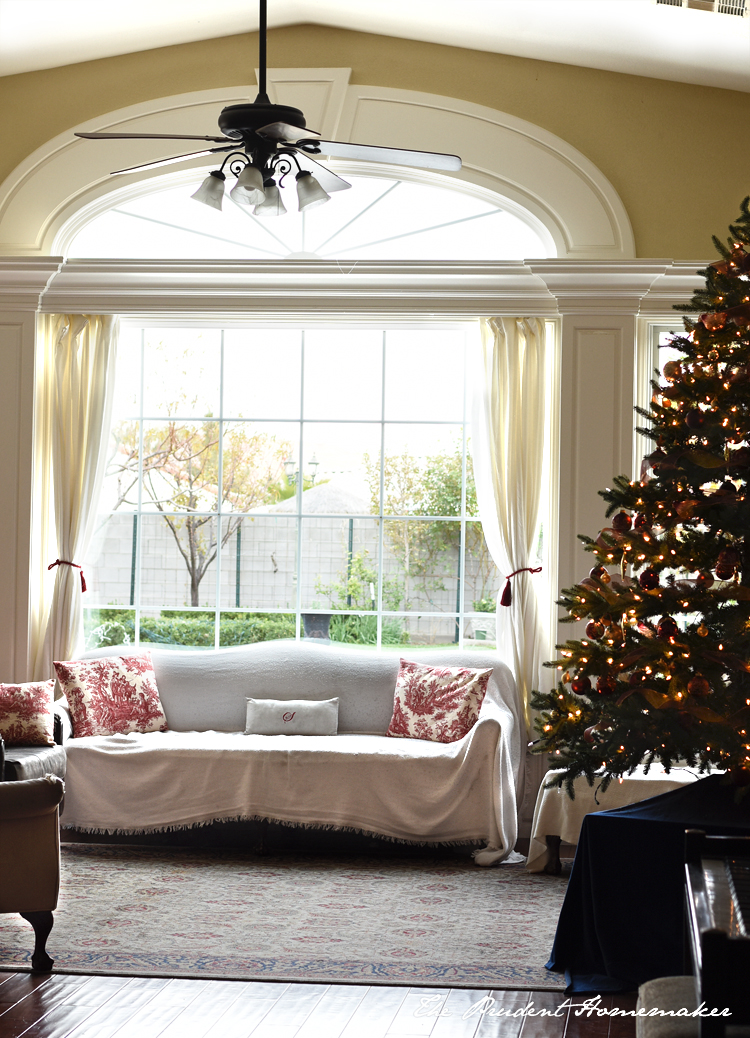 Depending on where you live, an artificial tree can be a long-term money saver (bought on sale or clearance to begin with, of course). If you live where you can cut your own trees for $5, a fresh tree is a cheaper option. Our current tree is 9 years old, and we bought it for $80 as a display piece a week and a half before Christmas.
Use and reuse ribbon
Over the years, my husband has received a few gifts at work of goodies wrapped with beautiful ribbons. I've saved the ribbons to use on presents every year. They're also useful to decorate the house.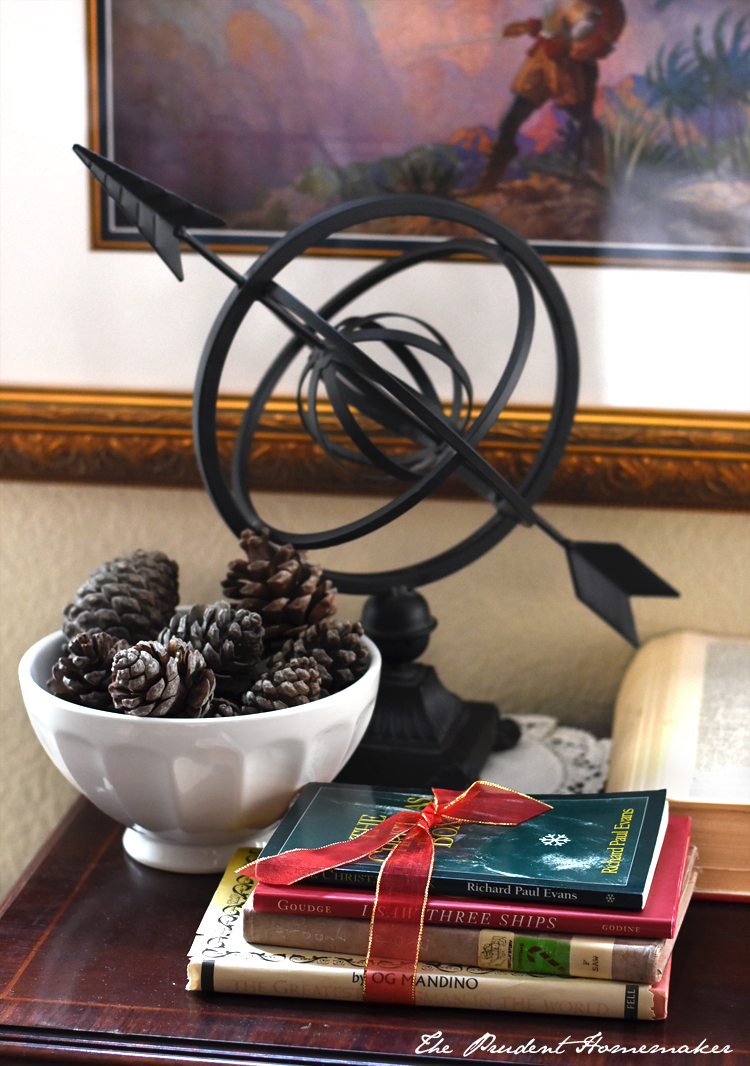 Most craft stores have their Christmas ribbon 50% off this week, if you are looking to buy a spool of ribbon to use for many years.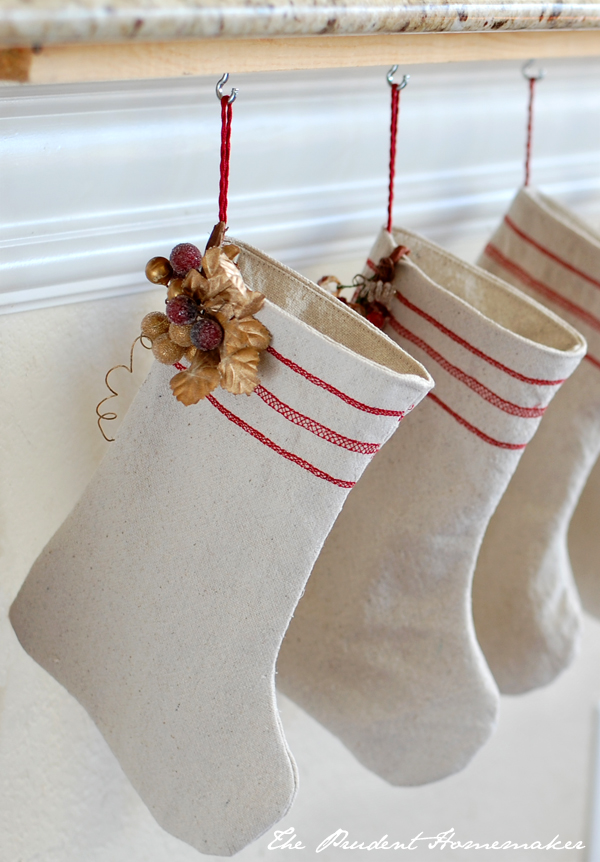 Sew it yourself
Whether you're making stockings or oranaments for your tree, there's a free pattern out there that you can use to whip something up for less than the storebought version. I love Pinterest for this.
I made these stockings for my family using a bit of a painter's drop cloth, some fancy stitches on my sewing machine, and some embroidery thread to make the hooks.
Display what you have
Cookie cutters, twine, spools of ribbon, mixing bowls, loose jingle bells, cake stands and candles–all can be used in creative ways as part of your Christmas display.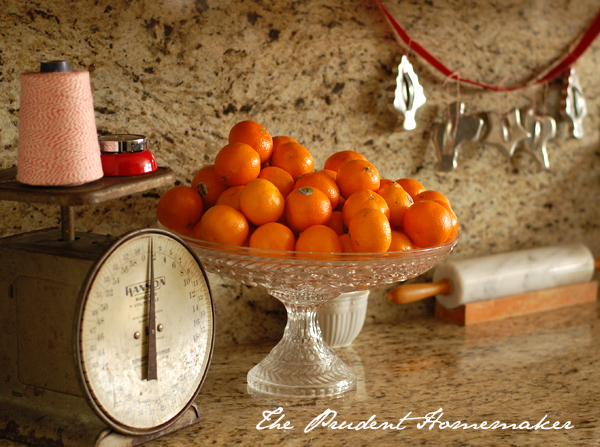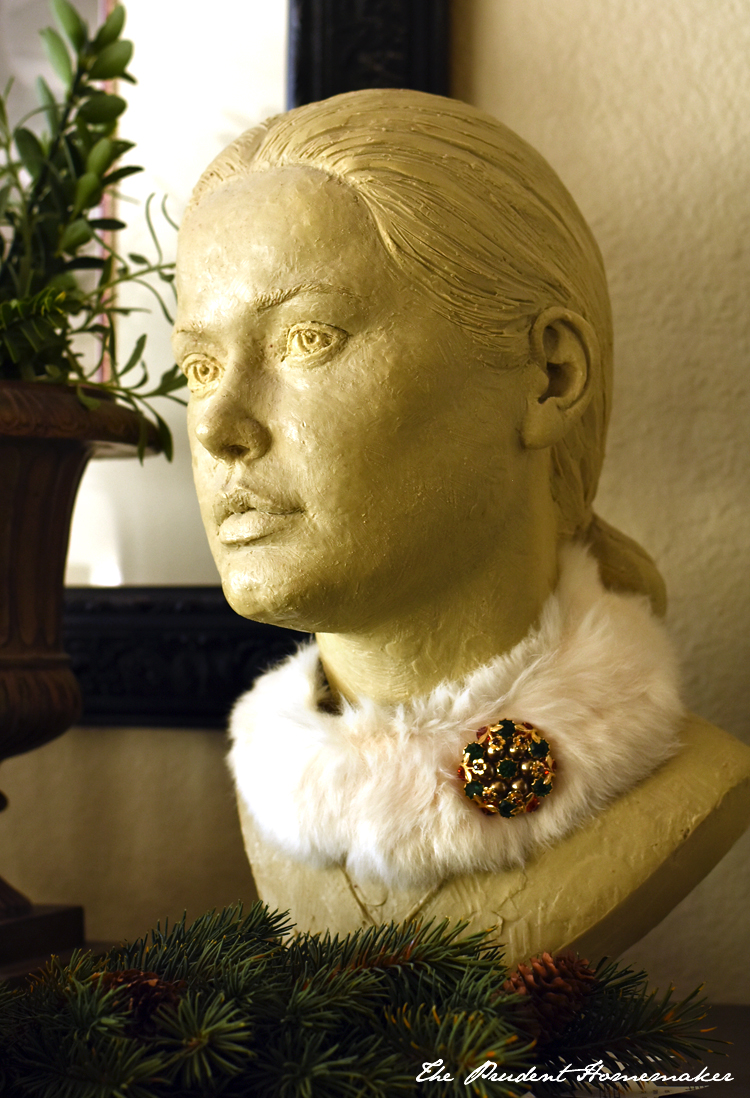 For this bust, I added a child-sized vintage collar (put on backwards) and a vintage Christmas pin. These belonged to my grandmother and to her mother.
For more more frugal decorating ideas, check out my Christmas Inspiration board and my Christmas Crafts for the Children board on Pinterest.