Welcome to our home!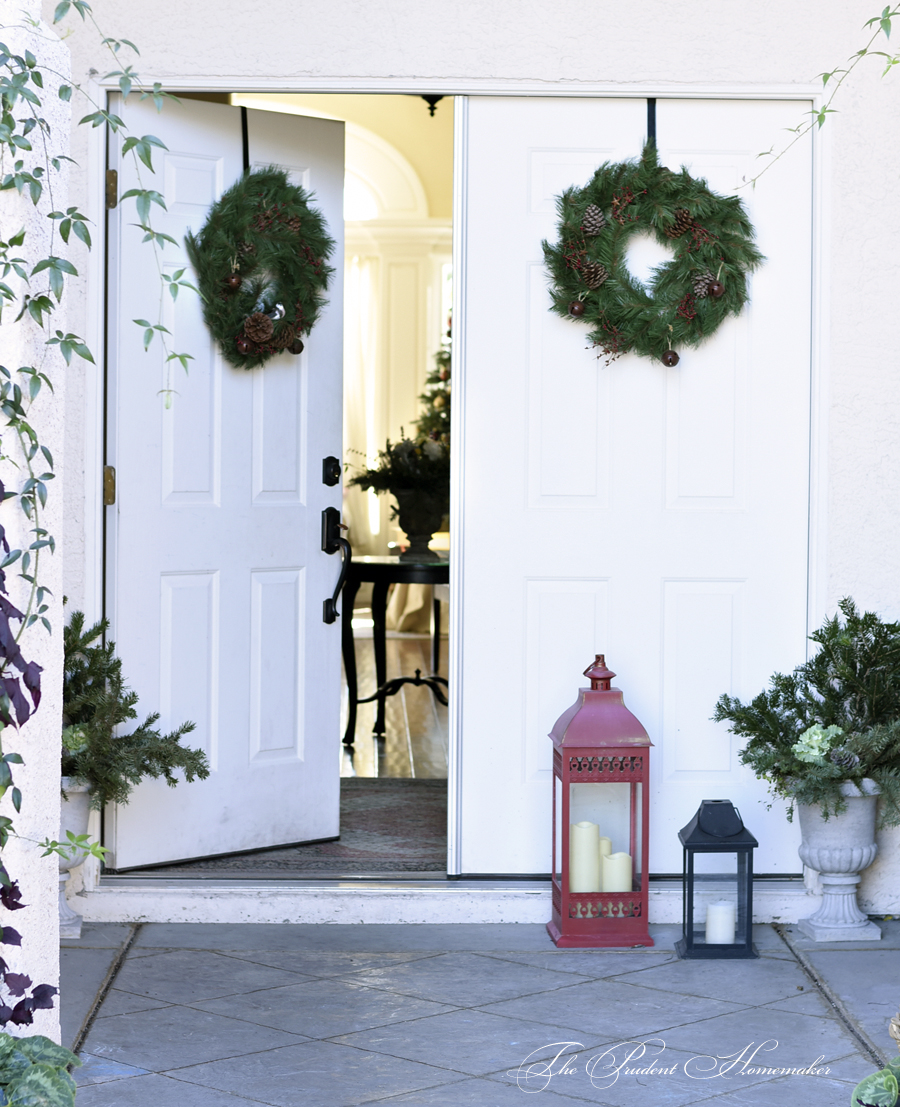 In the urns by the front door, I added some free Christmas tree trimmings and free pinecones. Many places that sell Christmas trees will give free Christmas tree trimmings if you ask.
I hung some wreaths I bought several years ago.
This year, I added the two lanterns by the door. The black one I bought used for $5 earlier this year (it turned out to have a broken hinge, but it still works fine). The red lantern has faux candles inside that don't light up and a crack in the bottom; my mom found it for free at someone's trash last year after Christmas and picked it up for me.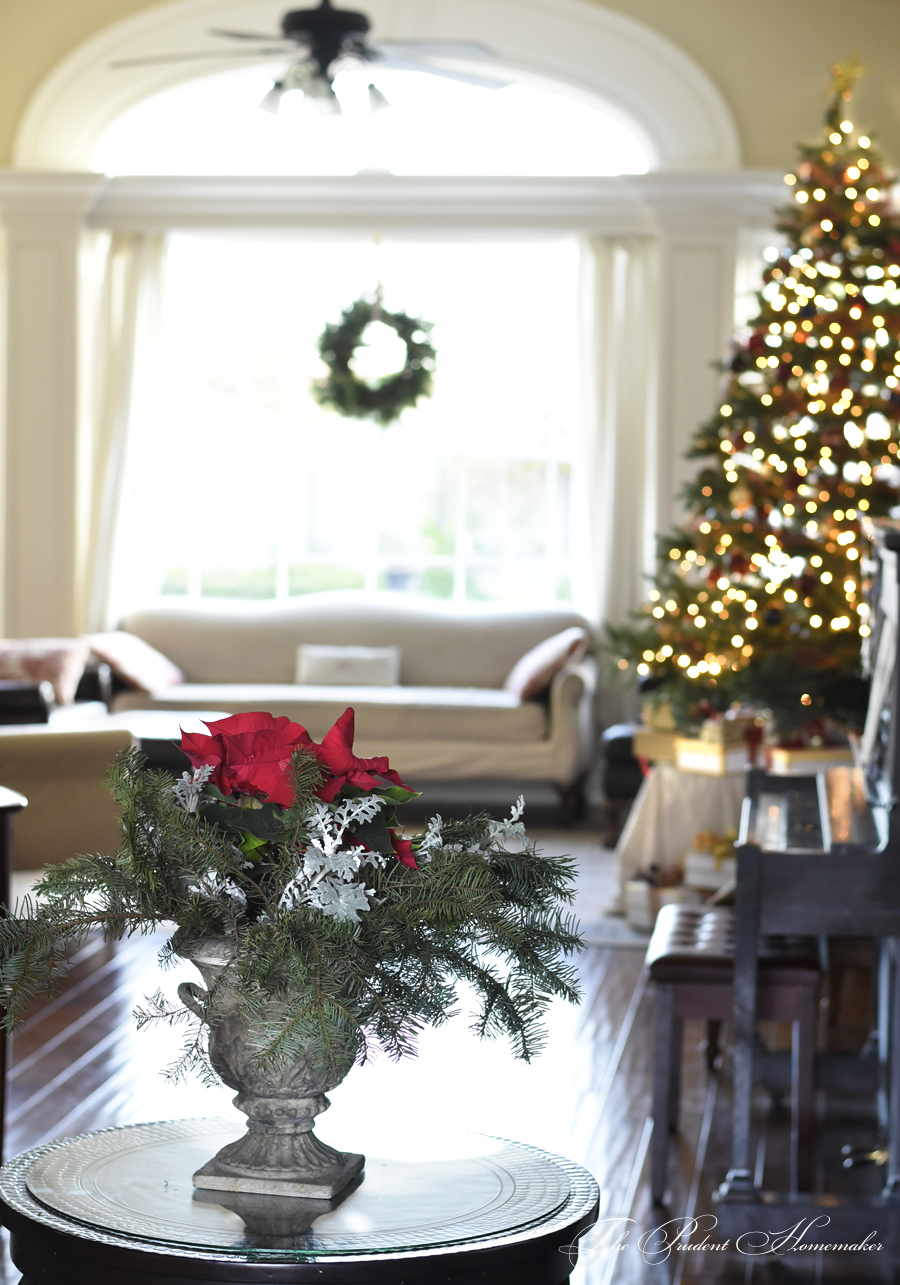 We were gifted this poinsettia a couple of nights ago by some friends who came caroling at our door. I took out the roses and basil from this arrangement (which were done) and put the poinsettia in the middle instead with the dusty miller from our garden and the free Christmas tree trimmings.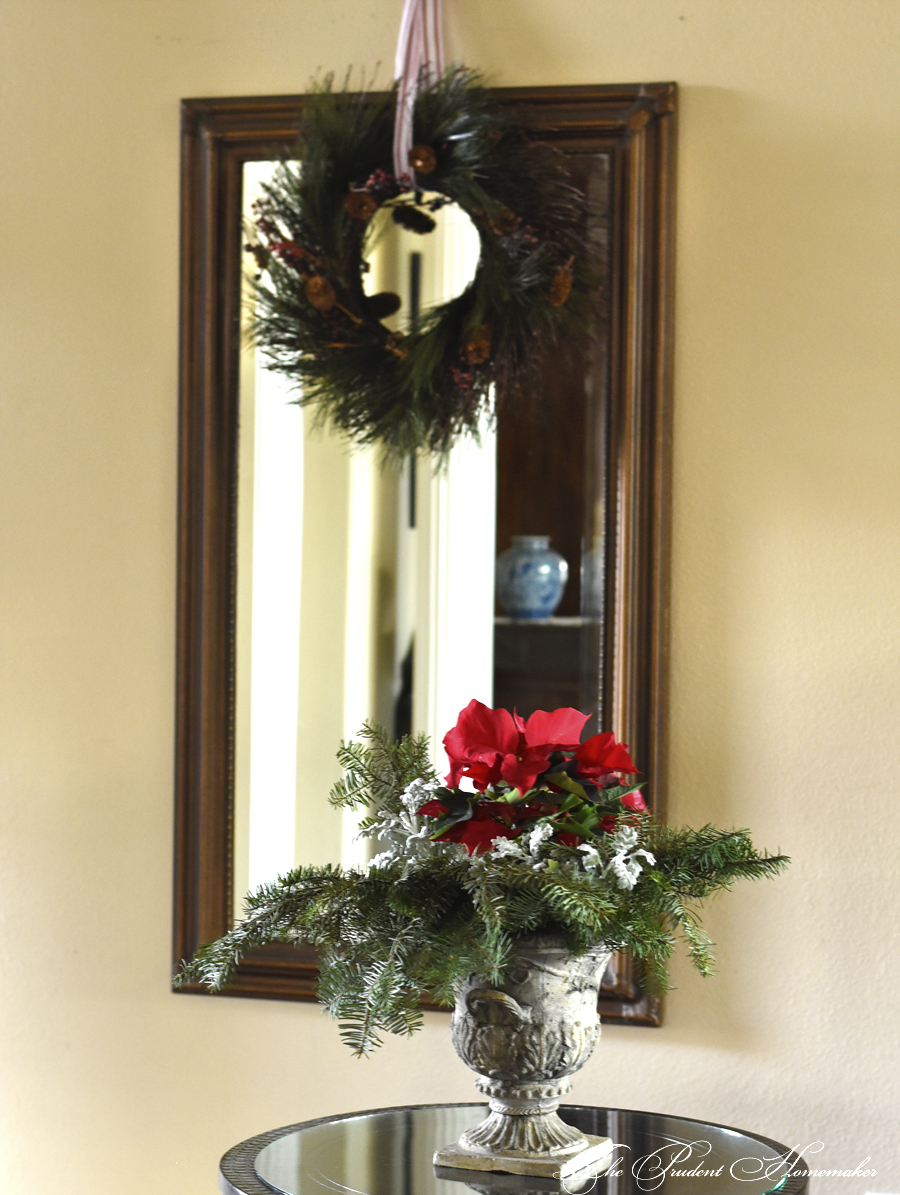 The wreath was a $2 garage sale find in October. I used a ribbon that used to be the drawstring to a pair of flannel pajama pants. The pajamas wore out years ago but I kept the ribbon. The urn was an $8 garage sale find in October.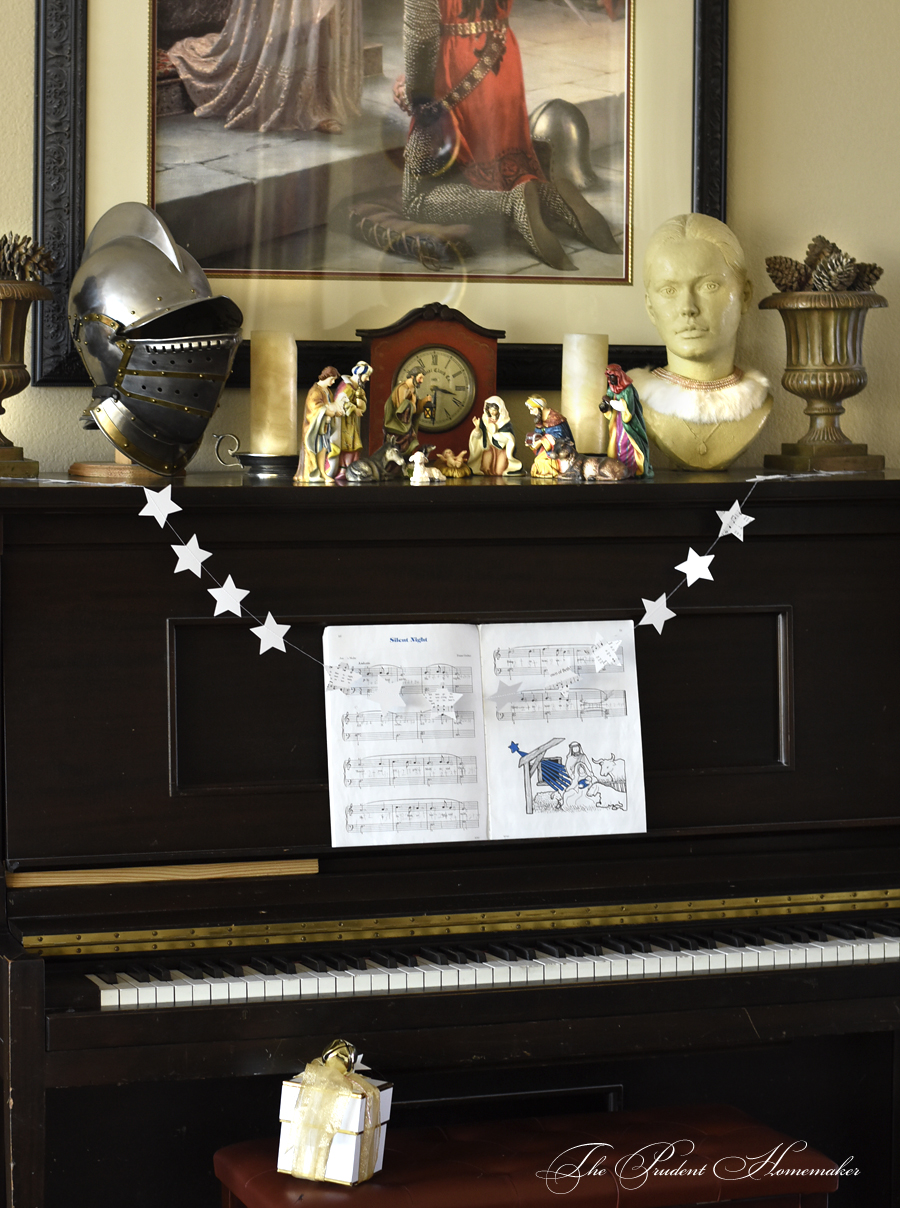 I bought our Nativity set 16 years ago with my husband at Walmart for our second Christmas together.
I hung the star music garland that I made for another Christmas. I used a vintage fur collar from my grandmother on the bust, and I added pinecones to the urns.
The Christmas book is one from which my daughters are currently playing. We sing Christmas carols every night as a family starting the first of December, and sometimes one of my daughters will play for us when we sing. I have been enjoying hearing them practice their Christmas music all month.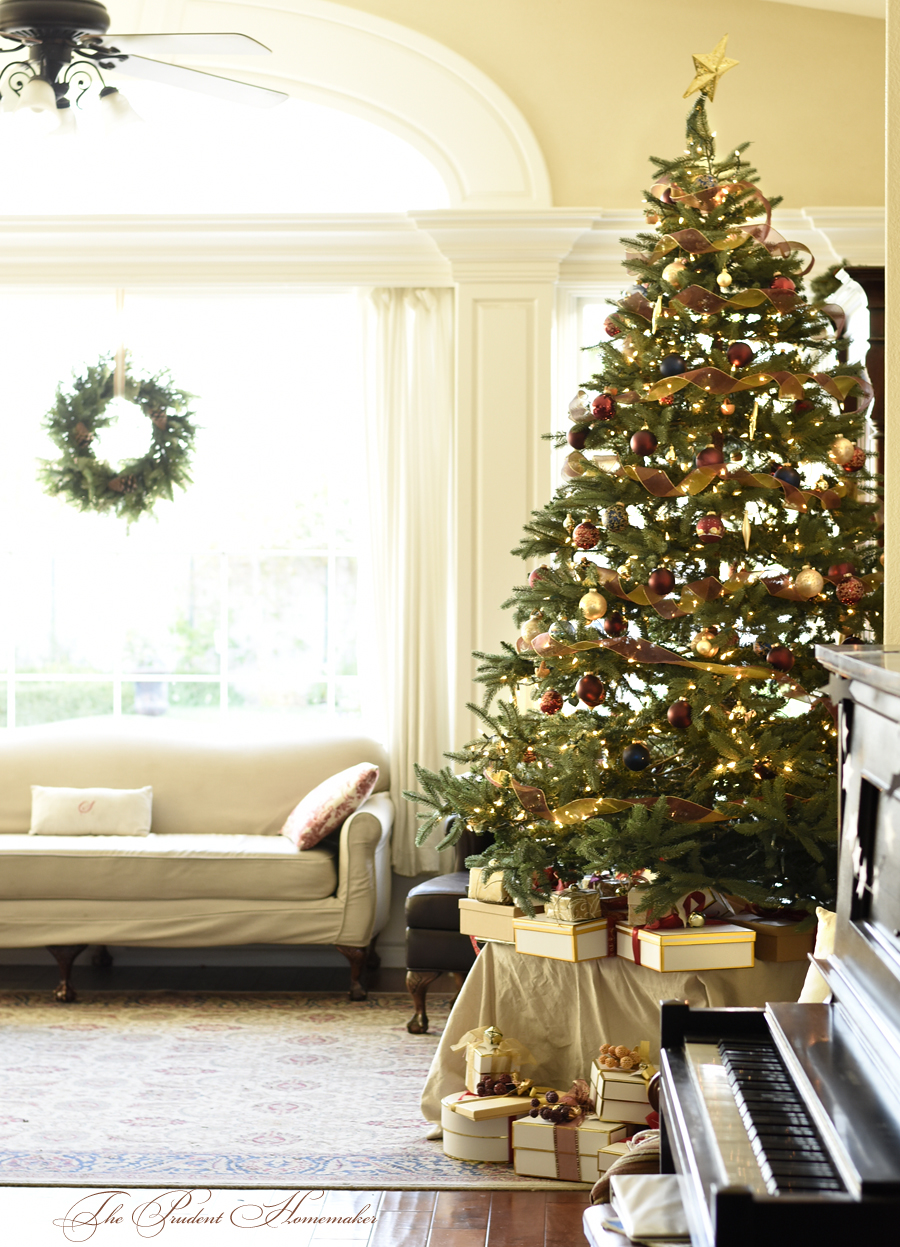 A woman who works with my husband gifted him the beautiful live wreath that is hanging in the large window. I have two small wreaths in the end windows, but I wanted another in the middle window. One day I hope to purchase a large faux wreath for this space.
Our tree is a beautiful faux one that we bought 11 years ago from Lowe's. It was the display model and they couldn't find the box. They charged us only $80! (This style of tree retails for $300 to $400). We have it in a tree stand that is bolted to a little table (the table was free and my husband cut the legs down to make it a bit shorter). Having the tree on the table gives the illusion of a taller tree, and it keeps our toddler from reaching too much of the tree. He can reach the bottom two branches, so we don't have any ornaments on those branches this year. We have eight children, so this arrangement has worked well for us for years to keep the tree and ornaments save from toddlers.
The ribbon and ornaments on the tree are ones we have had for many years.
I made the tree skirt this year from some drop cloth that I had on hand.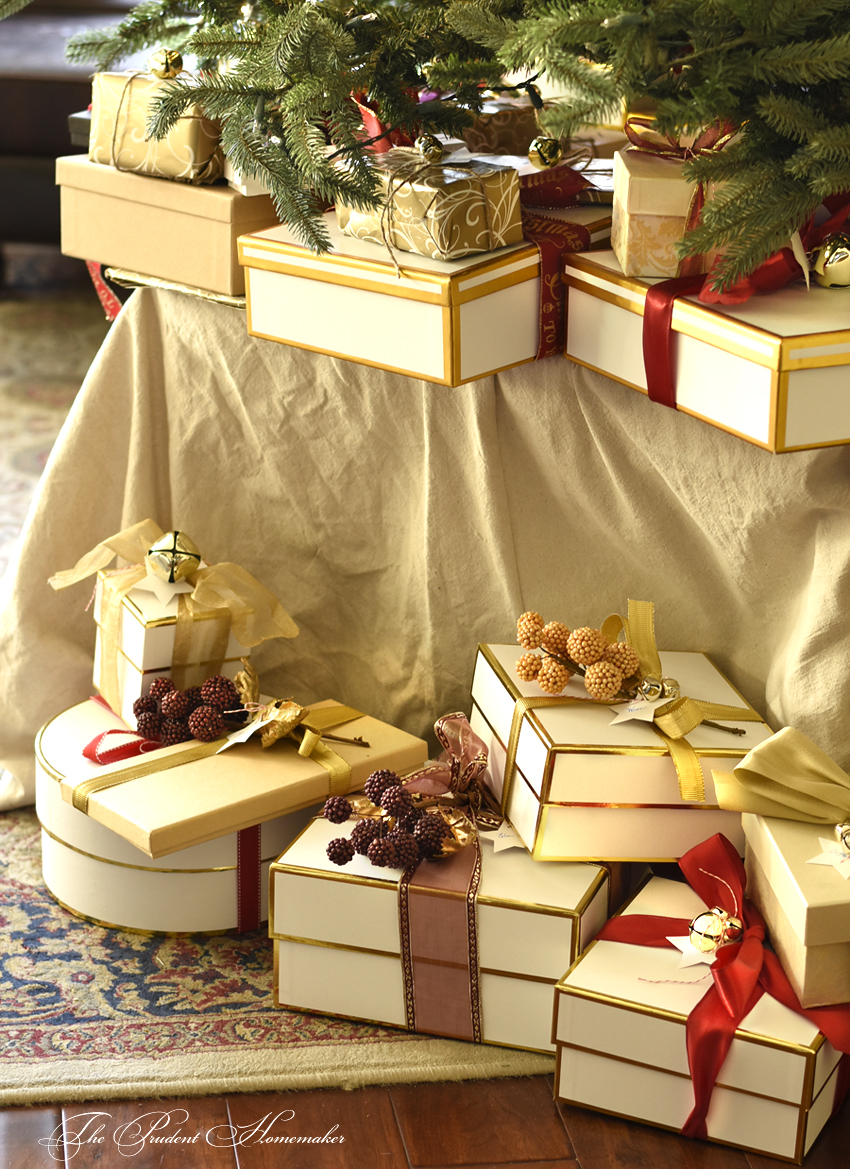 I have been wanting reusable boxes for years. I had a few velvet covered ones that were gifted to us years ago. I added the brown ones and the two white and gold ones that are on the table last year (I found them at Target in the gift wrapping section). This year I was very excited to see that Target was offering more reusable boxes in the Christmas section, and they were very similar to the boxes I bought last year. I bought several. I can use these every year for Christmas, as well as for birthdays, without needing to use wrapping paper. Since I hand make gifts and purchase many gifts at garage sales, I don't usually have boxes for my gifts. This will make wrapping so much easier for me every year.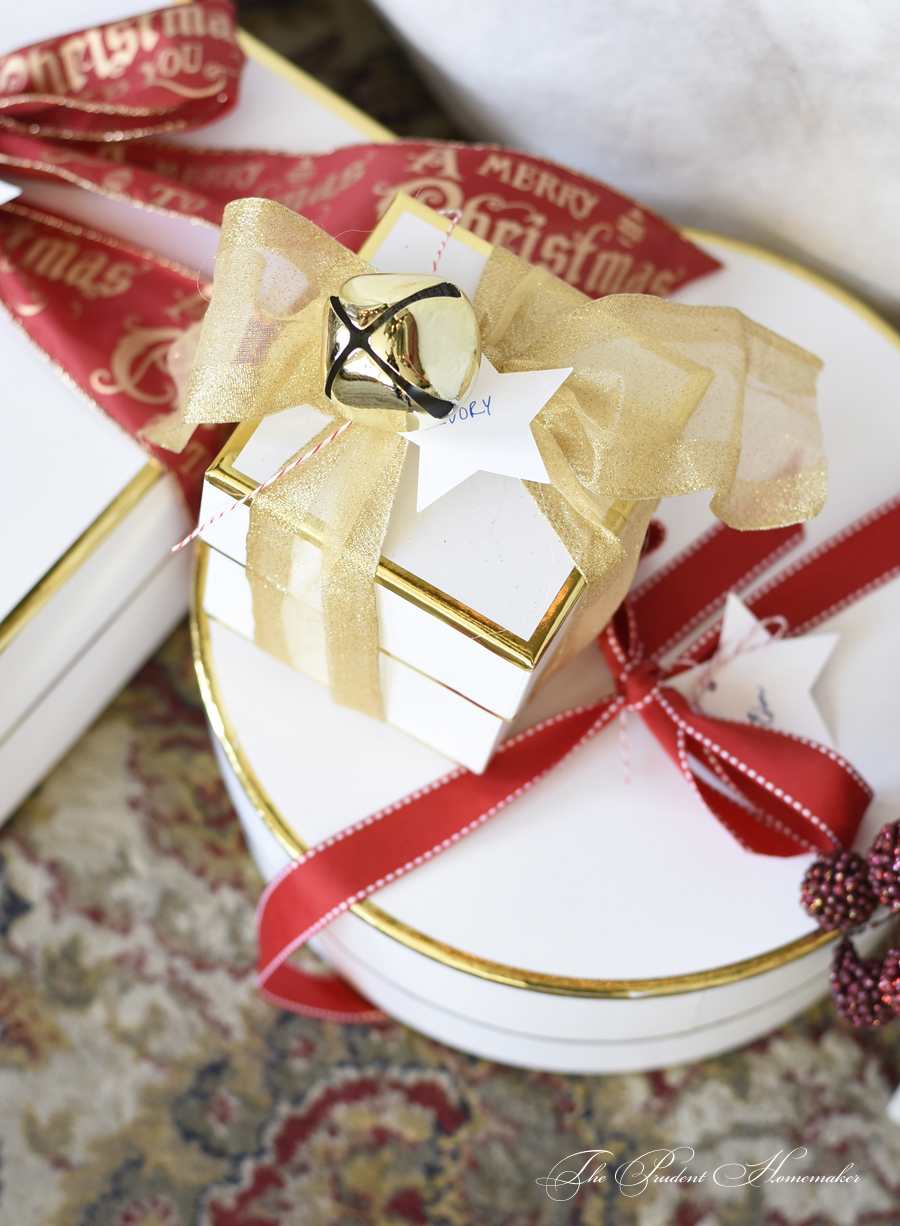 I purchased a few spools of ribbon to tie the boxes closed. I also have lots of ribbon that I've saved from gifts we've received in years past that I use to close boxes.
I bought the gold and burgundy faux berries this year from a local Facebook garage sale page for $3 for 12 of them.
I bought some large and regular sized jingle bells this year as well to add to the top of the boxes. They still don't disguise the sound of Legos in the boxes, but they are a fun addition that I can reuse every year.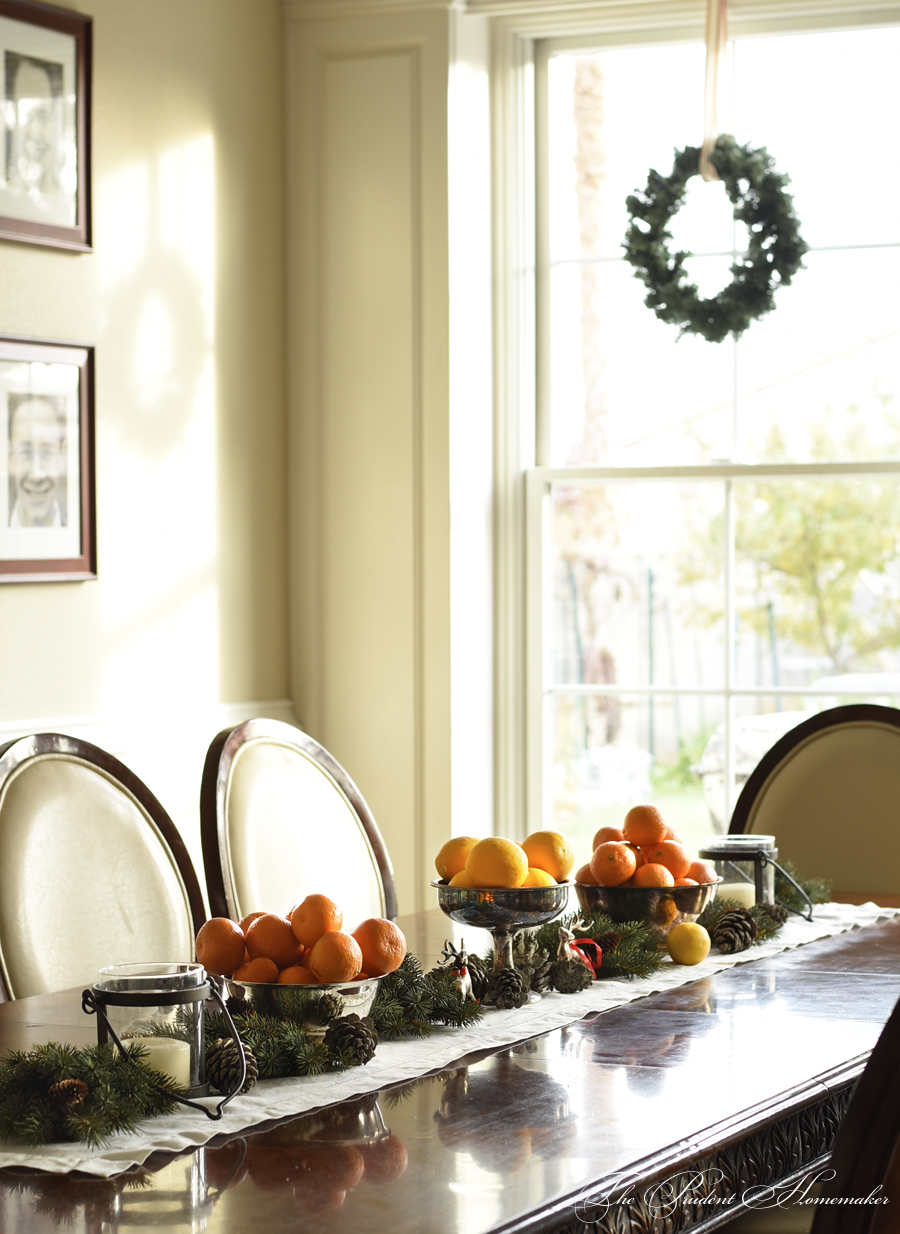 The small wreaths I have in the windows at the end of the room are faux ones I bought for $2.99 each (on sale at Michael's) several years ago.
The pinecones were gathered from the side of the road.
The faux greens on the table are ones I bought years ago. This is my first year using them on the table; I usually place them on the piano.
The lanterns are ones I bought early in our marriage. The candles I've had for years, as I like the look of them during the day, but we don't use them at night.
The silver-plated bowls and urns are ones I've picked up for $5 and under each at garage sales over the last couple of years.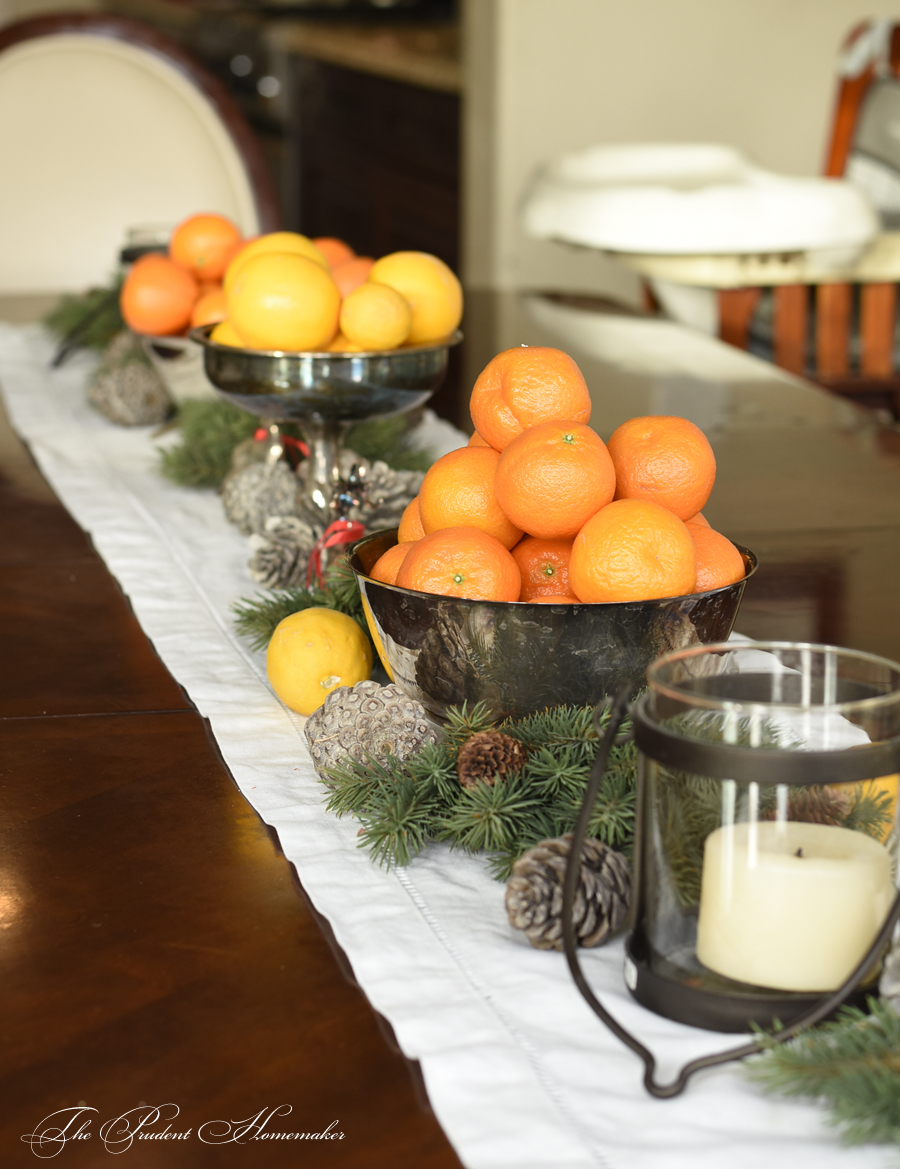 I purchased the clementines on sale for $1 a pound, which is a good price here.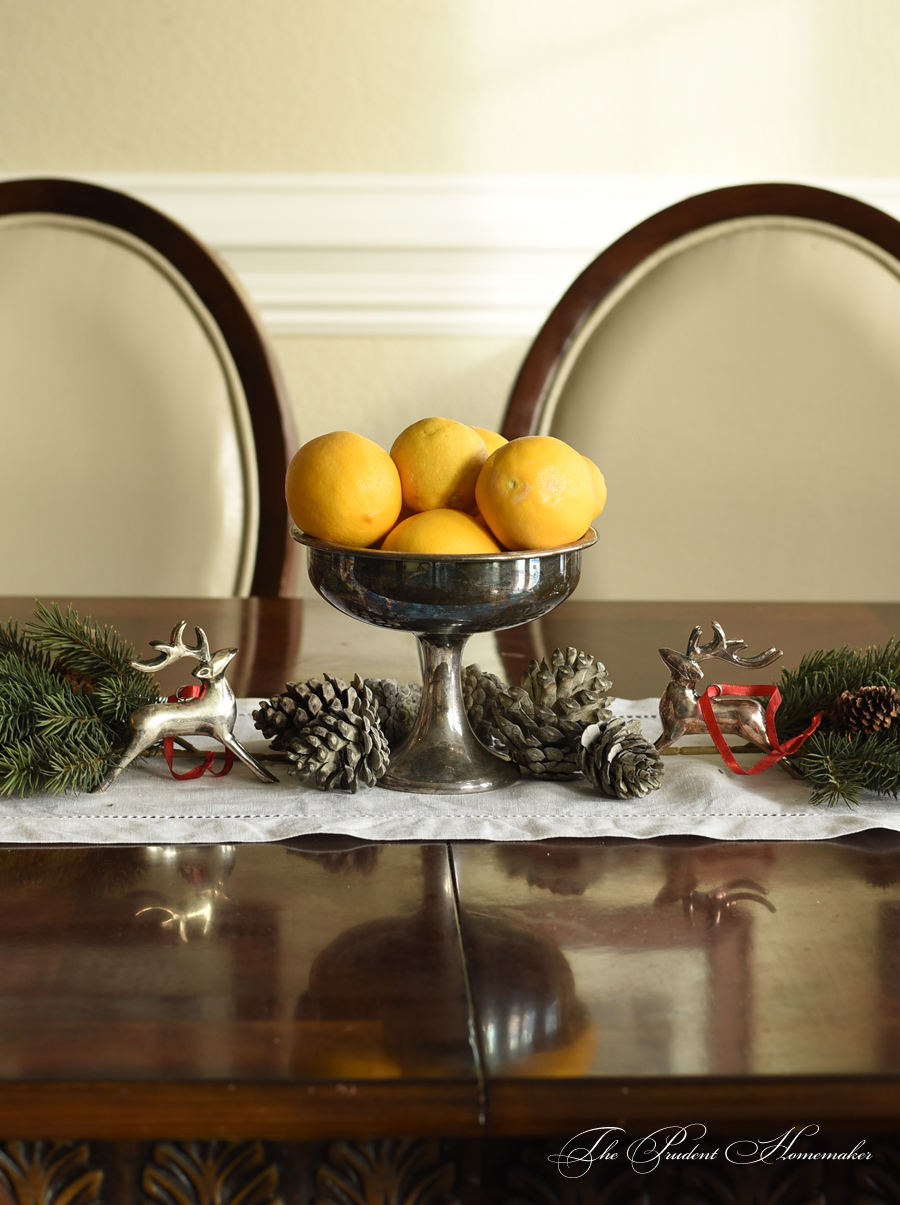 The Meyer lemons are from my garden. The beautiful silver reindeer were a surprise gift from a reader who inherited them and didn't have a place for them. She didn't know it, but I had been looking at faux mercury glass deer very similar to these last Christmas. I was so excited to find these in a box from her as they are even better than what I had looked at!
I hope you have a wonderful holiday.
Merry Christmas!