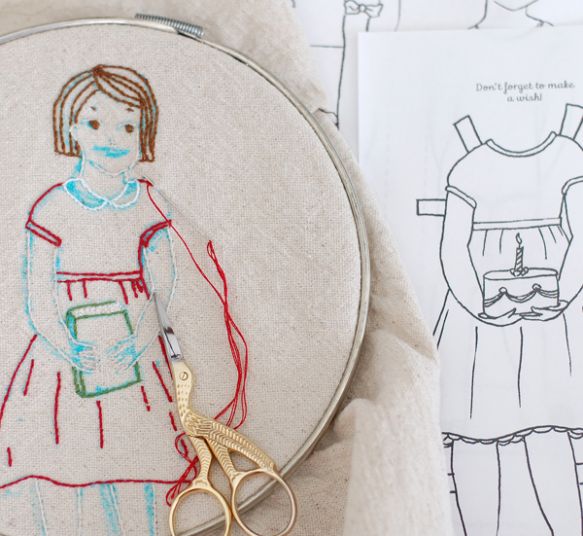 I used the coloring book as an embroidery pattern for one of my upcoming Christmas gifts.
When you're making homemade gifts for $0 to $1 (on average) a gift for your children, what do you do for stocking stuffers?
Stocking stuffers don't have to be expensive.
I put an orange or a clementine in the toe of each stocking.
I then put in candy, bought on sale with coupons. This year, I was able to get some candy for free by combining sales and coupons. I also bought a pound of chocolate "coins" this year in the bulk section at Winco, to be divided between the children.
I will occasionally put in another gift on top of that. Last year I put in subway art bookmarks that I made, and this year I'll be putting in some new bookmarks (which means more free printables on the website!)
For the last 6 years, I have printed paper dolls and paper toys to go in the top of the stockings. I print them on cardstock. There are lots of free printable paper dolls available. I have put my favorite ones here.
I have also printed paper toys.You can find my links here. You may want to include a glue stick in the stocking for constructing paper toys (hopefully you have extras that you purchased at back-to-school sales). I have links to both dolls and toys in color, as well as dolls and toys that are made to be colored. In that case, you could also include a new pack or crayons or colored pencils. I have bought extra crayons and colored pencils on back to school sales and I have given these in the past in stockings as well.
One of the free printable paper dolls I link to on my website is this cute free printable from Lily and Thistle.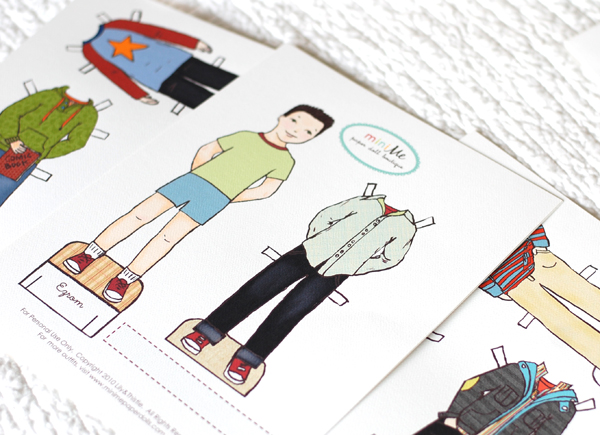 Lily and Thistle makes custom paper dolls for both boys and girls. You choose the hair color, the eye color, the skin color, the hairstyle, freckles or glasses or both. You can then print paper dolls that look like your child.
One of the things I love about her dolls is that they are all modestly dressed. Even my 10-year-old daughter noticed it. She loved that even the mermaid was modest!
Lily and Thistle is also my current website sponsor (you can see a link to her site on the sidebar on both my website and on this blog).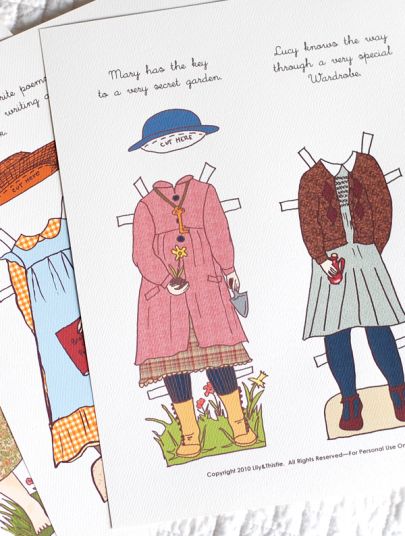 In addition to the custom paper doll options, you can also choose to print dresses for girls from literature, such as Anne of Green Gables, Laura Ingalls, Heidi, and more. There are several other fun options, such as fairy tales, seasonal clothing, and sport clothing.
I also love her sticky strip for changing out doll clothing! You can use this on any paper dolls you print. Read more about this on her site.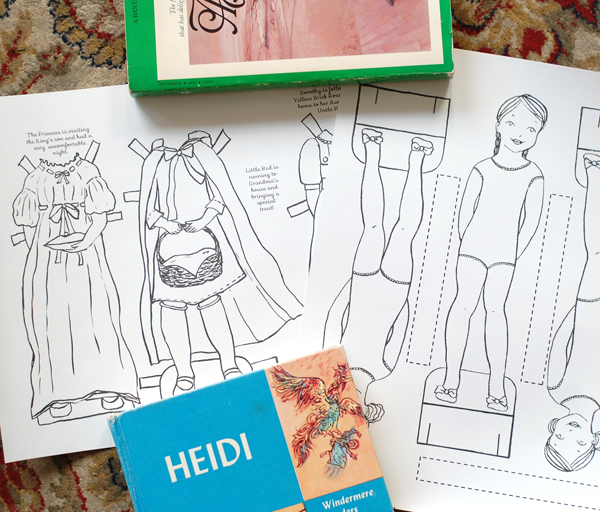 If you don't have a color printer, don't despair! Lily and Thistle has a coloring book option. You can order an actual coloring book (for a limited time), or you can order a pdf coloring book for even less. This option allows you to print a coloring book for all of the girls in your family without spending anything more, and you can print as many copies as you need, for $10. The coloring book includes 6 girl dolls and several different outfits, including a sampling of outfits from the different collections.
Today, I am giving away both a physical coloring book AND a pdf coloring book! There will be TWO winners (one will win the physical coloring book and one will win the pdf coloring book).
If you would like to win, please include the words ENTER ME in your comment in capital letters.
If you just want to leave a comment, but you don't want to enter the drawing, just comment as usual.
International readers may enter to win the pdf. The physical coloring book will only be shipped to a winner in the U.S. I will put all entrants names together and then pick two names. If you are outside of the U.S., please write "International" in your comment as well as "ENTER ME".
The drawing will end on Monday, December 10th, at 8:00 p.m. PST. Winners will be contacted by email and must respond within 48 hours, or another winnner will be chosen instead. Please make sure your entry includes a way to contact you that is easy to find (on your profile) or include it in your comment. One entry per person.
This drawing is now closed.