As Christmas draws to a close, I thought I would share some of our decorations from this year.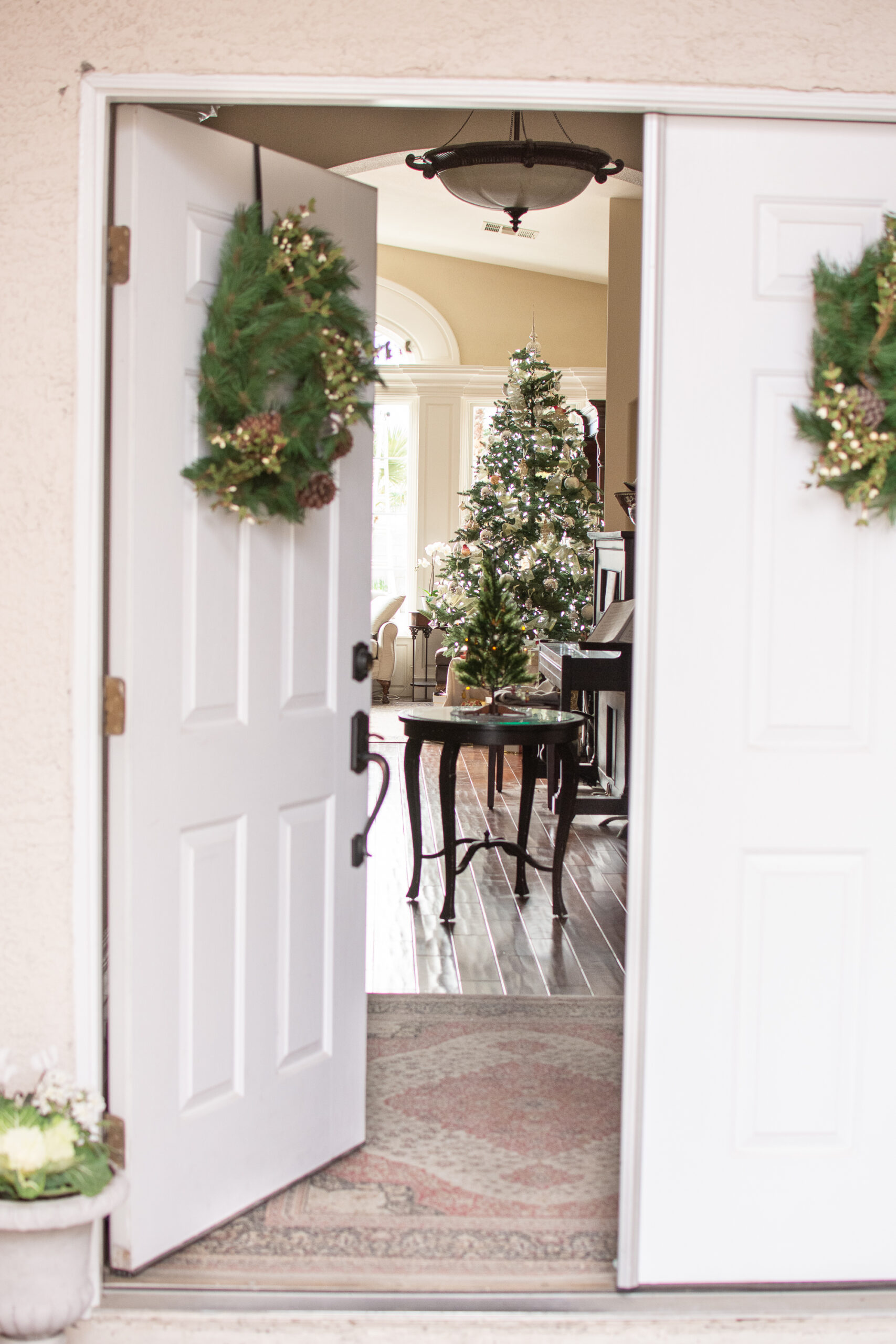 On our front doors, I used the same wreaths that I have been using for years. I took out the red berries, starts, and the rusty bells that I had bought years ago and change them for some new picks that I bought at Hobby Lobby for 50% off. The pinecones are ones I added originally.
Inside the door, I put up a little tree on our entry table that my mom gave us last year. It was prelit and I just left the ornaments on it that she had for this year.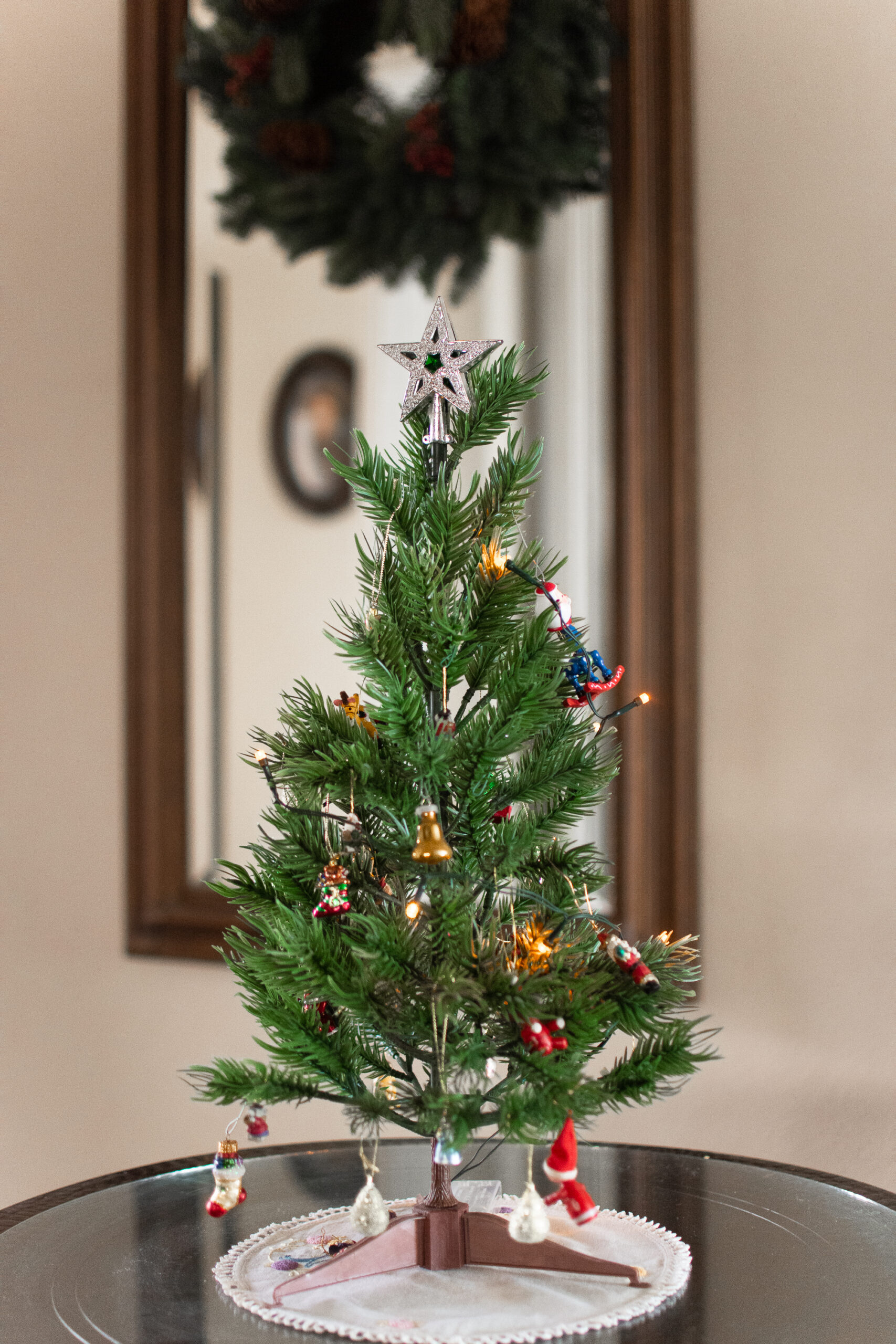 On the mirror behind the tree (a $20 garage sale find) I hung another wreath I have had for years, changing out only the ribbon this year.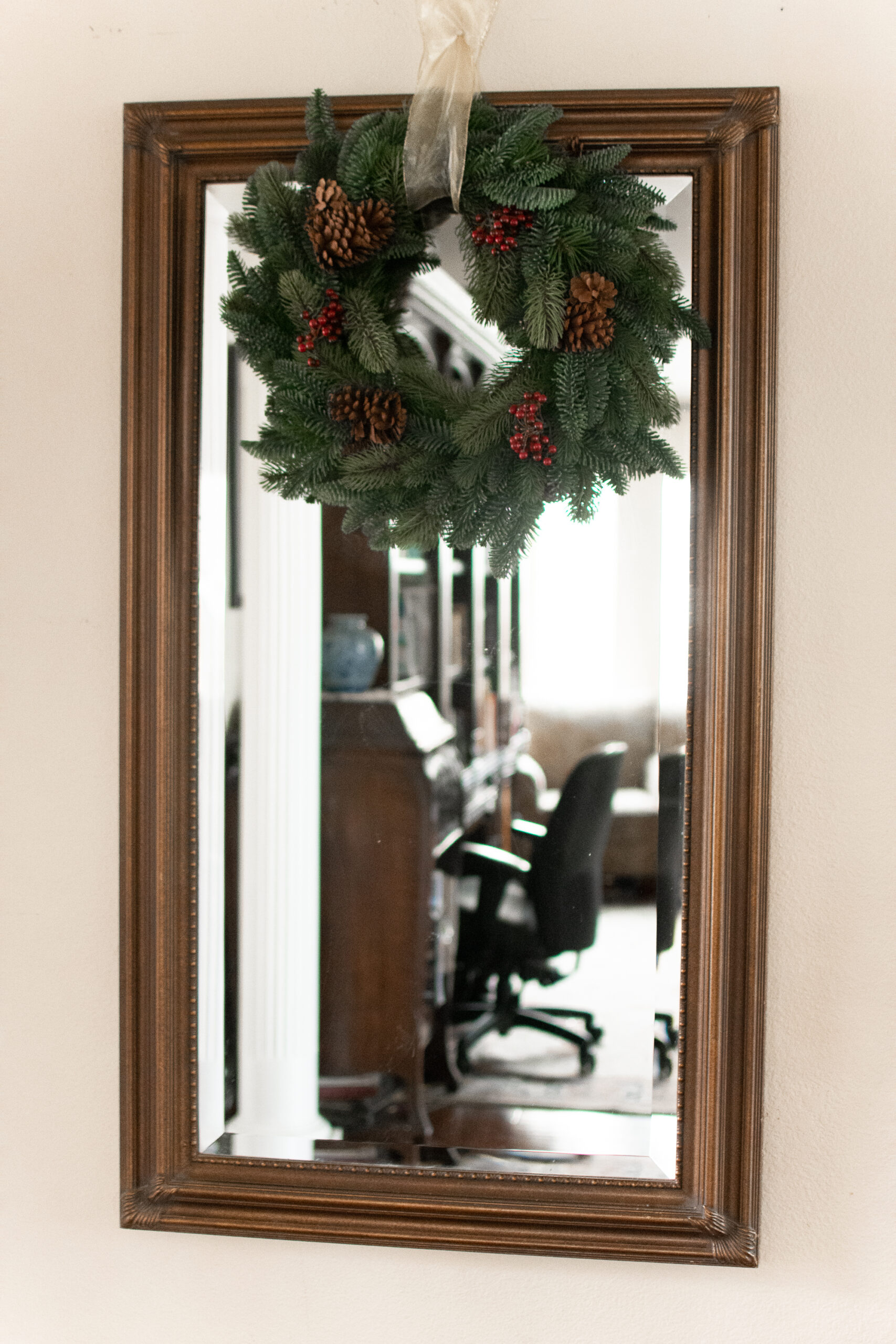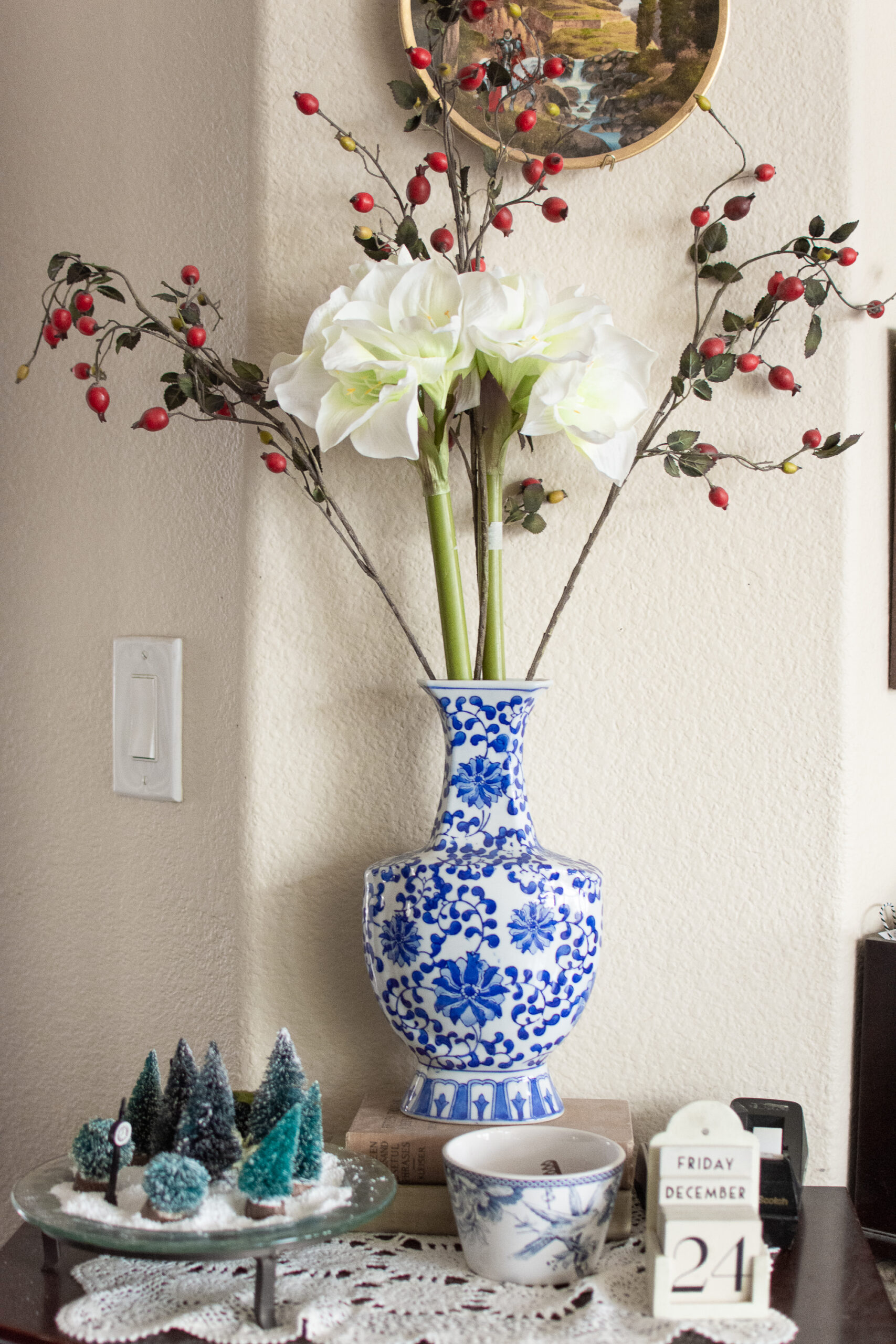 A little past the entryway, I have another small table. This year, I put some faux amaryllis and faux rosehips that I have had for a few years together into the vase that is there.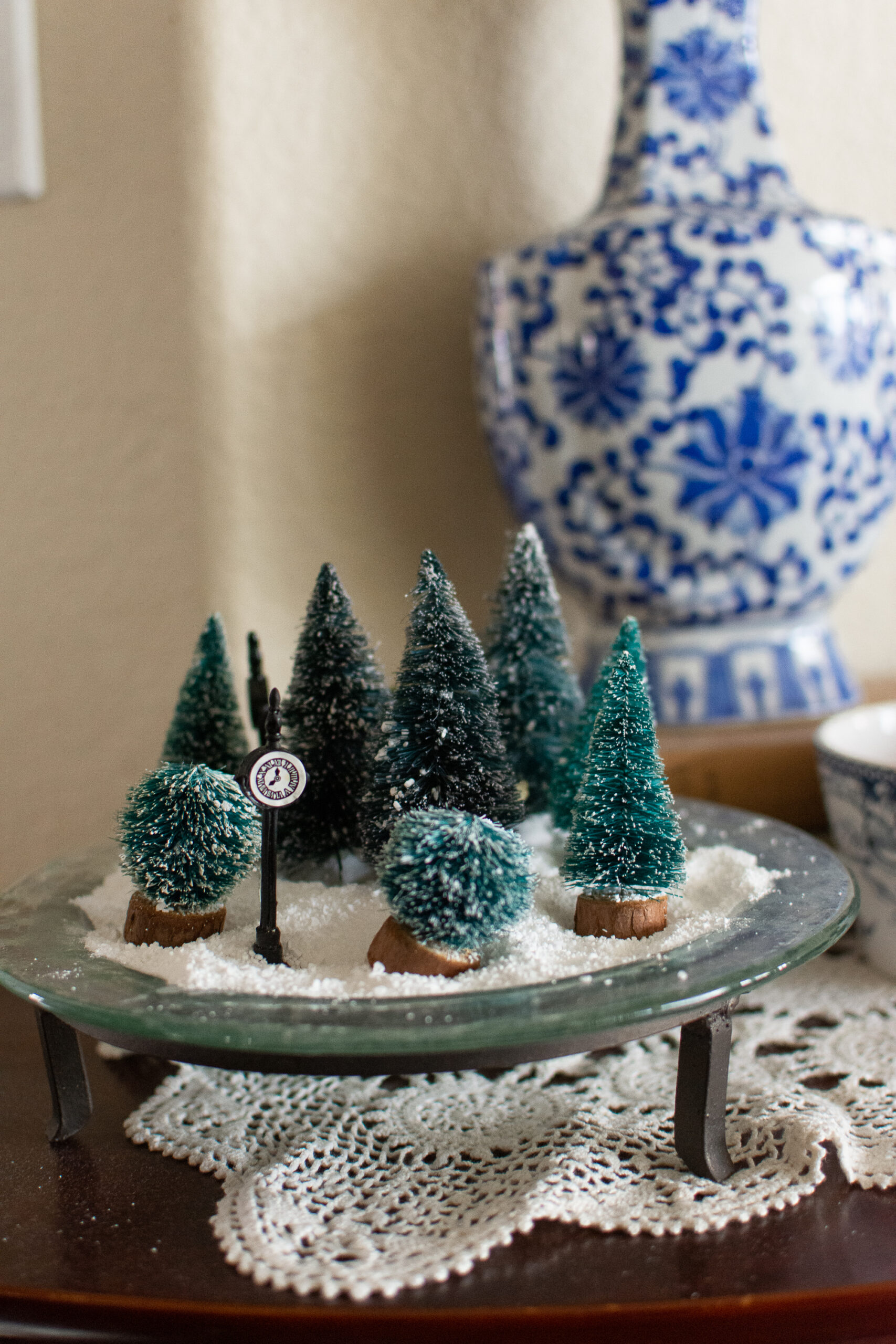 I put together several tiny bottle brush trees that I had previously used throughout the house together. I put them on a candle stand that my mom was getting rid of earlier this year along with some Epsom salt for snow. Several of the trees, all of the bushes, and the two clocks came from a garage sale purchase.
Across from this table is our piano. I changed this up this year by putting our nativity on the table, removing the thrift store clock (which no longer runs), placing the two reindeer here (a gift from a reader a few years ago), and filling a bowl with pinecones and bells.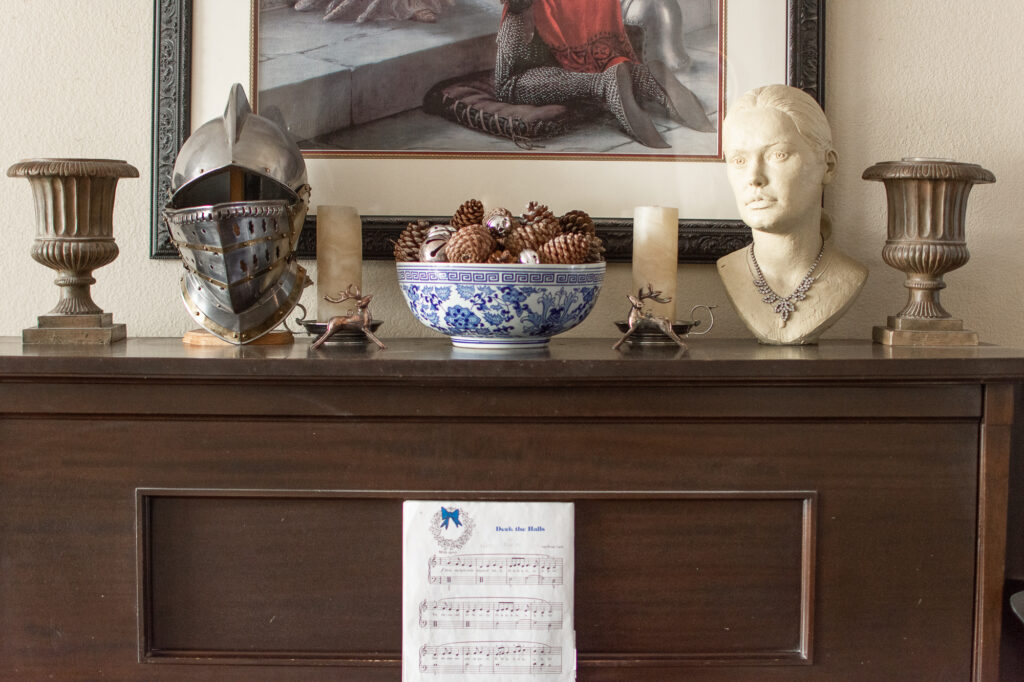 The pinecones are from the house of a friend of my mother's, and the bells (save one old bell) are from the Dollar Tree. I bought three packages this year as a new addition to our Christmas decor. I like this new setup a lot and plan to leave the piano as for a little while past Christmas. I like the bowl (a find at Home Goods a few years back) in this spot and will leave it here for a while. I hope to grow enough flowers to arrange flowers often (always, if possible!) in the urns next year. (The urns are not water-tight; I put pint-sized canning jars in them for arrangements.)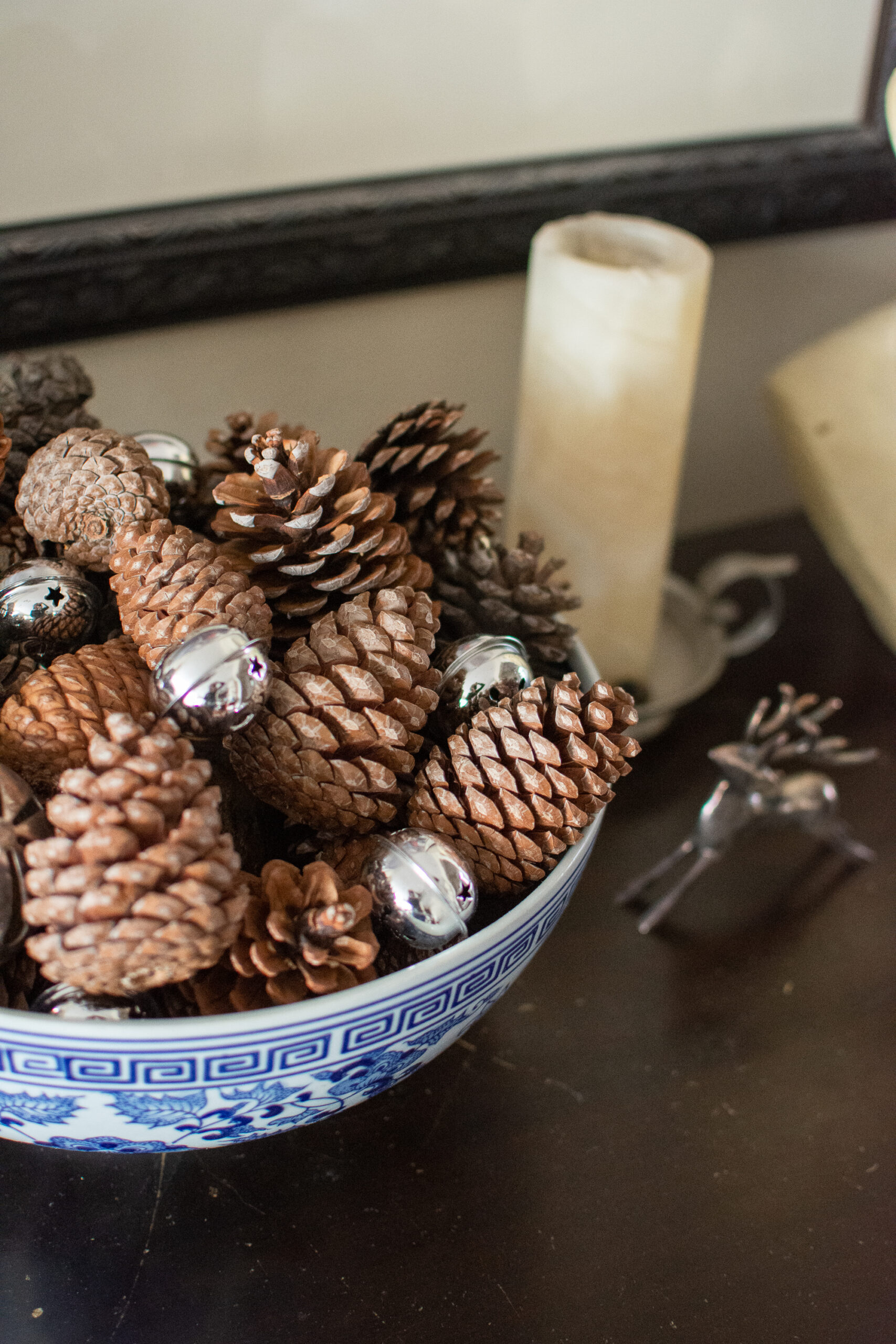 In the living room, I hung the two wreaths in the windows that I have had for years. I changed out the ribbon this year to match the new ribbon I used on our Christmas tree.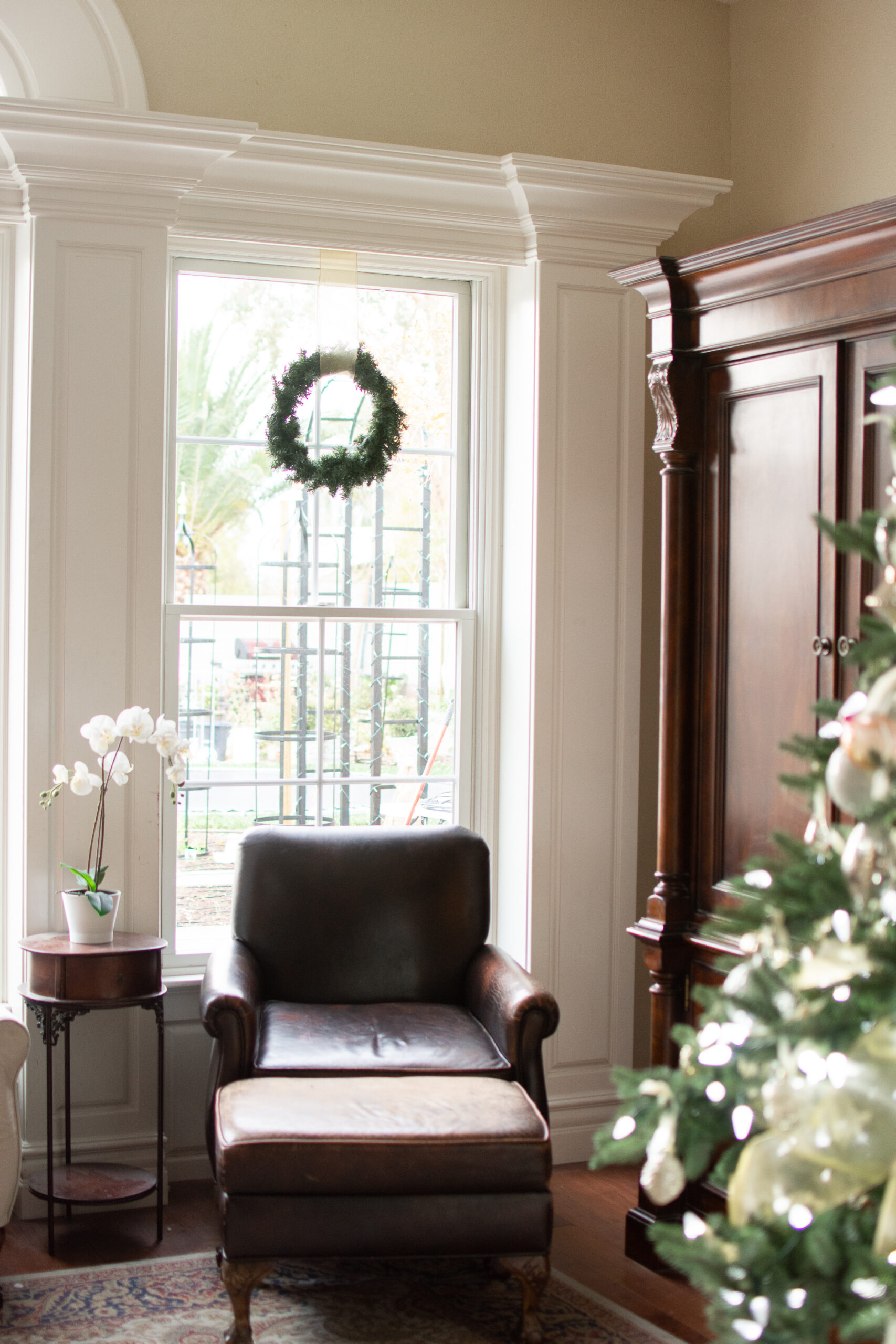 Our Christmas tree was our big change this year. We've had this tree for fifteen years. It was the display model at the store. It was a pre-lit tree. When several of the light strands went out years ago, we took them off (a pre-lit tree just has strings of lights stapled to the branches) and replaced them with new lights that we left on the tree.
This year, we changed it all up. We removed those lights to put on more lights that were larger and also a cooler white. Since we changed the house lights out to white led bulbs in March of 2020, the tree was the only source of a warmer, more yellow light. We decided to have it match in color temperature and chose new, larger bulbs, bought on sale at Hobby Lobby.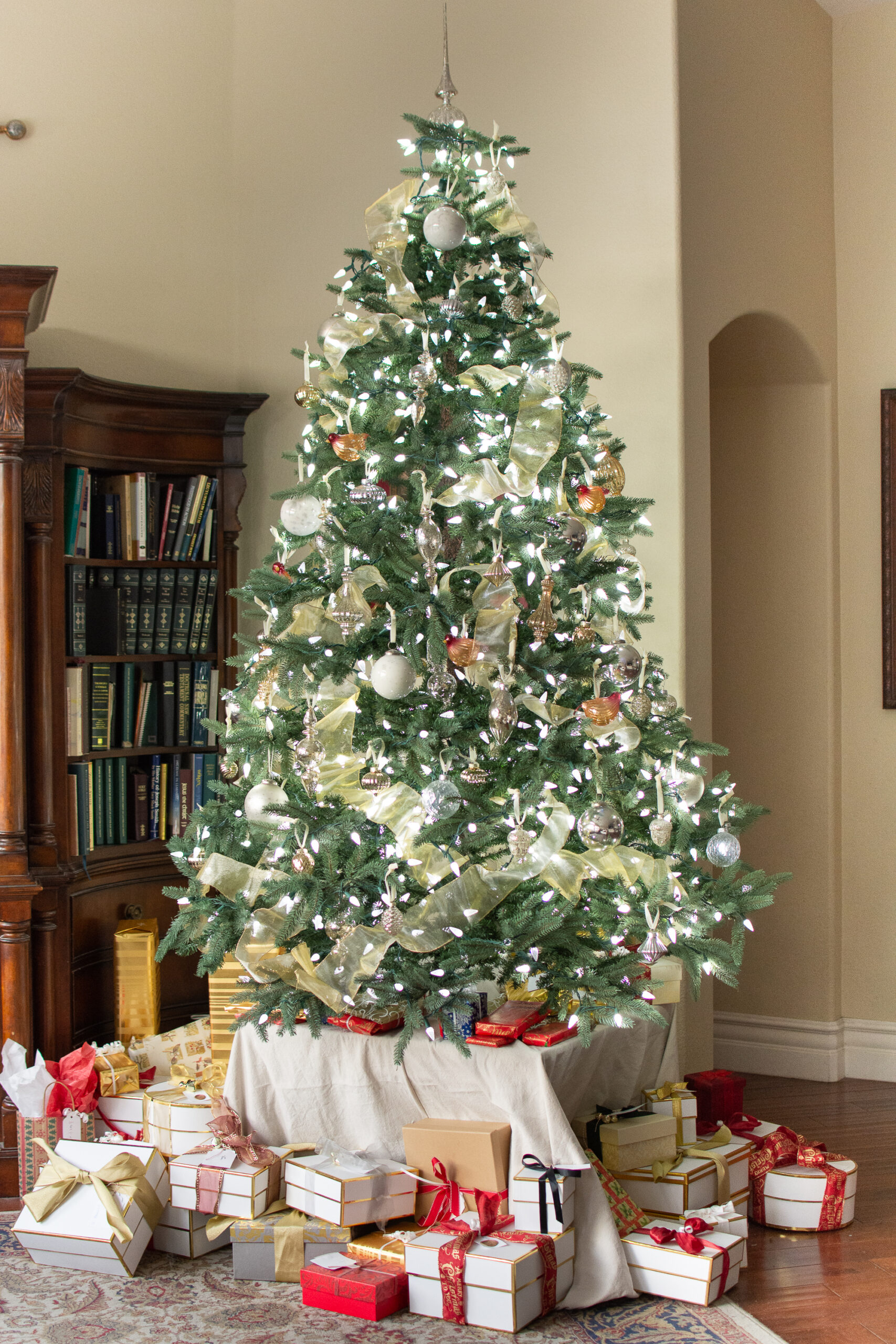 We have had the same ornaments for twenty years, with just a few inexpensive additions in the same style and color to replace broken ornaments over the years. We were ready for a change this year.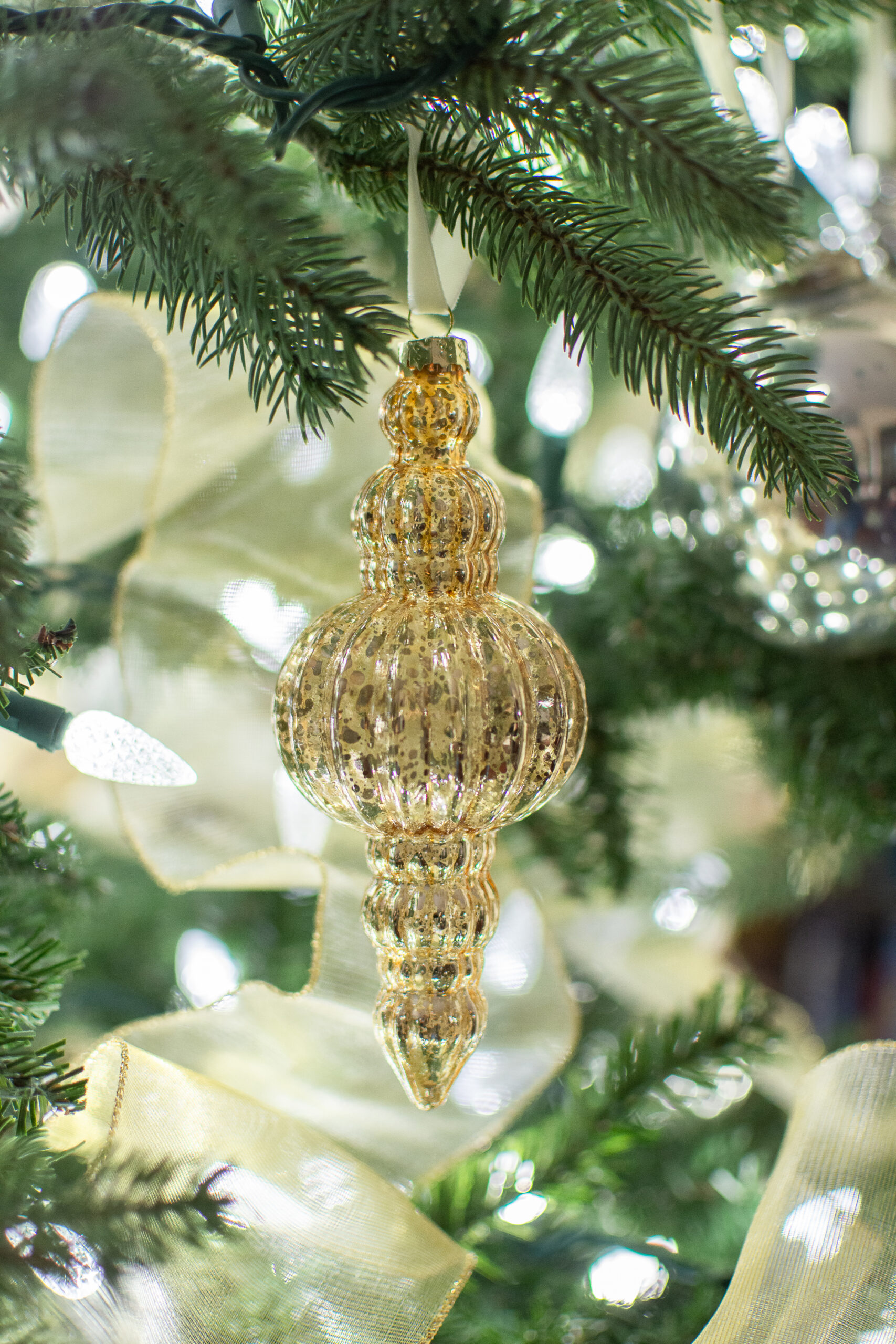 We found new mercury glass ornaments for sale at 50% off at Target and Hobby Lobby in early November. We found the large glass ball ornaments and one package of mercury-glass ornaments at Home Goods. I found a mercury glass tree topper on Overstock. The red birds (there are six of them) were a gift to my husband from a work colleague a few years ago. I am not sure I will hang them on the tree next year, but I still like them and may use them in a different place next year.
I changed the ribbon this year to a four-inch-wide wired gold ribbon from Amazon. I cut it into short sections about three feet long and tucked it into the tree after putting on the large ball ornaments. This is a new technique that I read about on a couple of blogs and is very different than the way I have always done ribbon on my tree before.
We hung the ornaments with a 3/8-inch wide ivory velvet ribbon that I sourced from Amazon.
Our tree stand is screwed down to a short table (that we got for free twenty years ago). This makes it impossible to tip over, makes a six-foot tree fill the space more, keeps the tree higher from toddlers, and gives more room underneath it for presents. We don't hang ornaments on the bottom branches as well to prevent breakage.
The tree skirt is a drop cloth that I cut and hemmed a few years ago to fit around the table, with a hole in the middle for the tree to come through.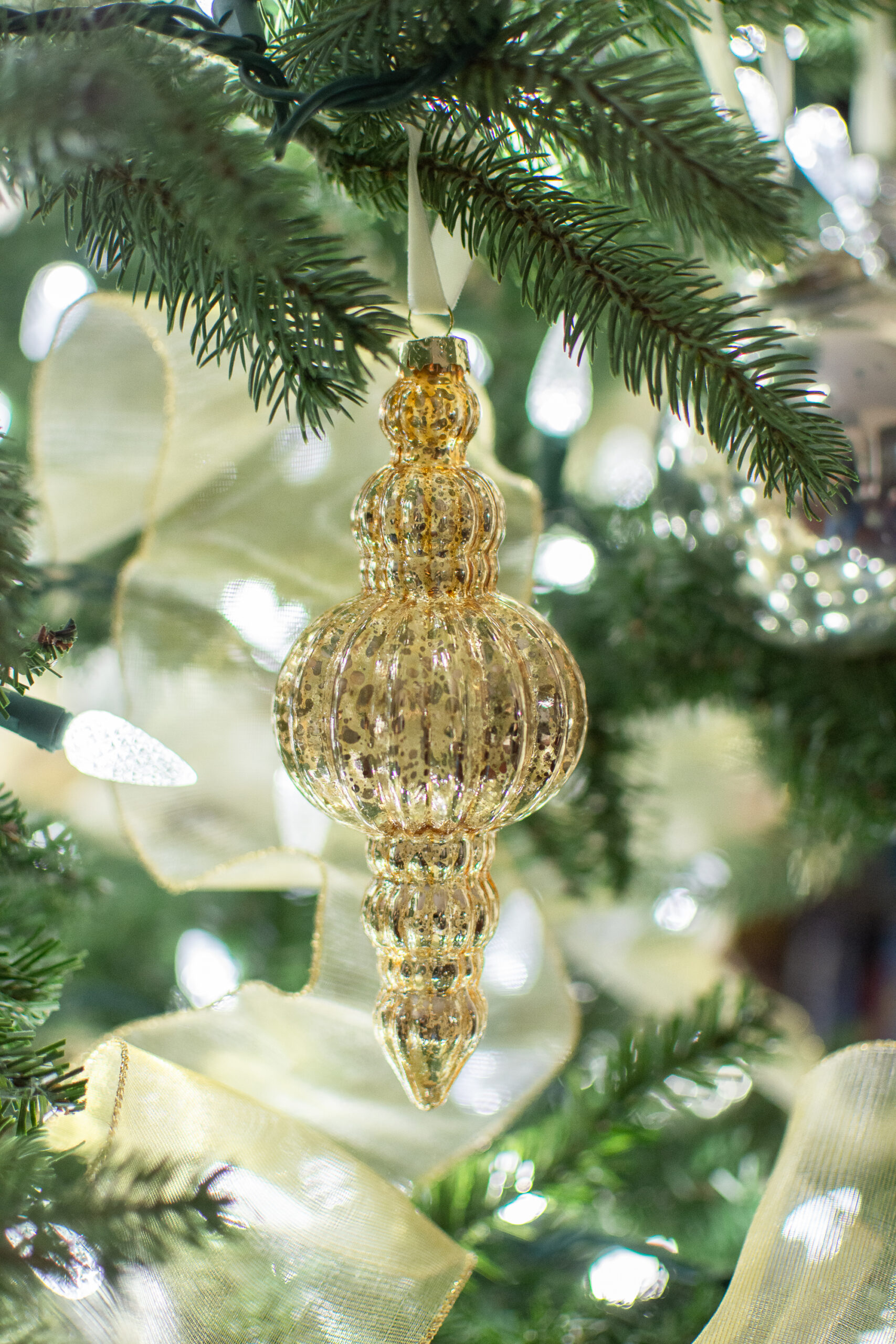 The gold and white reusable boxes came from Target a few years ago. I used the ribbon we had on hand this year to close them, which meant using a lot of red ribbon still. I plan to look for ribbon in gold, silver and possibly black next year to change up the colors.
I hope you all had a wonderful Christmas.