When I redesigned my website in January, I set it up so that I could include sponsored advertising. When I posted on my Facebook page that I was going to do this, and asked if anyone was interested, Heather was the first one to speak up. She's been a sponsor for my site since February. Since I now have a blog, I have the opportunity to do a giveaway from her! She's giving away a Sun Oven!
I'll let her tell you about it:


About two years ago when my family was in a difficult situation I was introduced to Shelf Reliance.

After much thought and a very encouraging husband I became a consultant.
Being a Shelf Reliance Consultant has truly been a blessing in my life.

I get to stay at home with my kids, contribute substantially to my family's financial stability, and become more self-reliant.
You can find out more about being a consultant:
One of the things that I love about Shelf Reliance is it gives me an opportunity to be charitable.

I earn a lot of free and ½ price products and I like to give it away.
Over the past summer I have been cooking in my sun oven a lot, and every time I read a post from Brandy talking about how she is saving money on her utilities I think

"She needs a sun oven. Then she could do all her baking and a lot of her other cooking outside."

That would eliminate the energy used to heat up her oven and the energy used to cool her house back down.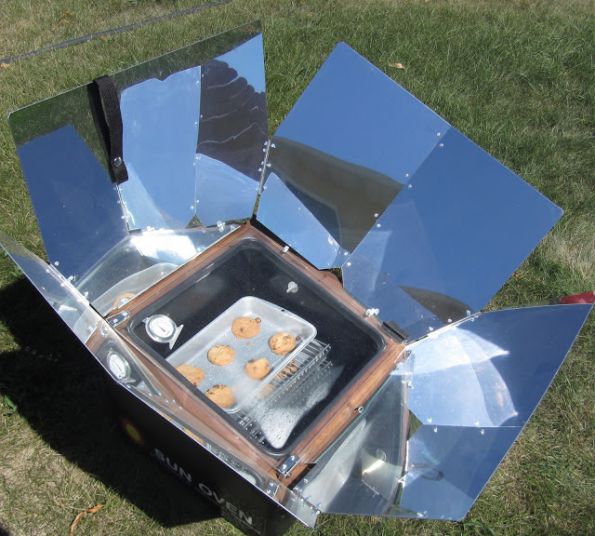 I do and this week I have one for Brandy. This week I'll be donating the host benefit from all the orders that come through my Shelf Reliance online store to buy Brandy a sun oven.

Because let's all be honest: it is perfect for her.

If you have been thinking about stocking up on some food storage or emergency supplies and would like a portion of your purchase to help buy Brandy's family a sun oven you can purchase online here:http://homeparties.shelfreliance.com/homeparties
Now that Brandy is taken care of, I think there are probably some others out there who would really love to win a sun oven.

I thought I'd give one away.
The Great Sun Oven Giveaway Rules:
Choose one or do all three.
1.
Check out my blog: http://www.cookingwithmyfoodstorage.com. Leave a comment somewhere on my site.

Come back to this post and tell me that you left a comment.

For example you might say,

"I checked out Cooking With My Food Storage and left a comment on the post about Mango Lime No Bake Cookies."

It would be nice if you included the link to the post you liked but you don't have to.
2.
Check out what it is like to be a Shelf Reliance Consultant. Come back and leave us a comment telling us what you like best about being a consultant.

For example you might say something like,

"I really love that as a consultant I can build up my food storage without spending a lot of money"
Here are the links again; you can visit any one of them or all three.
If you decide you would like to become a consultant I would love to have you on my team.
3.
For an extra entry you can tell a friend about the giveaway through Facebook, etc.

When you do that come back to this post and leave an comment like "I shared this giveaway on Facebook."
I can't give away anything to "Anonymous." If your comments are showing up as anonymous, be sure to leave your name in your comment.

If you choose to enter all three ways, then leave a separate comment for each entry.

I can only ship to the continental US. Sorry to all the international readers.

This giveaway ends on September 21st at 10:00 p.m PST.

Brandy will choose the winner and announce it here and on her Facebook page.

If the winner does not step forward to claim their prize in a timely fashion, then Brandy will

choose a new winner.