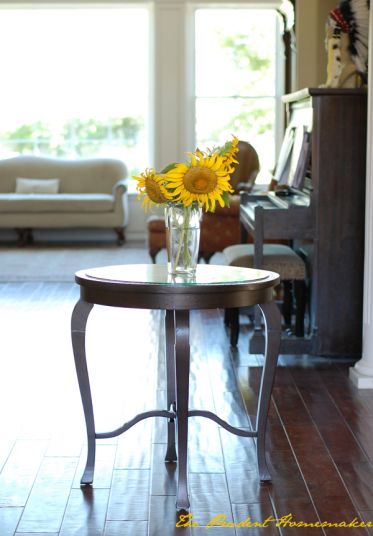 This is the view from my front door. (There is a pendant light right above this table). The table was free from my mom this week; I have wanted a small round table in this spot since we moved in (my husband would prefer a side table, but I am thrilled!) The sunflowers are from my garden. The vase was a gift that came with an arrangement that my brother sent to me years ago.
I cut flowers from the garden for two small arrangements in the house; one was delphinium, roses, and larkspur; the second was sunflowers. I never did plant the two types of sunflower seeds that I bought this year; my garden has been overrun with sunflowers that self-seeded from last year's sunflowers. The ones I cut were the smallest heads.
My parents are retiring, so they are closing their picture framing/home décor business. My mom invited me to come over to pick out some things that I would like to have. I was able to bring home many things for free, including several framed pictures (we will keep some of the pictures and some we will change out), some small picture frames (one of which will be a wedding gift for an upcoming wedding that I am attending), some wool shawls, some lamps, and the table you see above. I actually had another place in mind for this table, and it didn't work quite right. It was only after trying out the table in a few spots that I remembered that years ago I had wanted a small round table in my entryway, right under our light (I will have to photograph it from the other direction another time so that you can see how it goes right under our light). It's a few inches shorter than I would have picked for the table there, but the price was perfect (free!) and the color is just right, too.
When I imagined a table in this spot years ago, I imagined it with flowers on the table. My mom had a piece of glass on the table, too, which makes it perfect for a vase. I am so delighted with this table and the flowers there. I plan on making sure that I have even more flowers planted in the garden so that I can keep some flowers on this table all of the time.
On Monday, I planted more Armenian cucumbers and red noodle beans using seeds I already had. I also planted more Genovese basil (from the seeds that I had bought in bulk earlier this year).
I picked more red noodle beans. Their weren't enough for dinner, so I mixed in a can of green beans to make enough for our family. I seasoned them with some bacon grease that I had saved. (I don't cook bacon very often; it's a treat when I find it under $2 a pound and freeze it to use on occasion). I save the grease in the fridge to flavor other things; bacon grease can be safely saved 6 months or more in the fridge).
I picked Genovese basil, green onions, Early Girl and Yellow Pear tomatoes, Mission figs, blackberries, Royal apricots, Green Gage plums, and Dorsett Golden apples.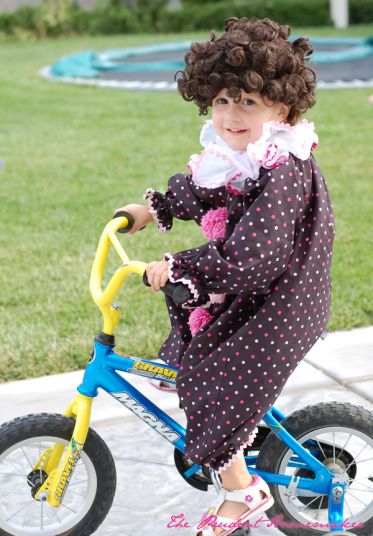 Elsa is rising the bicycle that I got for her at a free swap a month or so ago. One of the training wheel attachments was missing a piece and my dad fixed it for her last week. This is a little tiny bicycle (like the size of a tricycle). She is wearing the clown costume that I originally made for Winter. The wig used to belong to my mother-in-law; she gave it to us years ago.
I put a bucket in the shower to catch water while I waited for it to warm up, and I used it to water my potted plants and to clean. I taught my oldest to do the same thing. If you don't have a bucket for each bathroom, consider asking for buckets at your grocery store bakery (they're often free or around .50; you may need to wash them first), or use a plastic container that had food in it (a large bucket of ice cream has a handle).
I added water to a lotion bottle to get the rest of the lotion out from the bottom of the bottle. I shook it up and was able to get the rest out.
We used Liberty's tiny fish that she caught last week to do a dissecting experiment. I looked up how to dissect a fish online, and we learned about it with her fish.
I was asked to teach a photography class at the last minute at someone's house. Before I left, I was asked if I wanted to pick some apricots from the tree that had just ripened there. I took home apricots to my family.
I used a $10 off $10 coupon and a 20% coupon, combined with a 60% off sale, to get two shirts for Wren for no money out of pocket.
I watched a show for free on Hulu.
I made press cookies using my grandmother's vintage cookie press.
I made caprese salad a couple of times last week. I also made barbecue chicken pizza, lots of sandwiches, pasta salad, bean and rice burritos, pancakes, potato salad, spaghetti, and smoothies.
I did not buy any food again last week.
What did you do to save money last week?