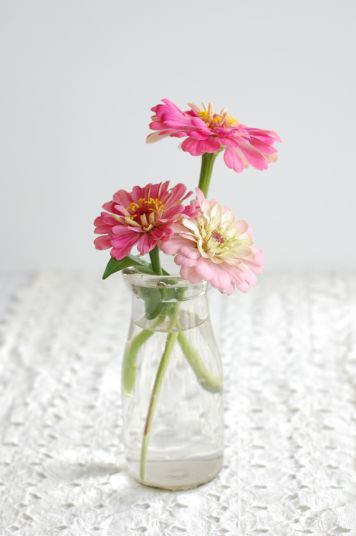 I picked a few zinnias from the garden for our table this week. (My seeds are from Wildseed Farms).
I made a bottle of homemade hair detangler with the leftovers from a free sample of conditioner.
I made laundry detergent this week.
I made yogurt and granola this week.
I watched several shows for free on Hulu this week.
I used the water from cooking Swiss chard to pour on my potted plants.
I harvested Swiss chard, cucumbers, pears, grapes (about half a bunch that decided to double crop!) , some green beans, the last of the tomatoes (before I ripped out the plants) and basil this week.
I planted Swiss chard and more zinnias this week.
I used coupons to get free candy, free ibuprofen, free face wash, and free canning lids. I am saving the candy for Christmas stockings.
I printed free coloring pages from the Dover sampler for the children.
I accepted a free mattress.
I mended a dress.
It was cool enough at night to turn off the a/c at night if I opened the windows, so I did. It was 94º during the day still, though.
I cooked a ham for our meat this week. We used the ham in several meals. We also had some bologna from the pound I bought for .20 and froze. The rest of our meals were meatless.
I started making a Christmas gift for one daughter and I also embroidered the fabric for one pillow for our living room. I also worked on a dress using material that was part of my grandmother's stash (so, free fabric).
My husband found a way to watch football online for free on espn3 (espn.go.com). He was able to see the BYU/UofU game live.
What have you done this week to save money?