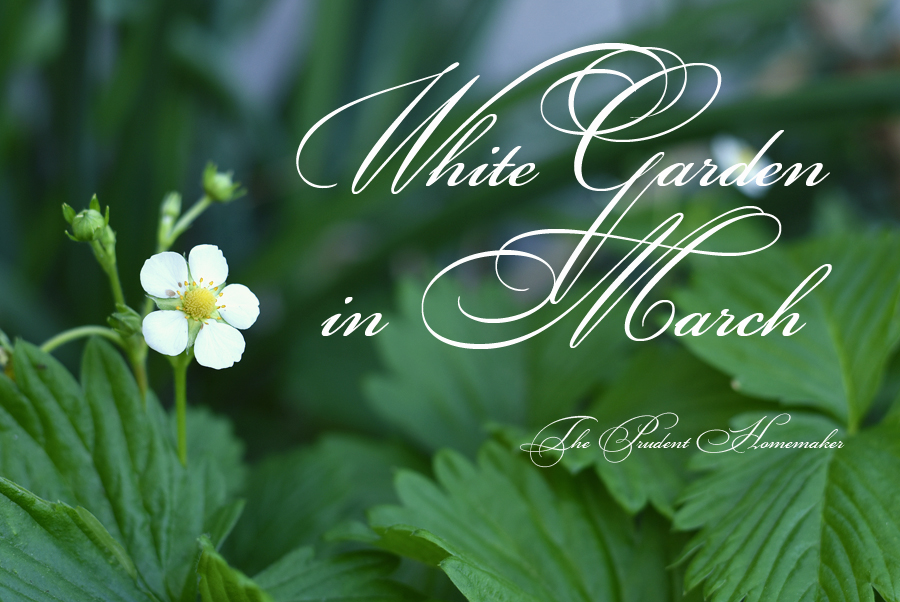 My white garden is in bloom.
I recently decided to change the flowers out in the urn. I had paperwhites planted there, but once they are done, the leaves are not as interesting as a focal point. I decided to dig them all out after they were done blooming, and move them to a few places in the backyard. In their place, I added some dwarf delphiniums from the nursery. I also added back in the stock that I had planted in the fall, which is about done for the season (it blooms as a winter/early spring annual in our climate). I also replanted the bacopa. I added in a few seedlings that were coming up in the garden as well (chamomile and larkspur). While the delphinium is a perennial, it acts more like an annual in our hot climate. I've decided that I'd prefer to buy a few annuals for the main focal points in each garden (the urn in the white garden and the center circle around the sundial in back) in order to enjoy some flowers there all year long, rather than waiting for seedlings that only flower for short times of the year. Come summer, I will be putting vincas in this urn, which are one of the few flowers that thrive in our hot desert summer sun.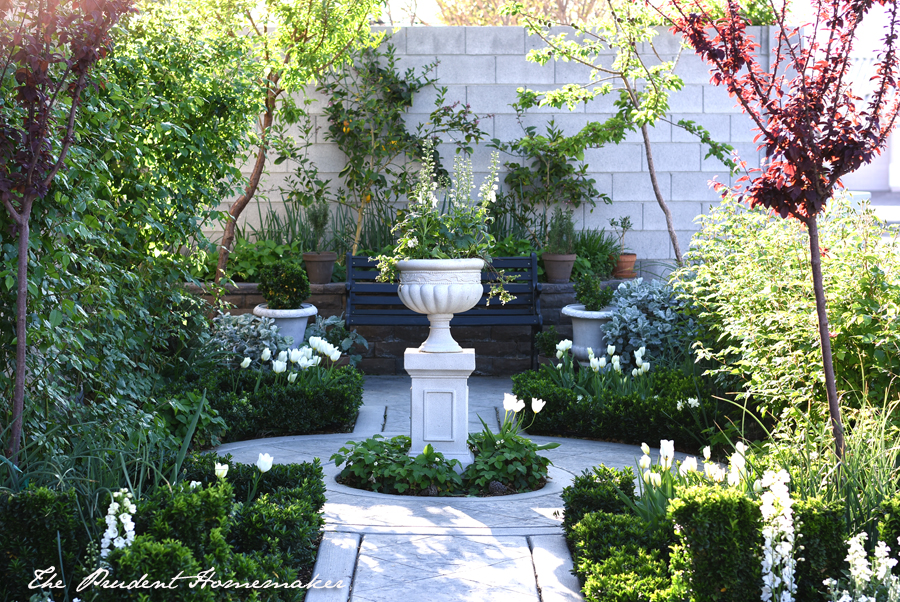 The tulips have returned to the garden this year. Tulips are usually a one-time deal in hot climates. You pre-chill them for 10 weeks in the refrigerator in the fall to simulate a winter chill, and then you plant them. I did that with these the first year, and they bloomed for us in 2014. Last year I saw a few leaves, but no flowers, and I figured they were done. (You can dig them and rechill them if you want, however). This year they surprised me, howvever, with most of them blooming again, and several of them sending forth a couple of flowers per bulb. The tulips are smaller than they were the first year, which is to be expected. I am happy that they are multiplying in the garden; I certainly never expected them to return. The garden is in full shade all winter, and even now is still about 1/3 in shade.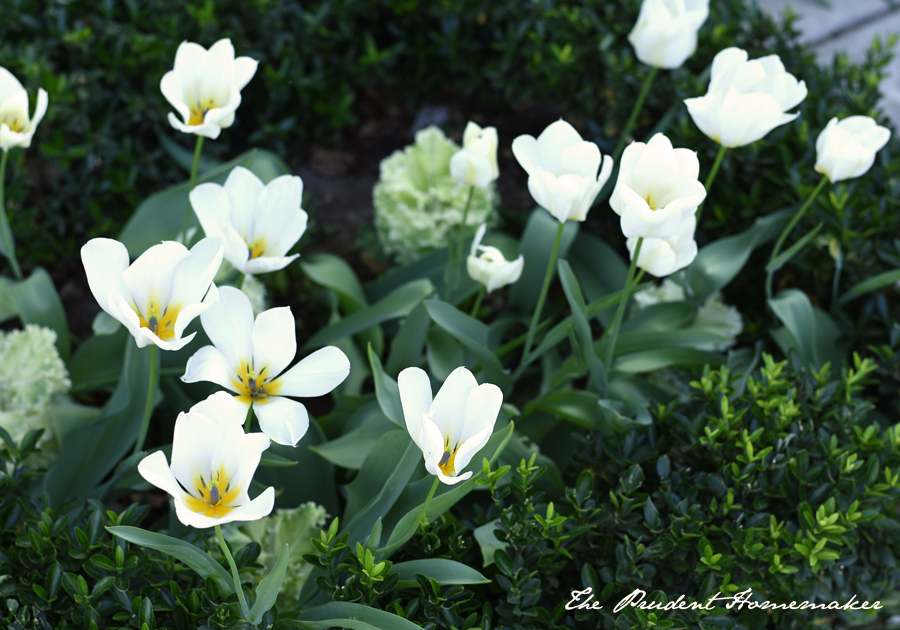 Another flower to bloom again that also bloomed in 2014 but that didn't bloom last year are my iris. The leaves came up in November, but they just started to show buds a week ago, and many are now open.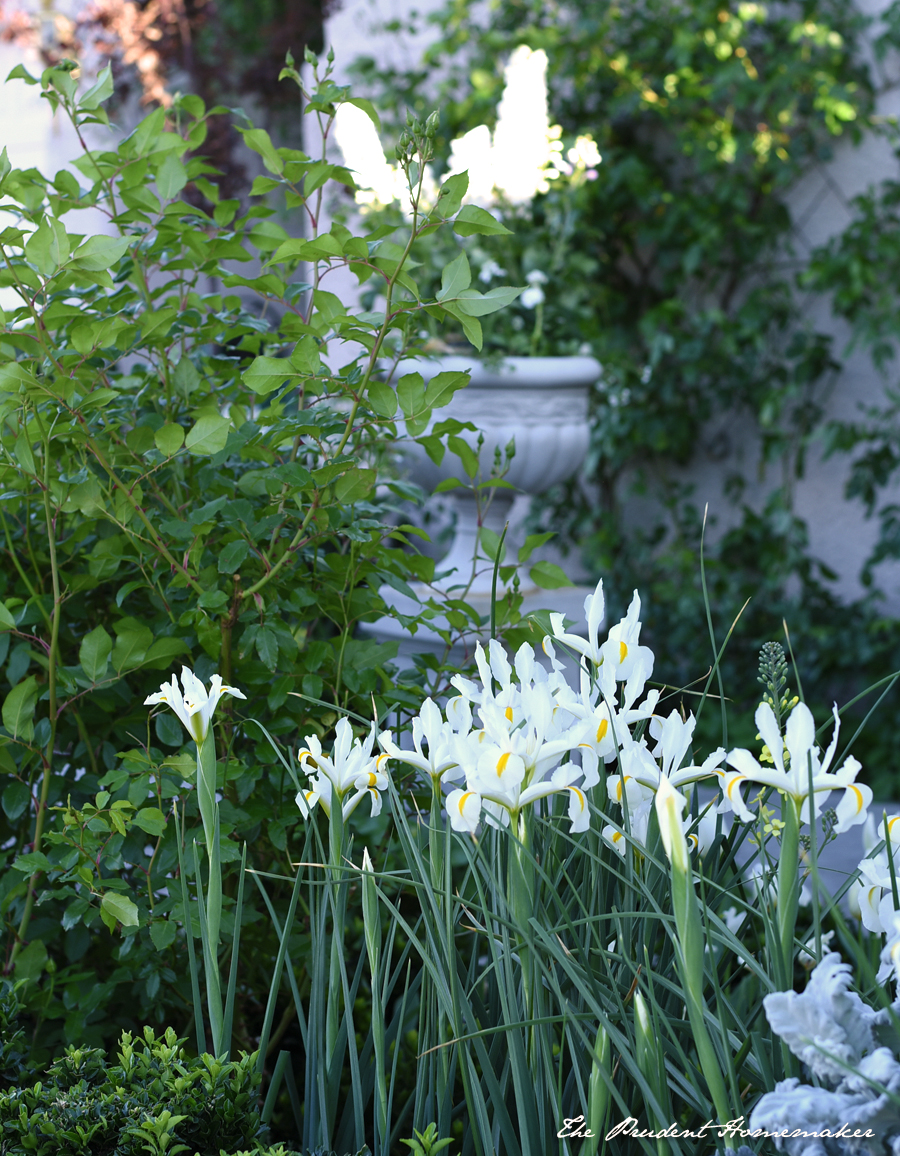 My iceberg roses haven't bloomed quite yet, but they are all budded, so it won't be long before they are covered with flowers. This will be their first bloom of the year. Since they are a floribunda rose, they rebloom every 5-6 weeks, until I prune them back in December or January. Once it starts getting really hot, the flowers will open smaller, around the size of miniature roses.
My alpine strawberries are blooming again. These prefer the shade (and will actually burn and die in the hot summer sun in my garden). They are all grown from seed. The strawberries are tiny white ones that are the size of my pinky nail when ripe. They have an intense flavor. In mild climates these can bloom and ripen all summer. Here, they are ripe in late spring for a few months, and again in late fall until our first frost.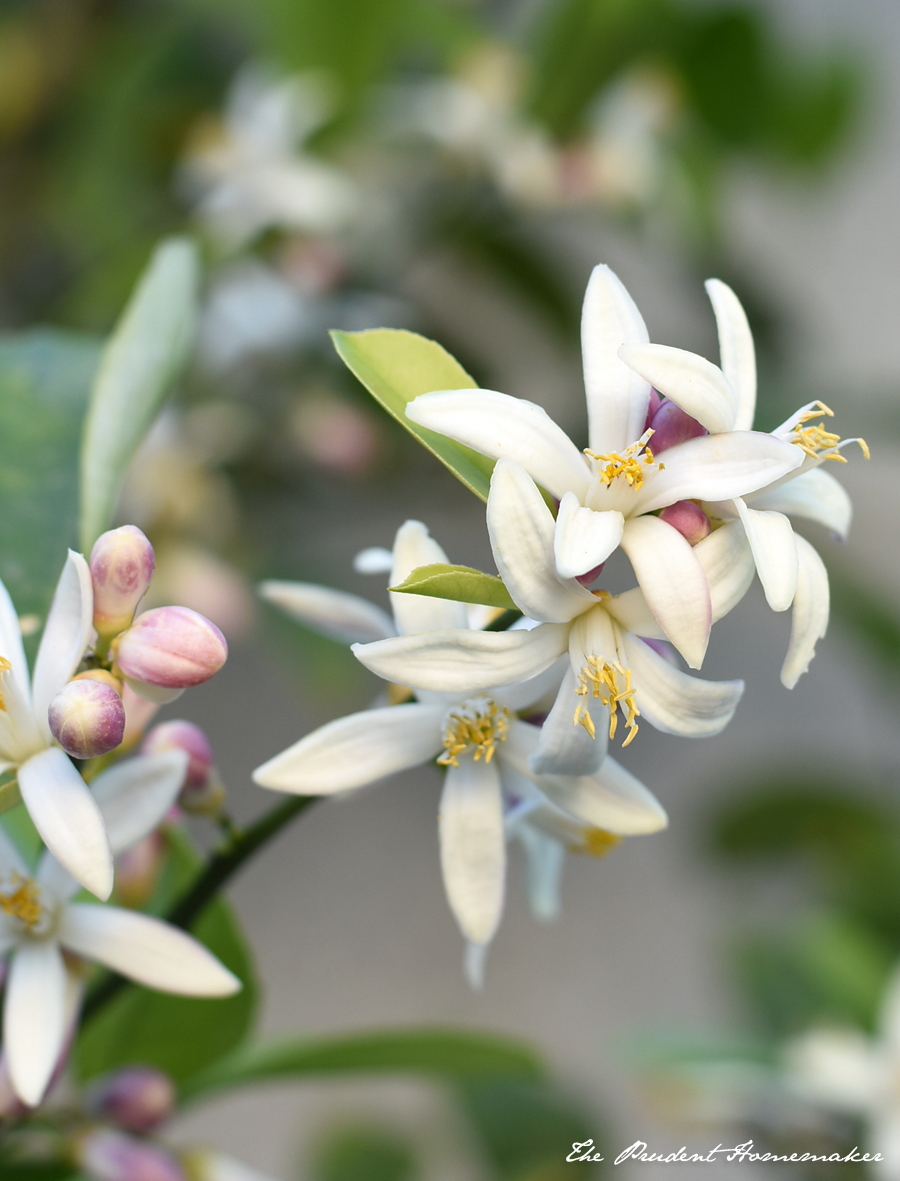 The Meyer lemon trees are also in bloom again. I love the perfume from these blossoms. Eventually, these three small trees will grow as an evergreen hedge to cover the cinderblock wall (which is my neighbor's back wall) and should provide us with lots of lemons for lemonade.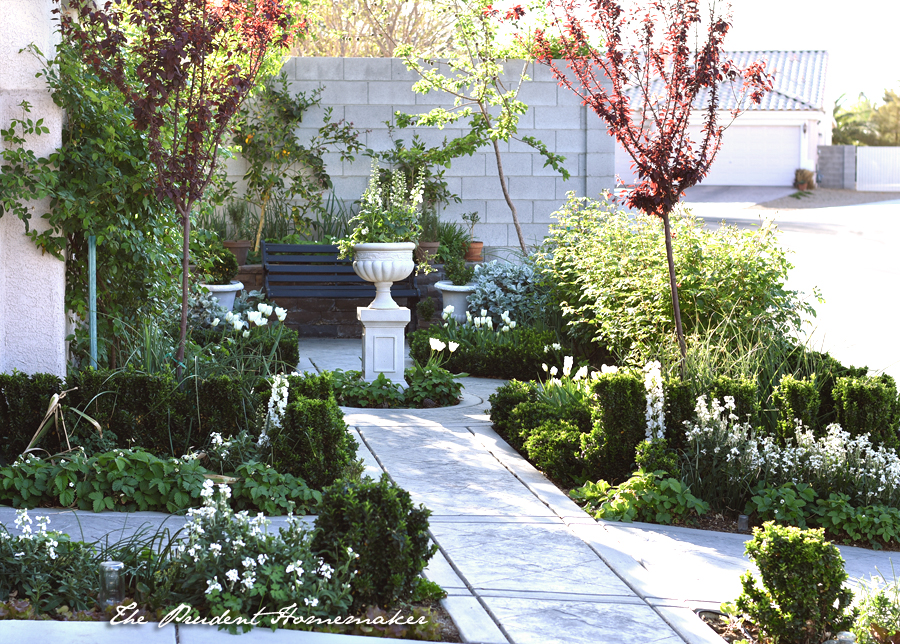 Three years ago this garden was just a dream on a piece of paper. Now it is full of flowers, fruit, herbs, and lettuce.
To see past pictures of my white garden, click here.