I really enjoy reading about all of the free food that everyone is canning each week! I look forward to reading your comments on this post each week.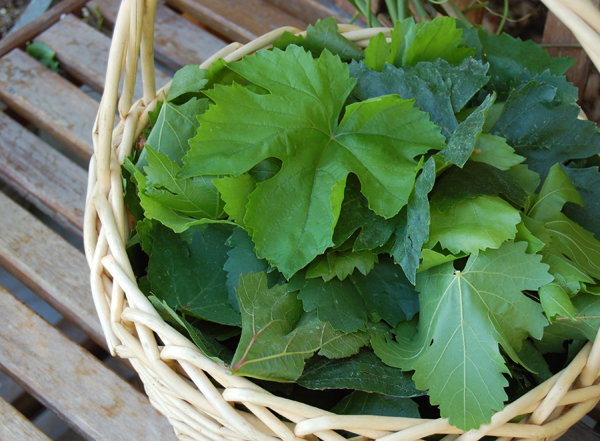 I harvested grape leaves from the garden to make stuffed grape leaves.
I picked basil, sage, rosemary and parsley from the garden to use in cooking this week.
I harvested a few small tomatoes. They ripen smaller when the heat sets in.
I harvested 2 Armenian cucumbers.
It rained this week! It even lasted for a while. My children were amazed that it lasted for several hours. I turned off the sprinklers for a couple of days.
The storm brought a new coolness that I have not seen before in August. Usually August is our hottest month with my biggest water and electric expenses. Normally, we'll see 116º days and 104º nights at this time of year. Instead it cooled down to 75º! I turned off the a/c for 3 nights this week! We had a warm winter this year, which made me thinking we would have a hotter summer. Instead, we've seen a more mild summer. I'm wondering if I'll need to adjust my fall planting schedule up a month, or at least a couple of weeks.
I made homemade hair detangler with a free sample of conditioner.
I made a batch of laundry detergent.
My husband cut his own hair. I trimmed up the back for him.
I took a free 3-day online Photoshop class from creativeLIVE. I also took another class from them today on Light Painting.
I watched new episodes of 4 shows for free on Hulu.
Most of our meals were meatless this week.
My son took some basil over as a gift to our Italian neighbors. He returned with a pizza they had made!
My husband fixed my washing machine. I have a front laoder, and about twice a year it stops working. The first time we called for service. We watched the serviceman. He opened up the front of the washer on the front and opened the drain. Little items clog up the machine and keep it from draining (so it's really the washer that eats socks!) I need to be more proactive about this and have my husband check it when the machine starts to take longer than usual to spin. This time it was totally stopped again. Within 10 minutes, he had opened it up, unclogged it, and it was working again!
A friend of mine goes garage sale shopping for me in Washington state. She is still there, but my mom met up with her on vacation, and brought back a bag of children's clothing for me! I have several things for the boys, a jumper for one daughter and a sweater for another, plus a new little prop for pictures that I have had on my list for several years!
What have you done to save money this week?