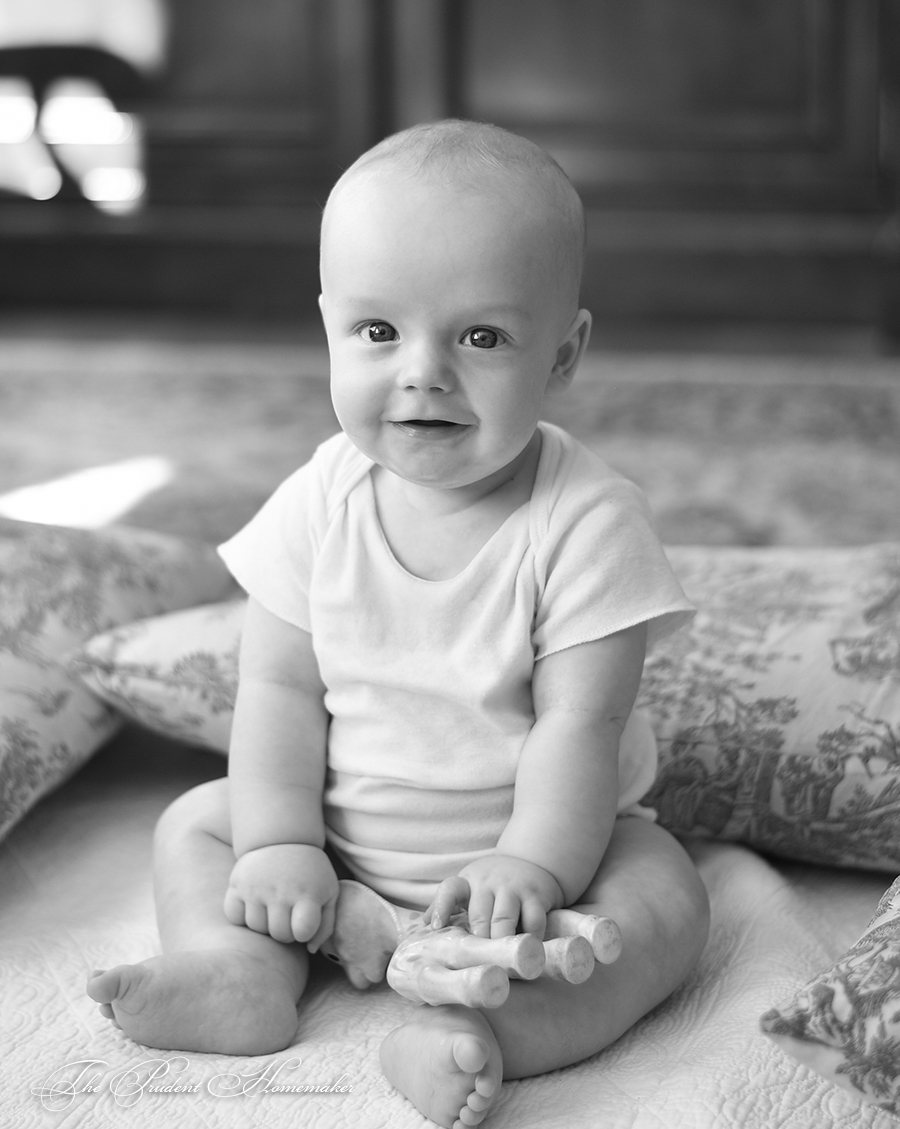 Hamish sat up a couple of weeks ago at 4 1/2 months old. Now he wants to sit up all the time.
I sewed 5 toddler bibs that I cut out from an old fitted sheet of my mom's.
I turned a pair of my son's pants with a torn knee into shorts.
I turned a pair of my daughter's jeans with a torn knee into shorts, and I turned a pair of boot cut jeans into shorts. Since I buy the girls' jeans for $0.50 to $2 a pair at garage sales, I'm not out a lot to start when they quickly wear out the knees in their jeans. Shorts are more practical here for most of the year, so they wear the shorts until the fabric wears out.
I opened the windows in the early mornings when it was below 79 to air out the house and keep from running the air conditioner for a couple of hours each morning. We need air conditioning here during the day through October, so it was nice to be able to open the windows just for a short while before we reached triple digits this past week.
Some of my agapanthus plants died over the summer (they burnt in the heat, a common problem here for many plants). The local nursery was having a sale on them, so I purchased some new ones while they were on sale.
My husband gave our eldest son a haircut.
My husband and his brother fixed our back door, which has not been closing properly for some time.
I read several e-books from the library. I paid $62.32 a year in taxes for the library this year, and I have gotten more than my money's worth (One likes to think of the library as being "free," but it isn't really free.) The library recently purchased several e-books that I requested, so I've been able to read books that I really wanted without having to purchase them.
I enjoyed two magazines that I have a free subscription to, thanks to Recyclebank.
I cut red noodle beans and Armenian cucumbers from the garden. We used the beans in a dinner of fried rice (along with eggs, onions, and carrots) and the cucumbers with white bean dip (along with purchased carrots, cut into sticks) for a lunch. I also cut chives from the garden.
I cooked a large batch of pinto beans in the solar oven, which I used to make bean burritos.
I saved some old raisins that were becoming rather dry by using them to make Oatmeal Raisin Cookies. The recipe calls for soaking and slightly cooking the raisins with water to make them plumper, so even if your raisins are super old, they will still work well in this recipe.
I made a bottle of anti-static spray using store-brand witch hazel and water in a $1 travel spray bottle. A reader suggested this in the comments a couple of months ago and my eldest said it works great. She used about 60% witch hazel to 40% water (the original comment said 50/50, I believe).
I repurposed a beautiful blue and white gravy boat that a reader sent to me to hold flashcards that we are using every day.
What did you do to save money this past week?