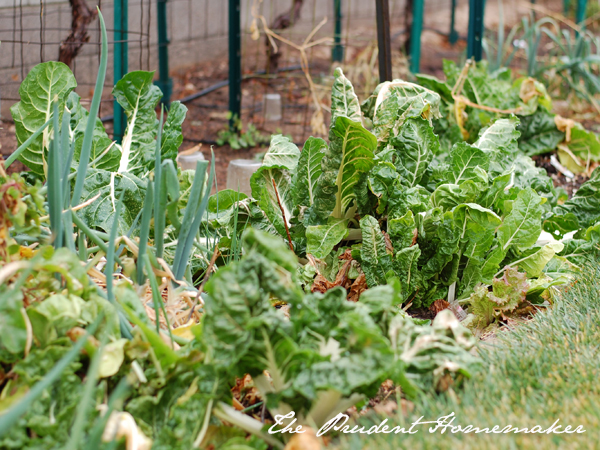 January is a busy time in the garden for me. A month before my last frost date, it's time to prune fruit trees, prune roses, trim hedges, fertilize the garden, plant seeds, and even harvest (I have several things big enough to eat in the garden right now, including chard, leeks, beets, green onions, parsley, thyme, garlic scapes, carrots, radishes, and lettuce). I may even have a little weeding to do.
It's beautiful outside, which makes it even more delightful to be out there right now. We had a wonderful rain on Sunday, so I won't have to water this week (in winter I only run the drip system one day a week, and my assigned day is Monday. I turned off the drip yesterday so that it wouldn't come on today. It's only 4 minutes of watering for the week, but I'm still grateful for the water savings).
Going through my seeds, I realized I don't really need to buy many at all this year. I haven't placed any seed orders yet; everything I am planting so far is left over from last year or something that I collected from my garden last year. (I do want to try a few new things, including celery and sugar beets, and I do need seeds for parsley, red noodle beans, and more radishes for fall planting, so I'll still place an order).
Garden Goals:
1. Prune hedges in the backyard
2. Prune roses in the backyard
3. Dig leeks and plant them deeper. Dig trenches for planting more leek seeds. Plant more leek seeds in them.
4. Prune grape vines (I got a good start on this after Christmas but still need to finish).
5. Plant more snow peas. I normally plant them in fall but I am going to add some more to the garden. I still have plenty of seeds from last year.
6. Plant more lettuce seeds in the garden. I'm planning to add more to the front yard this week. I will be planting lettuce over several weeks to have a continuous supply of lettuce throughout the spring.
7. Plant more carrot seeds in the garden. I normally buy 60 pounds of carrots a year. I'd like to eliminate that expense ($23.28 a year), and I have plenty of carrot seeds left from last year. These are open-pollinated, so I should be able to collect seeds next year (carrots take a couple of years to go to seed) so that I will no longer have to buy seeds. I will plant more carrots in two weeks, and then more again in two weeks, and so forth, to ensure a continual supply of carrots. I'm growing parsnips, too, which are similar in taste to carrots, but they get much longer and take longer to grow. As the year goes on, I'll harvest both carrots and parsnips.
7. Plant more beet seeds in the garden. I'll probably harvest a bunch of beets as well, depending on size.
8. Plant more radish seeds. To maximize space, I'll be planting these with the carrot seeds, with the turnip seeds, and with the parsnip seeds. They will be harvested before the carrots, so this will help maximize space in the garden.
9. Fertilize roses (I'll be using bone meal in place of superphosphate, and blood meal in place of cottonseed meal, since the nursery switched to carrying cottonseed meal only in small amounts a year or two ago. I already have these on hand).
10. Plant turnip seeds
11. Plant mustard seeds
12. Plant more spinach seeds
13. Plant more parsnip seeds
14. Prune Dorsett Golden apple tree. Because the weather has been so mild, this tree hasn't lost all of its leaves yet, and is almost ready to start leafing out again. It's the first tree to blossom in my garden each year (the apples are ripe in June).
15. Stake two trees in the front yard.
Cooking goals:
1. Make quiche. I have a ton of eggs still left in my fridge and Swiss chard and green onions in the garden.
2. Make turkey a la crescent. Due to the freezer no longer staying frozen/going out on my second fridge/freezer last week, I cooked a pork roast (which we've now eaten), dehydrated lots of bell peppers that I had frozen, and cooked a turkey on Saturday and one on Sunday (everything else I managed to move to other freezers). We'll be having lots of turkey this week in several meals, since I cooked 38 pounds of turkey this past weekend (some will go in another freezer for other meals).
3. Cook a large pot of beans (in the solar oven) and make chili.
4. Make 2 lemon meringue pies with our lemons.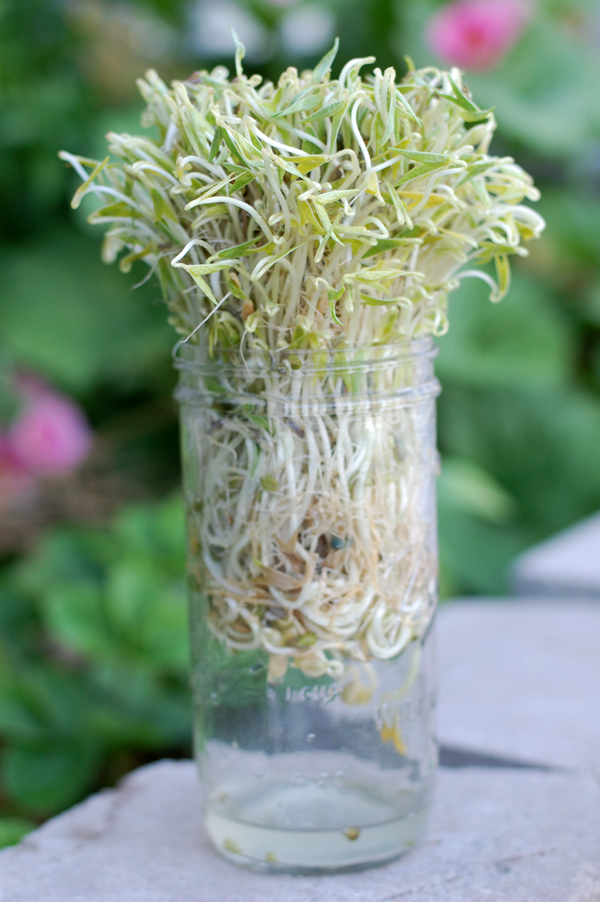 5. Make stir fry with turkey, Swiss chard, green onions, and bean sprouts over brown rice (the chard and onions are from the garden, and mung beans are easy to sprout; you can buy them in bulk from many places and sprout them for some quick greens any time of year; I have these in my pantry).
6. Make several salads and soups. We'll be having salad and soup every day this week.
7. Make banana bread. I had some frozen bananas that defrosted that need to be used up.
Blogging goals:
1. Photograph and publish 3 new recipes.