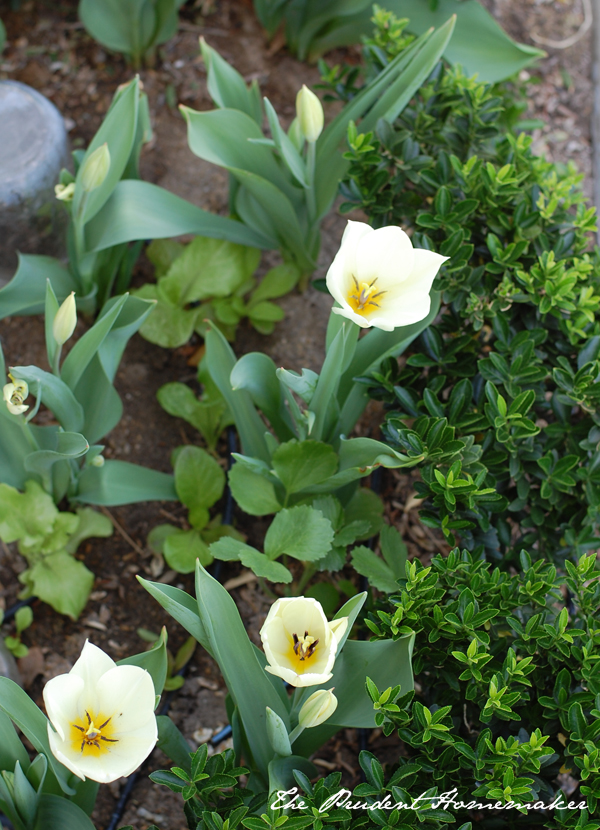 Gardening:
1. Dig out apple tree. This is proving difficult as the roots are large, but I will get it out.
2. Finish pruning espaliered apples
3. Plant apricot in place of apple
4. Plant warm season vegetables. It is going to be 87º F today (my fig tree has leafed out and has fruit on it already–a month early)
5. Spread manure under grapes
6. Tie up two grape vines
7. Thin plums
8. Fertilize fruit trees
Sewing:
1. Mend at least 2 items
Shopping/Errands:
1. Continue to add needed item to garage sale list
2. Trip to Albertson's for strawberries and cabbage
3. Trip to Smith's for broccoli
4. Trip to library to return books (I'll probably have my husband drop these off on his way to work as he is close by)
Canning/Preserving:
1. Can strawberry jam
2. Make saurkraut in preparation for canning
3. Blanch and freeze broccoli
Blog Goals:
1. Write post on the white garden
2. Write frugal accomplishments post
Other:
1. List 5 items for sale on Facebook garage sale pages. The sale of these items will be added to my garage sale fund for next month.
2. Plan and prepare meals to take with us on a family outing this week
3. Clean refrigerator
4. Make laundry soap
5. Attend the temple