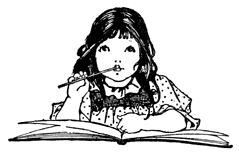 I went out to my garden on Monday night, and found evidence of hornworm caterpillars on the tomatoes and I saw grape-leaf skeletonizers on the grapes. I decided to take care of this problem first, instead of pruning the trees first. By the time I was done ripping out the tomato plants (I had been considering ripping them out anyway) and cutting back any damaged and invested grape vines that I could find, I had filled up all of the trash cans. I borrowed an extra-large can from my mom (who lives next door) and filled it with tree branches. It looks like I'll have several more weeks of pruning grape vines and tree branches.
I spread out 3 cubic feet of manure in the garden where the tomatoes have been. I also sprinkled some fertilizer in this area, and I mixed it in by hand. I repinned the water lines down on top of the dirt. I pulled several weeds as well.
I also found 3 caterpillars on my peppers. It has cooled just enough (94º in the day but in the 70's at night!) that they are starting to flower again. It looks like they will have open flowers in a few weeks, so I may finally harvest some peppers. I have not had any peppers yet this year, as it has been too hot.
I ended up going shopping last week, on three separate days! Thankfully all but one place were very close. Nevertheless, the time it took really cut into my sewing plans for the week, but I was able to stock up on some needed items. I bought 100 pound of potatoes for $8.80. I went to the case-lot sale and bought canned corn and green beans for .50 each, as well as a few other things. I also went to our local LDS cannery and bought a year's worth of oats ($15.35 for a 25 pound bag; we eat 75 pounds a year) and stocked up on pinto beans ($18.55 for 25 pounds), white beans, and black beans. We eat a lot more beans now, and I hope that by buying now, I'm avoiding any higher prices in the future. In addition, we were low on beans.
I can certainly see how being home is the key to accomplishing things on my list each week!
Last Week's Goals
1. Finish sewing Winter's green dress. Sadly, I still didn't get to this.
2. Continue to work on having breakfast at 7:30. This will continue to be a goal, but I won't be putting it on the list anymore.
3. Continue to work on having reading lessons with my 7-year-old and 5-year-old right after breakfast. This has gone okay. We will continue to do this each day.
4. Spray the squash bugs. I ended up going out and squishing all that I could find, throwing out one dead plant, and ripping off any leaves that contained eggs. I did not spray.
5. Do a summer pruning to the fruit trees. I got started, but I still have more to do.
6. Cut out and sew one dress for one daughter. I knew that accomplishing this was probably stretching it, but I decided to try anyway. I cut out the dress and began smocking it. I'm doing counterchange smocking for the first time. I made good progress, but I still have more to do.
7. Sew piping for another project. Didn't even go there.
8. Make item and photograph tutorial for the website. I ended up shopping instead.
9. Edit photos and get another recipe up on the website. I had to rephotograph the recipe this week instead.
10. Straighten laundry room. What I thought would be a little project turned out to be a major one, after I ended up emptying cabinets and going through and straightening them. My original plan was just to clean off the counter! Right now the room is torn apart, but when it's done all of the space will be better used.
11. Cut out and embroider a baby bib. Not only did I do this, but I also cut out and embroidered a cover for a new pillow for the living room. I also started embroidering a handkerchief for a daughter for Christmas.


This Week's Goals

1. Continue to prune trees and grape vines. The trash man comes twice a week here. My goal is to have the cans filled each time with cuttings (in addition to any trash that we have).
2. Cage tomato. I had 2 tomatoes left that grew from seeds that self-seeded in my garden, long after the other tomatoes were growing. These 2 small plants were sprawling on the ground, and one of them seems to have escaped the caterpillars. I caged that one last week. The other one is still doing well. I will cage that one this week and carefully look for caterpillars. These plants are still small and will hopefully give us a fall crop of yellow pear tomatoes.
3. Edit new photos and remeasure for the new recipe for the website. Get recipe up on the website.
4. Continue to work on reorganizing the laundry room, by doing some each day.
5. Finish counterchange smocking on dress.
6. Sew pillow and pillow cover for the living room. This is the cover that I embroidered last week.
7. Finish Winter's green dress–somehow!
8. Finish embroidering handkerchief. Start embroidering another handkerchief for a Christmas gift.
9. Start planting fall garden.