Note: This post contains affiliate links.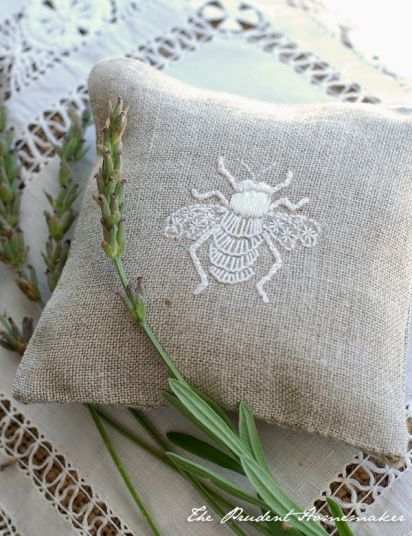 I came across a beautiful whitework embroidered bee on Pinterest. I was fascinated by it.
The pattern was created by Sarah Homfray. Sarah has achieved one of my life-long desires in attending the Royal School of Needlework in England. She teaches embroidery classes in England. You can see more of her work, and sign up for her classes on her website, SarahHomfray.com.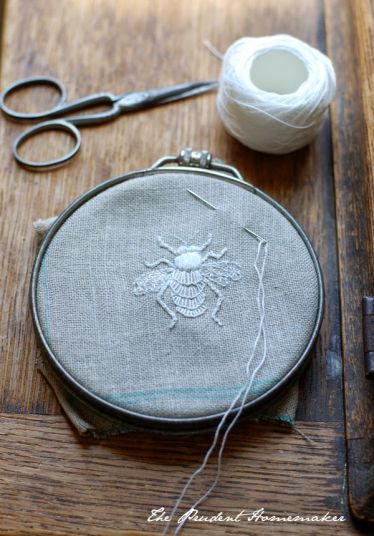 I ordered the pattern for the bee from Sarah on Etsy (using money I had saved from taking surveys) and I made the lavender sachet above. I embroidered the bee using a combination of a single strand of white pearl cotton thread, and a single strand of white embroidery thread. The entire thing could be stitched with two strands of white embroidery thread for the most frugal option. I love whitework and have recently started stitching with DMC pearl cotton in size 12
, as I like only needing to cut a single strand and not having to separate the threads. I bought mine with a 40% off coupon at Joann's; Amazon has it for close to the same price I paid.
I embroidered it on a 5 inch scrap of linen, and transferred the pattern with a blue Mark B Gone pen
. The pen disappears with water when you are done stitching. I left one end open and stuffed it with lavender buds.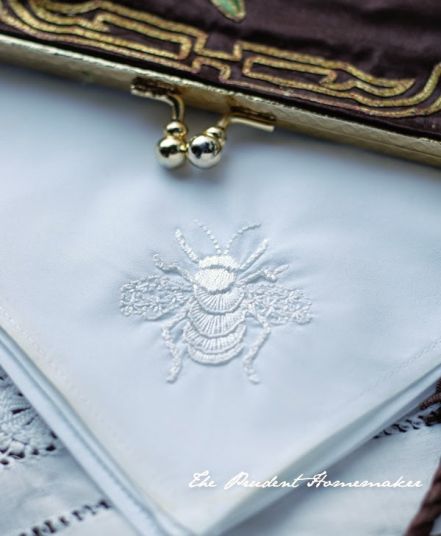 I then used the pattern again to embroider a handkerchief for myself. This time, I embroidered the entire thing in pearl cotton, and I spaced the buttonhole stitches much closer together on the body of the bee.
I am envisioning several other ideas with it; I've pinned several bee embroidery ideas on my embroidery board on Pinterest, which I may make using this same pattern. I also think it would be beautiful on a girl's dress.
Today, I'm giving away a copy of this pattern to one lucky reader! The reader will receive a pdf pattern of this bee with stitching instructions. This giveaway is open to all readers worldwide!

To enter, please enter in the Rafflecopter box below, and leave a blog comment telling me on which embroidery project you currently are working/are planning to work on next!