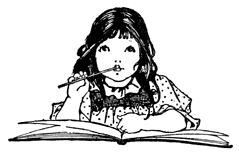 Last Week's Goals:
1. Change the school schedule slightly so that my 5-year-old and 7-year-old have reading with me first thing in the morning, with 5-year-old first and 7-year-old after he is done doing his after-breakfast chores. This worked well 4 of the 5 days last week. I will be continuing this one this week until it becomes habit.
2. Have breakfast on time at 7:30. Everything gets delayed and moved when I have a new baby. I'd like to get things back to where they should be. Close, but not quite. I will be working towards earlier mornings and more breakfasts on time.
3. Finish sewing green church dress for Winter.
4. Hem blue dress for Winter. I thought it was done and then I realized I had forgotten to hem it!
5. Cut out and sew pajamas for Liberty from a sheet that came from Grandma's house. This will be one of her birthday gifts. I started these, but did not finish them.
6. Make a flowered headband and some flowered barrettes for Liberty for her birthday. Started this when I had a chance to do some hand sewing.
7. Take care of some paperwork that needs to be handled right away (this is actually a goal for Monday).
8. If I have more time for sewing, start another one of Liberty's gifts.
9. Plant Swiss chard seeds in the garden.
10. Pull weeds in the garden for 10 minute stretches on several days this week. I spent a lot of time in the garden this week pulling weeds. It's not weed-free, but it ended up superseding other goals, and that's okay with me–it really needed to be done.
11. Do one science experiment this week on Friday. I ended up with a chance to run some errands on Friday, so this didn't happen.
12. Take photos of a new recipe for the website and get it up!
13. Put away all outgrown clothing (that is currently in my room) in the proper boxes. I was able to put away one size of clothing only.
14. Take pictures for another tutorial for the website. I'm going to move this to next week so that I can spend more time this week making birthday gifts.

This Week's Goals:
1. Finish sewing pajamas for Liberty.
2. Finish sewing headband and barrettes for Liberty.
3. Make 3 (or more, depending on time) other gifts for Liberty this week. Any gifts from my birthday list that I don't complete for her will be moved to my Christmas list for her.
4. Continue to work on having breakfast at 7:30.
5. Continue to work on having reading lessons with my 7-year-old and 5-year-old right after breakfast.
6. Plant more Swiss chard seeds, 3 tomato plants, and zinnia seeds in the garden.
7. Spray the squash bugs.
8. Finish sewing Winter's green dress.
9. Do science experiment on Friday.
10. Finish boxing up outgrown children's clothing into the correct boxes.
11. Take pictures of 2 recipes this week for the website. Get at least one up on the website.