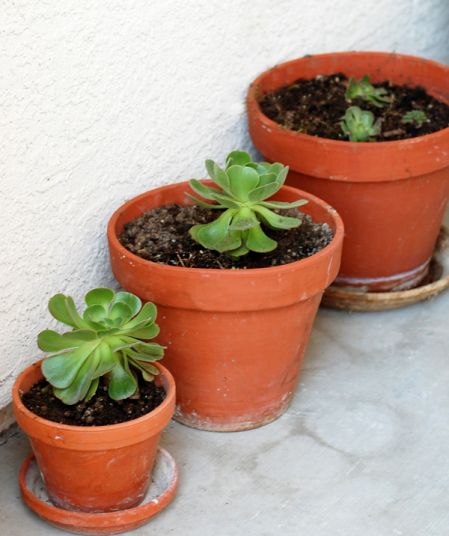 I picked up a small succulent at Sam's Club and divided it into 5 plants. Using pots I already had that were not being used, I replanted it into several pots and arranged the pots by my front door. Eventually they will spread and fill the pot, and fortunately, they prefer it when you only water them every few days, so if I forget a day, they won't die.
I bought 2 dwarf periwinkle plants and divided both of them into 2 plants so that I could put them in 4 pots. The periwinkle spreads like mint, rooting where it touches, so it should fill the bottom of the pots.
Harvested a fistful of green beans, a few small tomatoes, and basil this week.
Planted Swiss chard seeds that were free to me (from a reader who attended my garden tour last year).
Dug up and divided paperwhite (narcissus ziva) bulbs. I will replant them in new places in the garden next week.
I hand pollinated a butternut squash flower and a cucumber flower. Those were the only female flowers I saw all week. My cucumbers are covered in hundreds of flowers–male flowers.
I made Greek yogurt and used the leftover whey to make crepes.
Printed out 2 Buy 2 Get 1 free canning lid coupons on Smartsource.com.
I signed up for a free subscription to Martha Stewart Living magazine.
Watched 5 free shows on Hulu.
I used coupons to get some candy for free. I put it aside to use in Christmas stockings.
I worked on birthday gifts for my daughter using items I had on hand.
I cooked a turkey and we used it for meat this week. I also froze some to use another time. In between that, we had plenty of meatless meals, including bean burritos.
What have you done to save money this week?