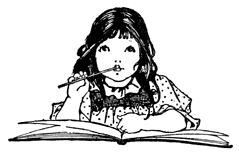 It's been a long time since I've posted a goal list. I've had several requests to publish my list for the week again. Here is my over-ambitious list of goals for this week!
Garden Goals:
1. Paint plinth for the front garden when it arrives
2. Install plinth and urn
3. Plant urn with plants (I purchased these a couple of weeks ago)
4. Plant zinnias in the backyard circle
5. Plant more zinnias of different colors in the garden
6. Install more drip irrigation in the front yard (and take some pictures as I go)
7. Order garden seeds for my fall garden
8. Have children finish picking apples from the Dorsett Golden Tree
9. Pick Early Elberta peaches when they ripen
Sewing Goals:
1. Finish gift
2. Finish dress for Wren
3. Make dress for Winter
Canning Goals:
1. Can plum sauce
Website and Blog Goals:
1. Write and photograph 3 blog posts
2. Finish 2 recipes and publish them for the website
Family Goals:
1. Help husband with advertising
2. Correct all schoolwork
3. Give both boys a haircut
In addition to these, I'll be doing all of my normal things: making all meals and snacks from scratch, doing 22-24 loads of laundry, homeschooling 6 children (we took the last two weeks off while I worked on the front garden; I spent 5 1/2 hours on Saturday moving the last of the dirt into the backyard with the wheelbarrow while it was amazingly overcast; I spent another hour before that in the garden as well. It is MOSTLY done, but struggling in the 118º temperatures of the last week), making sure that the children do their chores, etc.

Will I get all of that done? Highly unlikely! Do I want to get all of that done? You bet!
I'm walking away from the computer now, so that I can check on the cupcakes in the oven and get back to cutting those teeny tiny Mirabelle plums for plum sauce. After that I'm putting a ham in the oven for tonight's dinner, and after Ivory wakes up from her nap, I'll put another load of laundry on to wash.