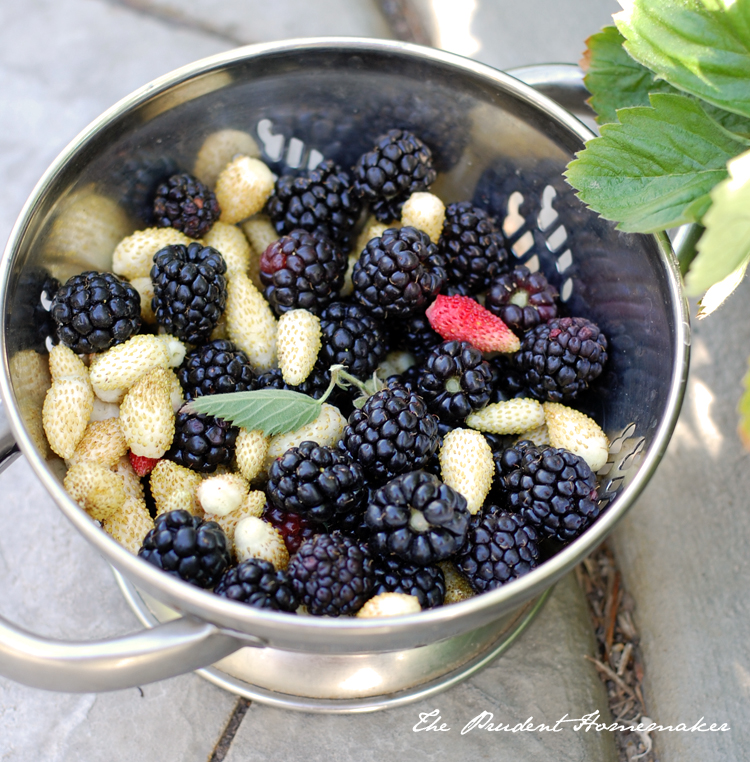 With the continued beautiful, unusually cool weather that we had last week, I was able to save money by not needing to run the air conditioner, only running a few fans for a little while, and reprogramming the drip and sprinklers to not go on for several days last week.
Temperatures will return to normal this week and we'll see 100º by Saturday. I've enjoyed having a cooler May than ever before.
Last week I picked blackberries and red and white alpine strawberries from the garden (I have one red alpine strawberry plant). The strawberries stop flowering when it gets hotter, but our cooler May has given us many more than normal. We enjoyed a fruit salad with breakfast one morning, made of peaches from our tree, and blackberries and strawberries from the garden.
I picked lettuce from the garden. It's bolting now, but we still were able to enjoy several salads. I've left the plants in the garden to continue to go to seed so that I can collect seeds from each of them to plant again later. Since I only grow open-pollinated lettuce seeds, I can collect seeds from all of them for planting in the future.
I sowed seeds in the garden for zinnias, vincas, dahlias, armenian cucumbers, zucchini, red noodle beans, and butternut squash. Hopefuly none of these will be eaten when they come up, as my past seedlings have been (which is why I am planting seeds again unstead of harvesting now as I should have been).
I went shopping at the thrift store last week. I found two dresses for Winter ($6 each), and two blouses for Winter ($3 each). I found a skirt, a pair of pants, and three blouses for myself.
I mended a doll, a pair of pants, a pair of jeans, sewed a button from my button jar on a pair of pants to replace a missing button, and turned a pair of torn pants into shorts.
My husband fixed several bicycles. We rode as a family and enjoyed the beautiful weather.
I cut and dug a couple of euyonomus bushes that I had grown by tip layering and planted them in the pots I bought the week before from a Facebook garage sale page.
I bought two pairs of Boy Scout pants for Cyrus from a Facebook garage sale page.
I collected dill seeds and a few more green onion seeds from the garden.
What did you do to save money last week?