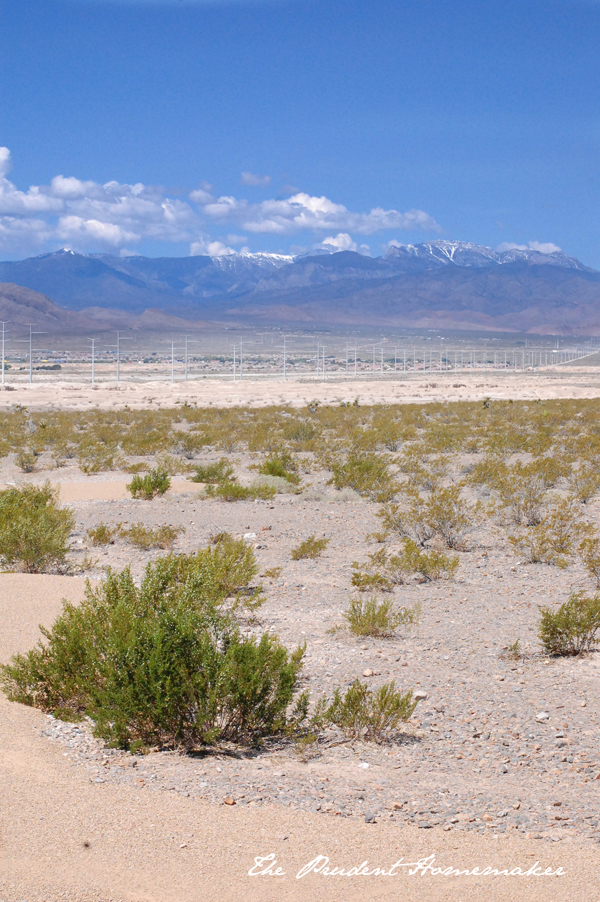 Our desert looking towards the mountains we went up last week. This photo was taken in the spring a few years back.
I was hopeful that our weather was starting to cool enough for me to do some planting, but the revised weather forecast for this week shows most days over 100º, with the exception of Tuesday and Wednesday. I'll use those days to get some work done in the garden.
Garden:
1. Spend at least two hours pruning and weeding
2. Mix manure into the garden
3. Plant seeds that can handle the still warmer temperatures
4. Cut branches for indoor arrangements
5. Cut flowers for the table
6. Pick apples from the garden
7. Cut basil from the garden and hang it to dry
8. Plant the last 4 plants I bought at the nursery. I've been waiting for cooler weather; Tuesday is as good as it will get, so I will plant them then!
Sewing:
1. Finish small project
2. Sew tarp
3. Sew an apron for myself
4. Help Winter with sewing a pencil case. She'll do the work, but she hasn't put in a zipper before, so I'll need to show her how.
5. Wash and dry fabrics I bought to make Christmas gifts for the girls
Errands:
1. Trip to the library to pick up the books I requested for school (assuming they come in this week)
2. Trip to Costco (maybe)
3. Return item to store and purchase 3 things while there
4. Return socks to another store (I found a better price at Sam's Club on men's socks last week)
Organization and Cleaning:
1. Spend at least 30 minutes organizing the pantry (only a start on what needs to be done)
2. Spend at least two hours organizing in my bedroom
3. Go through two 72-hour kits and update with new items
4. Put away herbs in kitchen
5. Iron and hang some hand-me down curtains in the living room
Canning:
1. Can applesauce
Personal Goals:
1. Exercise 5 days this week (walking. bike riding, or exercise video each time)
2. Date out with my husband (we have a gift card and a coupon for buy one entrée, get one free)
3. Go visiting teaching
Blog Goals:
1. Continue to make a few updates to the website (I made several last week, most noticeably on the homepage)
2. Take lots of photos this week