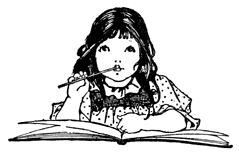 Organization:
1. Clean and organize closet with printer and school papers.
2. Put schoolbooks and teacher's manuals together for the current school year
3. Make sure I have everything I need to start the school year
4. Clean and organize my desk
5. Put away clutter in my bedroom
Garden:
1. Pick ripe apples and Asian pears in the garden
2. Plant sunflower seeds in garden
3. Plant zucchini seeds in garden for a fall harvest; these should ripen in October
4. Plant more red noodle beans
5. Trim grape vines
6. Trim espaliered apples
7. Cut flowers to bring in
8. Cut basil and hang it to dry
9. Plant peanuts (if I can find a place to try again; they did not germinate last time)
Cleaning:
I don't usually list cleaning goals, but I want to make sure I don't forget these this week.
1. Clean glass on oven door (I'm going to try baking soda)
2. Clean oven racks
3. Run a short self-clean cycle on oven (It recommends 8 hours, but it is usually done after 30 minutes. During that entire time the windows have to be open, according to the manual–the smell is quite bad and supposedly toxic, so I only run it for 30 minutes while having the vent fan on and the windows and doors open.)
4. Sweep and mop my bedroom and bathroom
5. Wash hairbrushes and combs
Sewing:
1. Finish hemming my husband's shirt sleeves
2. Add buttonholes to three items and sew buttons on them
3. Sew Scout insignia on Cyrus' Scout shirt
4. Sew arrow points on Ezrom's Scout shirt
5. Look through fabric that I have and decide on some things for some new dresses for Winter
Project:
I am working to recover a set of chairs. I'm doing one chair at a time. Last week I removed the double welting and washed the new fabric. This week I hope to:
1. Remove staples from chair
2. Remove fabric from chair and use it as a pattern to cut new fabric
3. Take all stuffing off of chair
4. Strip chair (I want to stain it a dark color, and right now it's more of a pecan)
Shopping:

I do not plan on buying any food this week; we will eat from what we have on hand in the pantry and freezer, and what is ripe in the garden.
1. Order a print of a picture I downloaded (for free from the Getty) for Ezrom's room
2. Look online for clearance shoes/sales for Winter, who is outgrowing her shoes and will now wear larger shoes than I do. (All of my family have wide feet, which usually means I purchase shoes online for the biggest selection and best deals). I may or may not purchase anything this week for her.
Selling:
1. List items for sale on Craig's list
2. Bump up listing of table and chairs that I already listed on Craig's list
3. List books for sale online and figure out shipping costs (any suggestions for figuring out shipping expenses/how to best list books online for sale at Homeschool Classifieds would be appreciated, as I have never done this before and I don't want to shortchange myself in shipping items).
Cooking:
Here are some of the things I plan on making this week:
Tarragon Chicken Salad (using cucumber and tarragon from the garden)
Oatmeal
Smoothies using home-canned and frozen fruit
Popsicles from the leftover syrup that was in the canned fruit
Banana Bread and zucchini bread
Fruit Salad using canned peaches, pears, and grapes
Swiss chard (from the garden)
Cucumbers in Vinegar
Bean and Rice Burritos (I'll cook a big pot of beans and freeze some to use another time as well)