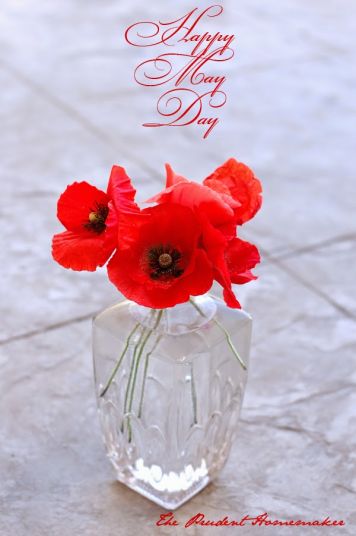 It's the end of the day, but what a beautiful day it has been!
May Day is no longer a day of celebration in the United States (though it was when my grandmothers were children), but I know for many of you around the world it is a still a holiday.
I did get to give some flowers to a friend, which was delightful. I also gave lettuce and green onions to her, and lettuce to another friend. Both stopped by my house on the way to the store and both were planning to just buy lettuce! That was pretty neat! I don't usually have much lettuce in May; it has all bolted by then. This year we are having a longer spring than usual, which has been wonderful in every way except one.
That one thing is tiny, but kind of odd–all of my iceberg roses have turned into a spotted pink! I wondered if this was a soil deficiency, but looking it up I found that cooler temperatures can do that to these, and that they should turn white again once it is hotter. I am left to wonder if those in cooler climates should choose a different white rose. . . .
On a positive note, I picked 4 small tomatoes from the garden yesterday! We have never had tomatoes this early. I don't know if there will be enough to justify my purchase of larger plants this year, but if so, I will most likely switch to buying larger nursery plants every year.
May is going to be a busy month for me. Among all of the things our family is involved in (Cub Scout Day Camp, a Girl's Camp pre-requisite hike, a family surprise party, a fathers and sons campout) I will be speaking this month.
I will be speaking on May 29th at 7:00 pm. I'll be speaking about Eating for 40 Cents a Day. This evening is free to attend (and for those of you who would like me to speak to your group in the Las Vegas area, I do not charge to speak).
I'll be speaking to the Legacy Ward at The Church of Jesus Christ of Latter-day Saints building at 2091 Wigwam Parkway in Henderson, Nevada.
I hope you had a wonderful day, wherever you are in the world.
P.S. I know that Lily of the Valley are traditional May Day flowers. May makes me think of poppies, however, for my time in France in May was filled with memories of many days of poppies, and it is for this reason that I grow them.
P.P.S. A note to my American readers: The best sales of this month should be the Memorial Day sales at the end of the month. Expect ground beef to be on sale, and pace your budget accordingly so that you can stock up then.