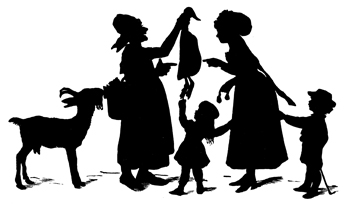 This post contains an affiliate link.

I grocery shop with a monthly budget.

I start with the things that are low in our pantry. Those are my priorities. Once I have worked on filling those, I will make other purchases based on what is on sale.
A couple of notes about last month's shopping:
A reader alerted me to the fact that Winco has their own brand of Parmesan cheese, and it is lower priced per ounce than what I had been paying at Sam's Club. I bought 3 containers, which is equal in size to one container at Sam's Club (and a savings of $3). This is half the amount of cheese I had planned to buy, but now I will be able to add that in to Winco trips more often.
I didn't buy any pork roast. It was on sale, but at $2.49 a pound, I wasn't ready to commit. I realize I will have to either do without or up the price per pound I will pay for meat. If I up my price per pound for meat, we will have to up our grocery budget, or have even more meatless meals. (One of my readers just pointed out that it is on sale again this week–again, it's $2.49 a pound. I'm trying to decide if I will up my price per pound and buy two of these this month, as this is our favorite cut of meat).
That said, I actually did make the exception and paid $2.48 a pound for turkey breast (in the sandwich meat section) at Sam's Club, which we sliced for sandwiches and took on vacation. Normally I would not buy this, but we had eaten all of our hams and decided that this expense, along with a 5 pound block of cheddar cheese from Sam's Club (which we also sliced for sandwiches), would come from our trip expenses. We also also bought 2 loaves of bread, a bag of pretzel sticks, and treated the children to ice cream cones while on vacation (also vacation expenses).
While on vacation, I used a gift card to a store that I had from a few years back (we don't have that store here). I was able to get a bottle of face lotion, 3 dozen eggs, and some candy with that. If I can keep the candy hidden long enough, it will go in my husband's Christmas stocking. (He knows I have it, so that may not work!)
I never did see a good sale on sour cream, so we went without.
We did not go through our oil or our margarine last month (some months we go through more than others, depending on what we have) so while I will continue to buy oil, as our supplies are still low (I want to build it back up to a year's supply of oil), I will put off buying margarine unless we really need some.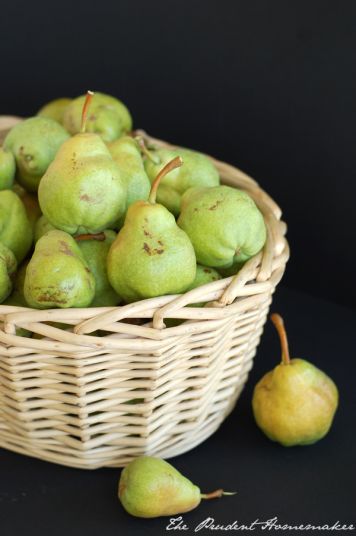 I bought pears last month to can at .25 a pound. I bought 72 pounds of pears for $18. These are still green in the fridge. I'll bring them out to ripen and can this week.
This month, the supplies that I see low are the following:
Pantry:
Tomato Bullion
Oil
Salt
Parmesan cheese
Brown sugar
Non-Food Items:
Bleach
Fresh Food:
Potatoes
Apples
Carrots
Milk
Mozzarella Cheese
Eggs
Halloween candy (not really fresh food or a non-food item, but it won't be sitting around in the pantry!)
I'll be watching blogs for deals on Halloween candy. We don't have a large number of children come through our neighborhood, so three small bags of candy is usually enough for us at home. We will also have a church trunk or treat, so I'll need additional candy for that. There are certain to be sales and coupons for these. However, I may end up buying the least expensive bulk candy choices from Winco, which are all $1.58 a pound, and include things like smarties and butterscotch. I'll make my choice based on what ends up being the lowest cost.
For October, I'll buy 30 pounds of potatoes. Potatoes will be a better price in November, and I'll stock up then. We've had lots of rice and pasta in the summer, but when fall comes, we are very happy to have potatoes again. For those who are new readers, check out my potato page on my website for information on how we store and eat potatoes.
I will look for another deal on apples, since they are in season. We ate the 40 pounds I bought in September. I will buy another 40 pounds, unless I can find them for under .99 a pound, in which case, I may buy more.
For the bleach, I'll be looking for some coupons and sales at Target for their brand (Up and Up). I use this to wash rags, clean the kitchen sink and inside the toilets. I still have a $5 gift card left to use at Target that will cover this.
I'll buy two gallons of oil. We didn't go through two gallons last month, but that's okay; by buying a couple of gallons a month I can build up our supply.
I'll buy two containers of tomato bullion, as we are totally out. We love this on rice; it's simply one teaspoon of bullion to one cup of water. Last month we had black beans with this rice and salsa (plus some cucumbers from the garden on the side) for lunch three times, and the children loved it, so I am looking to put this simple meal into rotation more often. (To season the beans, I mixed them with a little onion powder, salt, and a little lime juice). This option is much less expensive than buying tortillas and having bean burritos, since tortillas are .10 each, and with 9 at each meal, it can quickly become too expensive. For those who cannot find this bullion, it's the Knorr tomato bullion, and I buy the 4.4 pound container at Walmart. It's in the Hispanic foods aisle (the chicken bullion is there too, for the reader who was looking for it, but I just found out that our store has an even larger container of Knorr chicken bullion in the bulk section for .02 less per ounce).
I buy brown sugar in 4 pound bags from Sam's Club. I'll buy 5 bags for a total of 20 pounds. This is the C&H brand, and I haven't had any trouble with it ever going hard (Store brands go hard within a month; I don't know if those are beet sugar as opposed to cane sugar, or if it's because they have thinner plastic packaging, but there is a difference there. As a bonus, the ones at Sam's Club are still less expensive than the store brands during holiday sales.) Once the sugar is open, I put it in a container with a lid and a soaked brown sugar bear, which helps keep it soft.
The baby wipes I will get from Costco. I really like their brand; they are large, soft, sturdy, and aren't perfumed. I don't have a card there, but my mom does, so when I need some, she picks them up for me. A box will last me 6 months.
Winco has carrots for .39 a pound in a 10 pound bag. I'll buy one bag of carrots, plus the apples there.
I'll buy 4 gallons of milk, one of which I will make into yogurt using some starter that I have in my freezer. I may buy 3 more gallons towards the end of the month.
I'll buy 8 pounds of salt (two boxes at $1.10 a box) from Sam's Club.
I'll buy 5 pounds of mozzarella cheese from the Sam's Club, to use on pizza and other meals.
Albertson's has eggs on sale for .99 when you buy 4 dozen (this week). I'll have my husband pick up 12 dozen for me. They also have potatoes on sale for .20 a pound ($1.99 for a 10 pound bag of russets).
I'd like to buy as little as possible this month, so that I can have extra to spend in November. October is an important month for eating from the freezer and pantry. My freezers are much more full than normal this time of year, so we'll be eating from then to make room for turkeys in November and hams in December, and frozen peas and broccoli that should go on sale during those months. I really don't see a need to buy any items besides these this month (unless I find a really great deal), which will give me much more going into next month.
Are you planning to buy less in October to save up for holiday sales? For my Canadian readers, are you buying more in October during holiday sales?