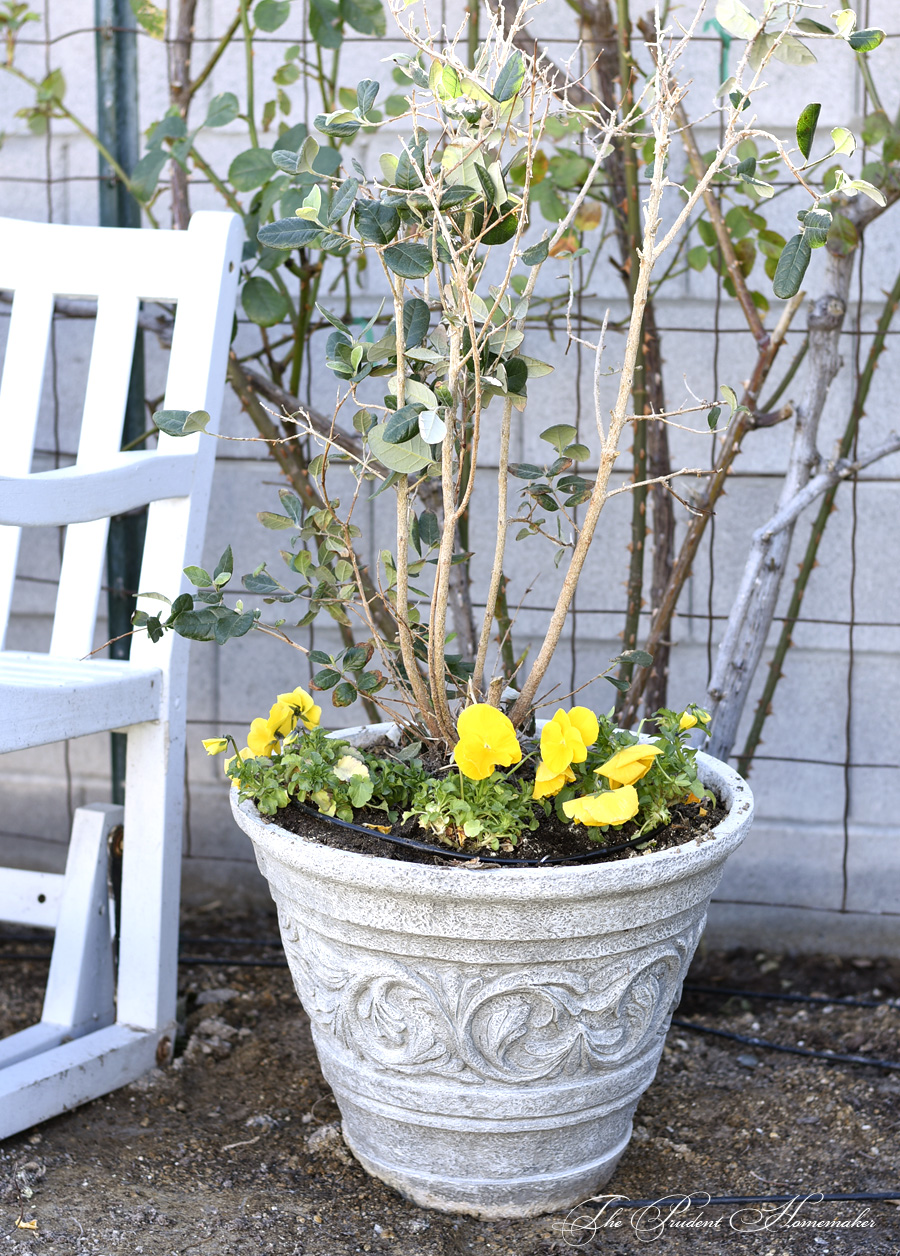 $0.56 worth of pansies cheer up this pot and I can see them from inside the house.
I began sewing a birthday gift for a daughter using fabric and a pattern I had on hand.
My dad had leftover scraps from his back patio/deck (which runs right into our matching stairs between our backyards) to redo our stairs. Last year, a leak developed in the water line underneath the stairs. The only way to get to it was to take the stairs apart (and redoing it would be difficult, as the screws strip the boards when being removed). My dad cut holes in the stairs and my husband repaired the leak. My dad will redo the stair treads using his scraps this week.
We celebrated a fun Valentine's Day at home. I used some mini heart-shaped cake pans that I inherited from my grandmother to bake lemon poppyseed muffins for breakfast.
I used a small amount Rit Dye I had to dye a table runner pink. The table runner was ordered online years ago and was supposed to be a cream color, but was more orange, and I never really liked it. Dying it pink made it perfect for Valentine's Day and upcoming daughters' birthdays. You can see a photo over on my Instagram feed.
I spent some time organizing things indoors. While I organizing, I was able to find a place for some things I had been keeping in a basket. I didn't want to buy another basket, but I also needed a place to put the items that were being stored in the basket. The basket will be repurposed to what I used to use it for (diapers for a newborn).
I asked my 11-year-old to go through the baby girl socks that I have. I figured most of them (if not all) were too old and had the elastic shot, and that if I have a girl I would need new socks. She went through them all, threw out the ones that were no longer any good and any that didn't have matches, and I still had socks that were good left, so if I have a girl, I'm set for socks (plus, I gained some space in the drawer where the other socks were being kept).
I got rid of some things I no longer needed, which made my existing storage space in my closet more effective.
I was wondering if I could get rid of enough items for a garage sale. I decided to clean out several closets (with family help) and we reorganized the linen closet and the games/dress up closet. I went through the girls' clothing boxes from sizes 6 to 12, keeping only the nicest items that would fit in each box and that were liked by the girls (I had enough in some sizes for more than one box, so they needed to be narrowed down in order to fit in the storage space I have). We put several things aside for a garage sale in March.
I still don't have enough of my own things to sell, but my mom was going through her closets this week as well, and she has a ton of stuff she no longer wants, so we piled her items on a table in my entry (with my stuff filling in under the table) to prepare for a sale. This next week, we both plan on going through more closets and cupboards and getting rid of things we are no longer using. I plan on using whatever money I make from the sale to go to the community garage sales in April to get things we need. I recently updated my garage sale list, so I am ready to go shopping with specific needs and wants in mind.
We cleaned the inside of the dishwasher and the vacuum cleaner so that both will run more efficiently.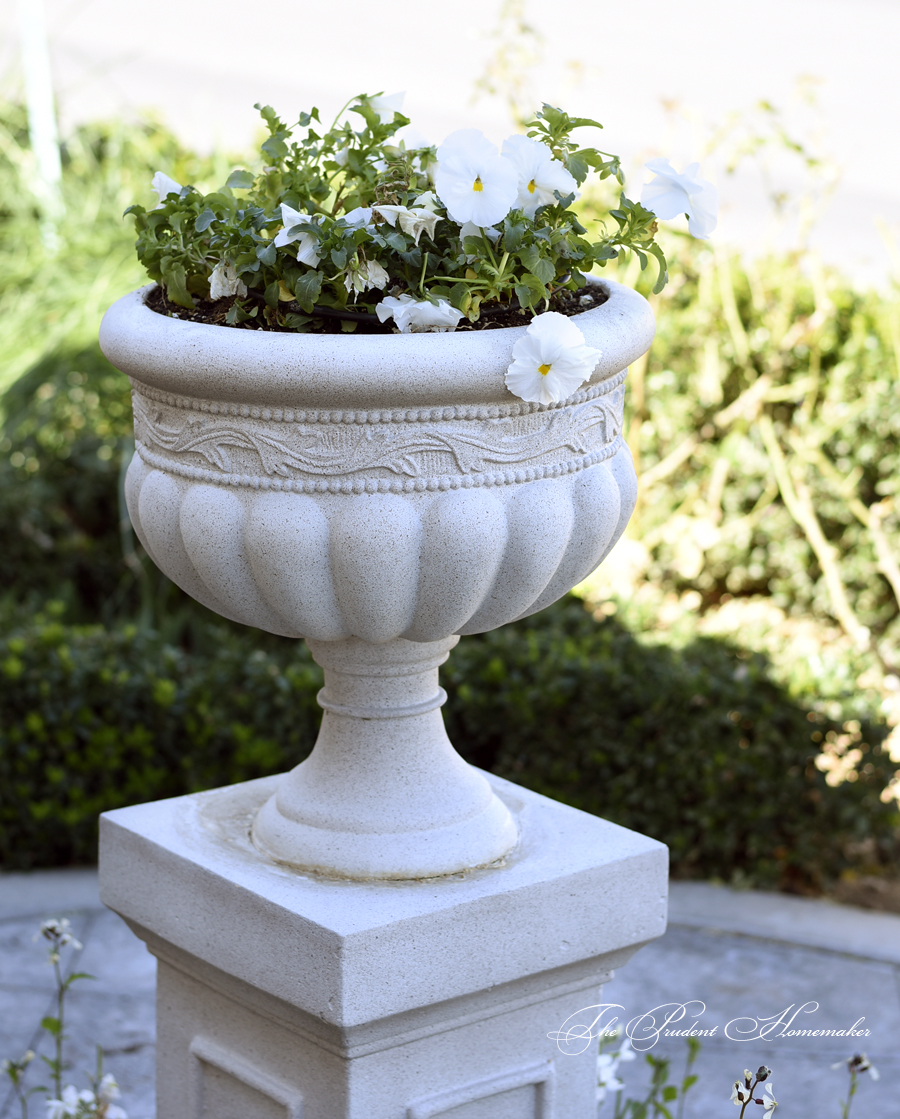 $1.13 worth of pansies to fil in my urn.
I went to the local nursery to purchase some more drip line for the garden. While there, I noticed they were clearing out their pansies for $0.25 each (regular prices is $0.98 each). Pansies grow here from October through April/May. The manager came over to talk with me, and he told me I could have a flat of pansies for $3 (saving an additional $1). I purchased 16 pansy and viola plants for $3 ($0.1875 each), which will fill in a couple of spaces in my garden until warmer weather will permit me to plant something else in their place. I had specifically been looking for annuals (as well as the drip line) to go in the center urn for my white garden, but most of what I wanted would not be available until mid to late April. This filled in the spot nicely and gave me flowers for a couple more spaces in the garden. This was the only money I spent all week.
I harvested garlic chives and green onions from the garden.
What did you do to save money last week?