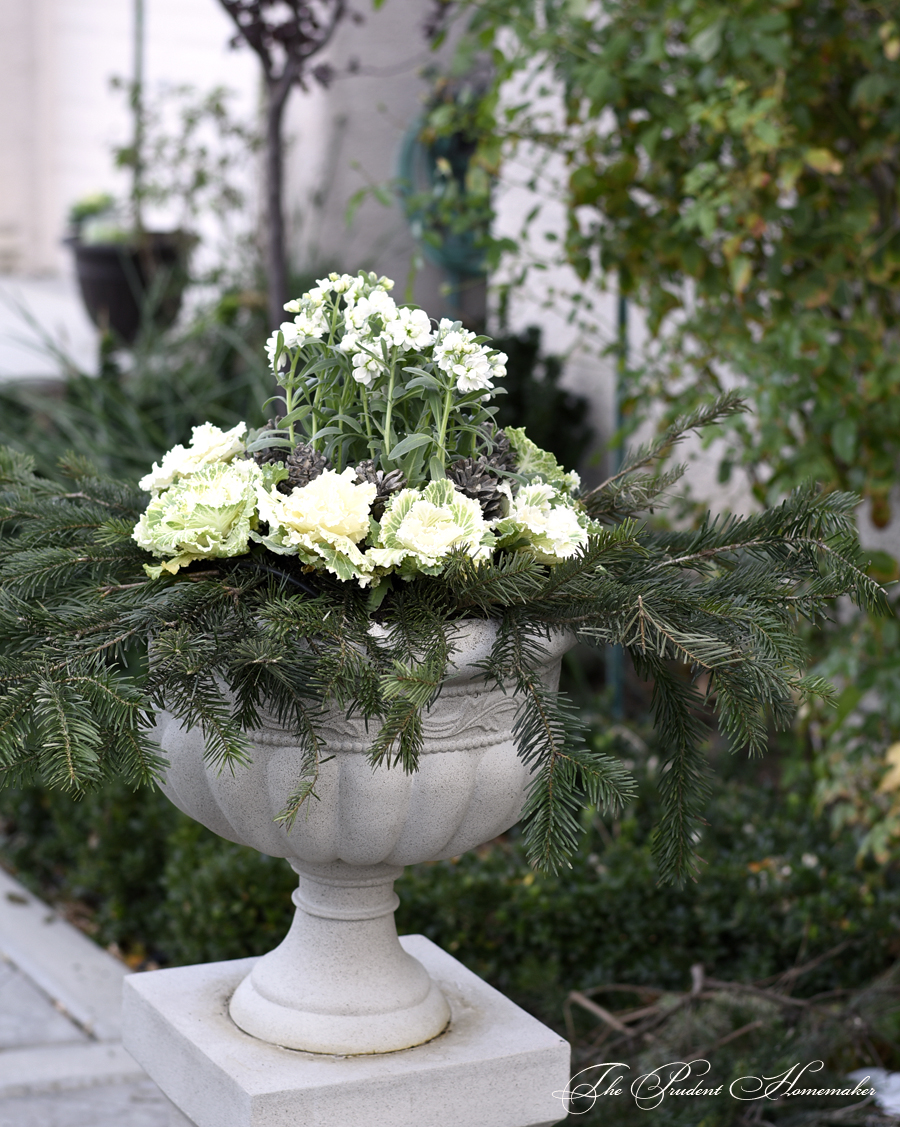 I've been trying a mixture of annuals and perennials in my urns in the white garden, but it seems the only way to have something growing in them year-round is to do annuals, as even my perennials have died. The pots by the front door are particularly challenging; they are in full shade all day long. The garden itself is in shade all winter, and come summer it is mostly in our brutal sun, but for much of the year, it is half in sun and half in shade.
I have been staring at beautiful urns on Pinterest (I even have a board for it) trying to decide what to do this winter that will last into spring. I know what plants do well here winter through spring, and all of them are on sale right now (and I had an additional $5 off coupon on top of that to use). I knew I wanted to use some free evergreen branches, and the nursery, which sells Christmas trees, was the place to get those too. I just hadn't decided exactly what to do.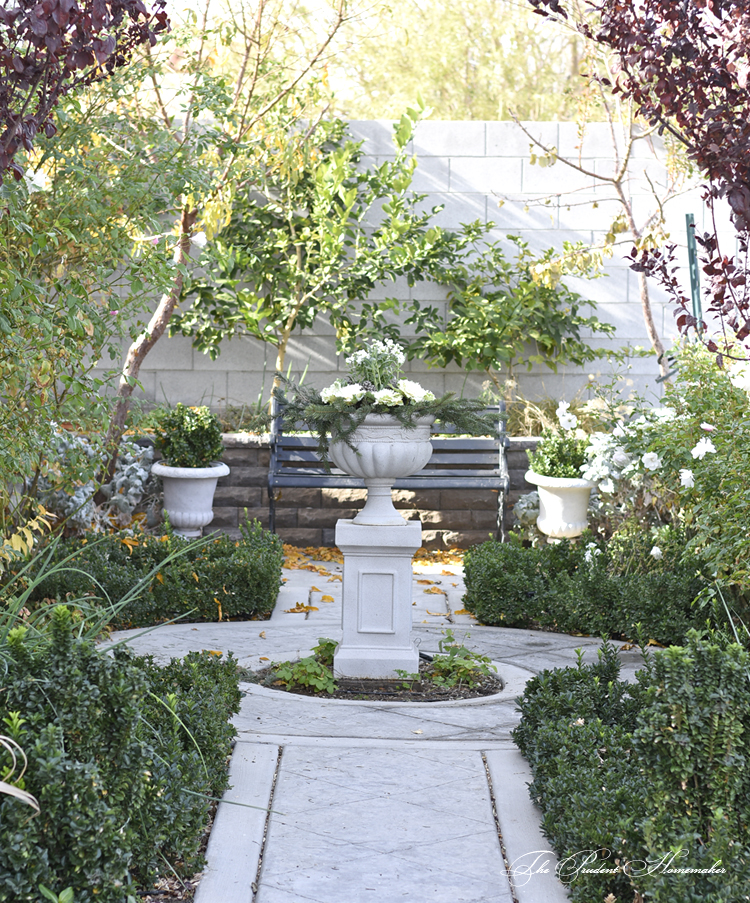 At the nursery there was a birdbath, and it was filled with flowers that looked so beautiful–and then I knew. There was a silvery small-leafed plant in the center, surrounded by a dark pinkish red cyclamen, surrounded by white ornamental cabbages. It was so pretty I seriously considered planting some red cyclamen in the garden for Christmas.
However, it's a white garden, and I wanted something that would last until April (winter annuals here are good October through April). I loved the cyclamen, but I know they do better in the shade here (they'll last longer in the shade when the heat comes, which is early here). I debated a change in the middle–stock or snapdragons? Both will do well; stock (what I ultimately chose for the center urn) flowers for a shorter period, but has an intense fragrance which I enjoy; snapdragons get larger and would be a less expensive option; I could just choose one or two plants if I wanted.
In the end, I went with sage in the middle (not noticeable at all, but a silvery-grey color that I think may work for a similar design come summer, by which time it will be larger; on sale for $0.98), surrounded by 4 stock flowers (on sale for $0.78 each), surrounded by 9 ornamental cabbage (on sale for $0.78 each). Should the cabbage grow too large before they bolt, I'll transplant them to another spot in the garden.
I added some pinecones that we had gathered in between the stock and cabbages. I used clippers to cut the free Christmas tree branches into smaller pieces and then stuck them into the arrangement. The ends are in the moist soil, so they'll stay good for a while (and longer if I mist them).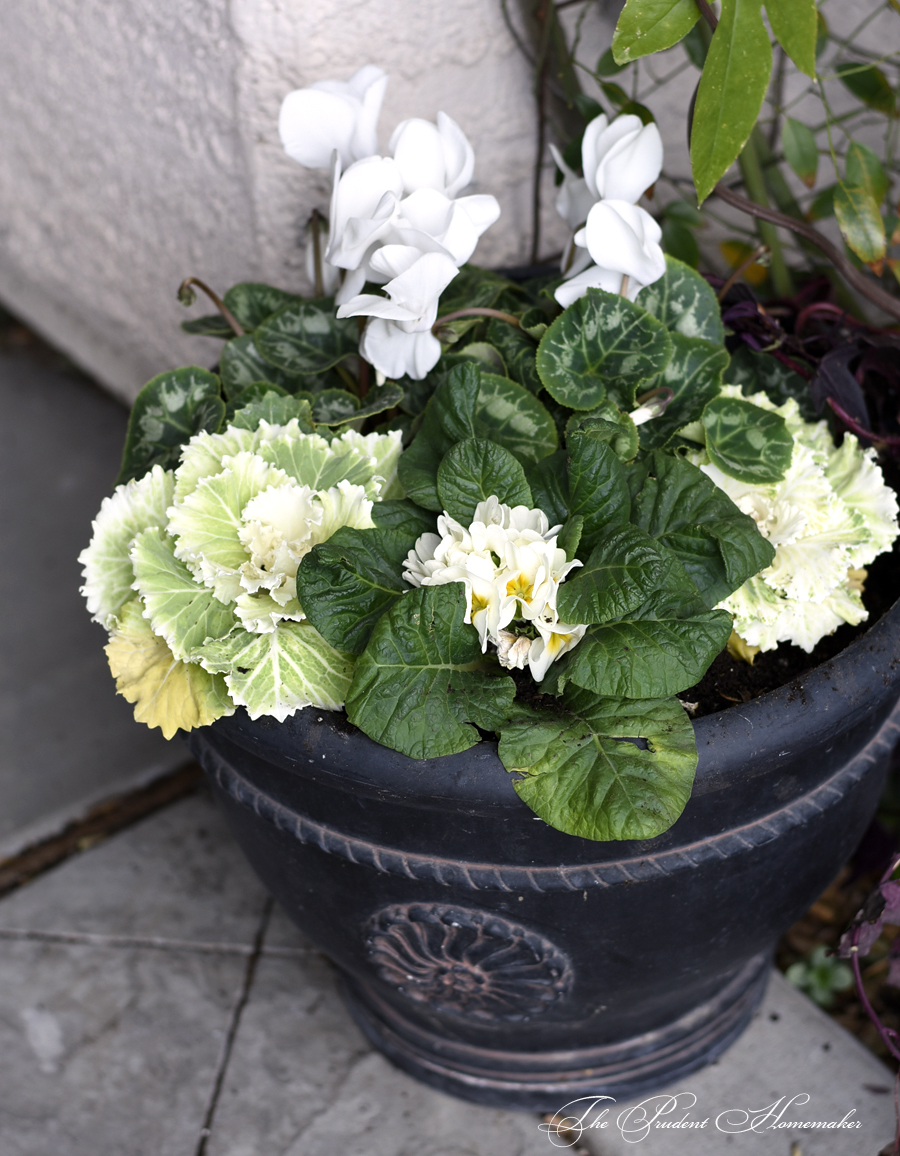 I had planned on getting some cyclamen too (on sale for $2.88 each), so I added some into the black pots by our entrance, along with more ornamental cabbage and a primrose ($1.98 each) . As I was in line at the nursery, I noticed that they had repeated the same arrangement indoors I had admired outdoors, but with purple cabbage and white cyclamen.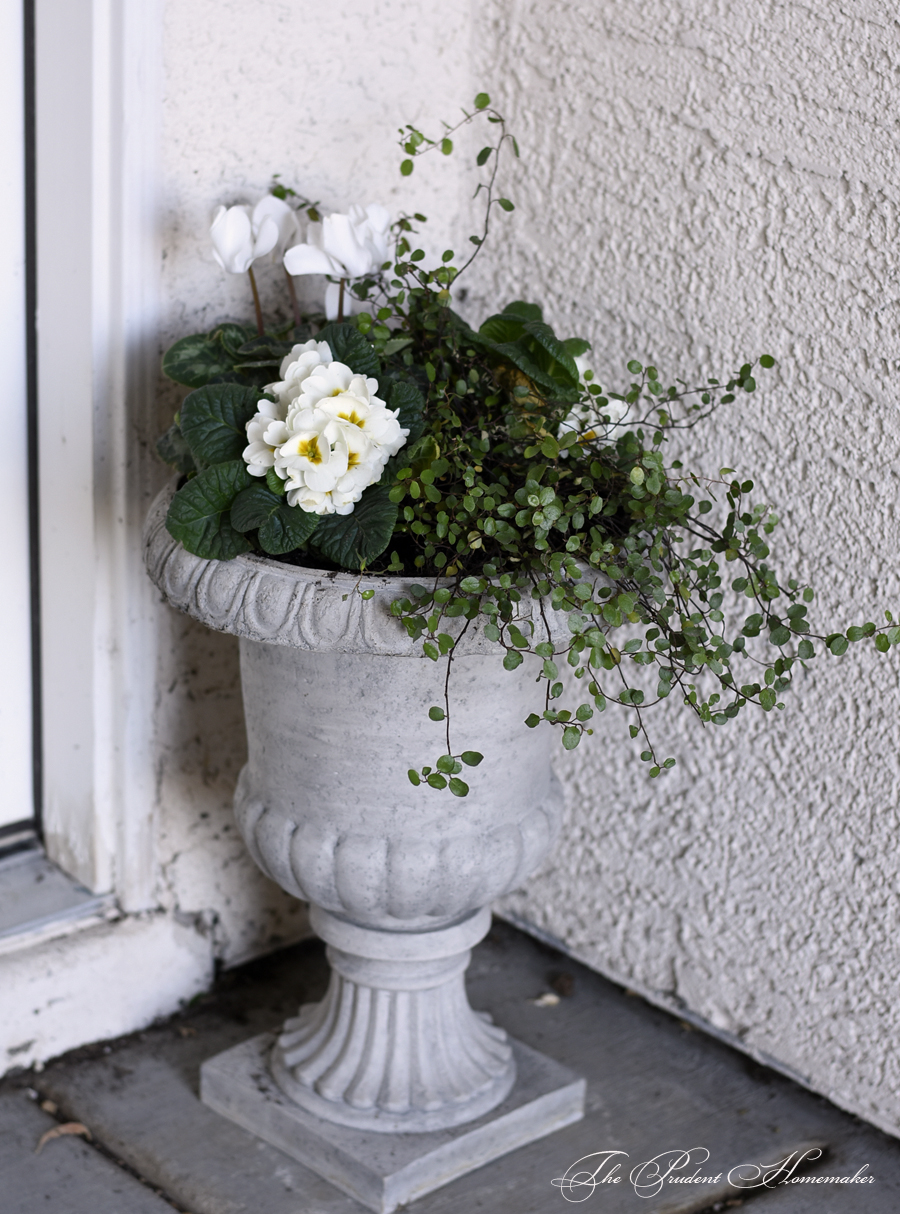 In the urns at the front door, I had added some wire vine earlier this summer. I dug in the spaces around it and put a cyclamen plant in each, along with two primroses. These won't mind the full shade of this spot.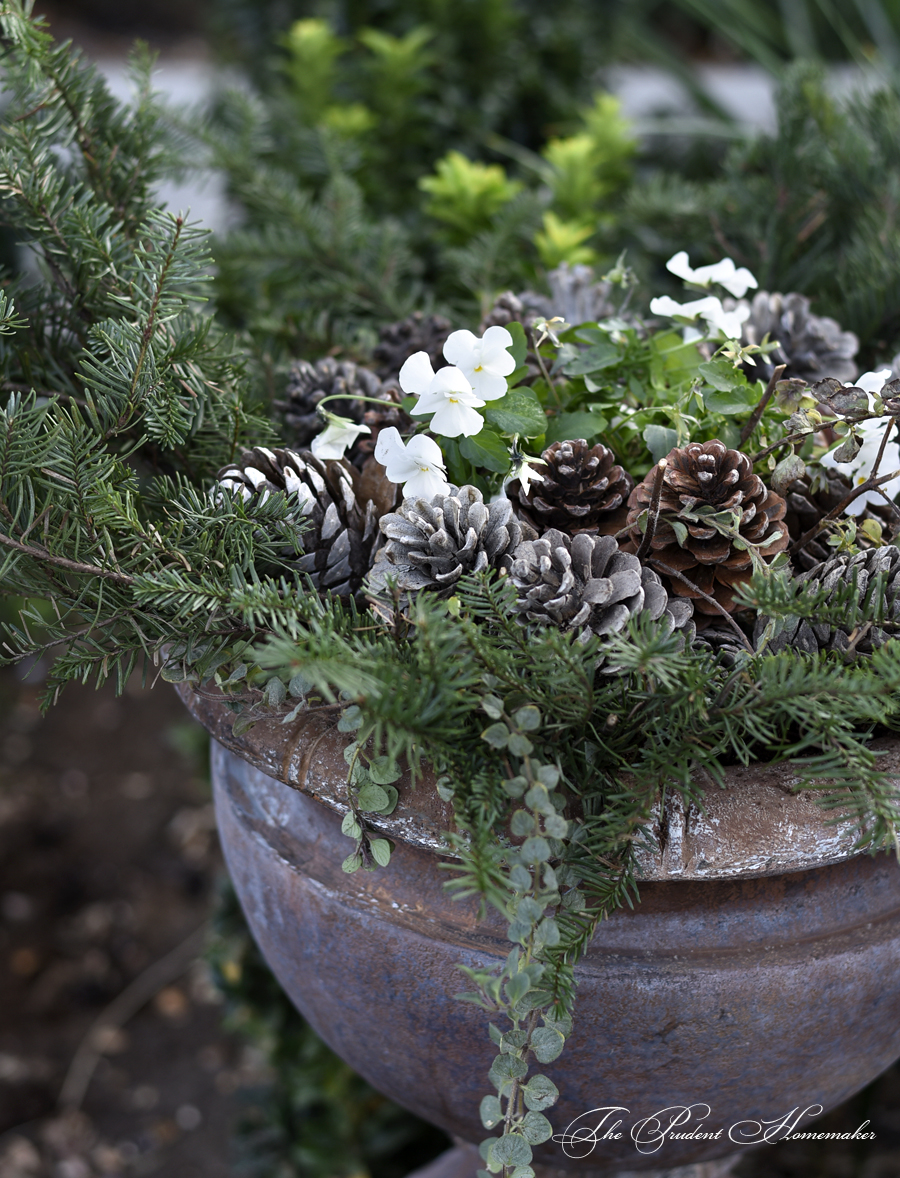 Earlier this year I added an urn (that I got for free) at the end of the low wall that I built. I dug up some oregano that had grown from seed in the garden and moved it into that urn. I added 2 viola plants that had been growing in the center urn. I then added some Christmas tree branches and some pinecones. Should the ornamental cabbage get too large for the center urn in the months to come, I may move them to this urn.
We still haven't had a frost here, but all of these plants will do just fine with a frost. Other good choices for our mild winters that are also on sale are snapdragons, pansies, and violas.
Snow is extremely rare here, and frosts are short-lived: Our official first frost date is November 15th (but I usually don't see a frost until mid-December) and our last frost date is February 15th, though I have rarely seen a frost past the third week of January. These plants should last until sometime in April.
My next plan in the white garden is to plant the daffodil bulbs that I've been chilling in the refrigerator for weeks. In our mild climate, prechilling helps to get the bulbs the chilling hours they require in order to flower. I won't dig them up in years to come, however.
After Christmas, I'll be pruning the roses and stripping any remaining leaves to force them into a short dormancy, which will make them stronger and healthier in the year to come. The white garden will then be empty of flowers except for the flowers in the urns until the bulbs start flowering and the roses flower again, sometime in late February at the earliest (and possibly not until mid-March).