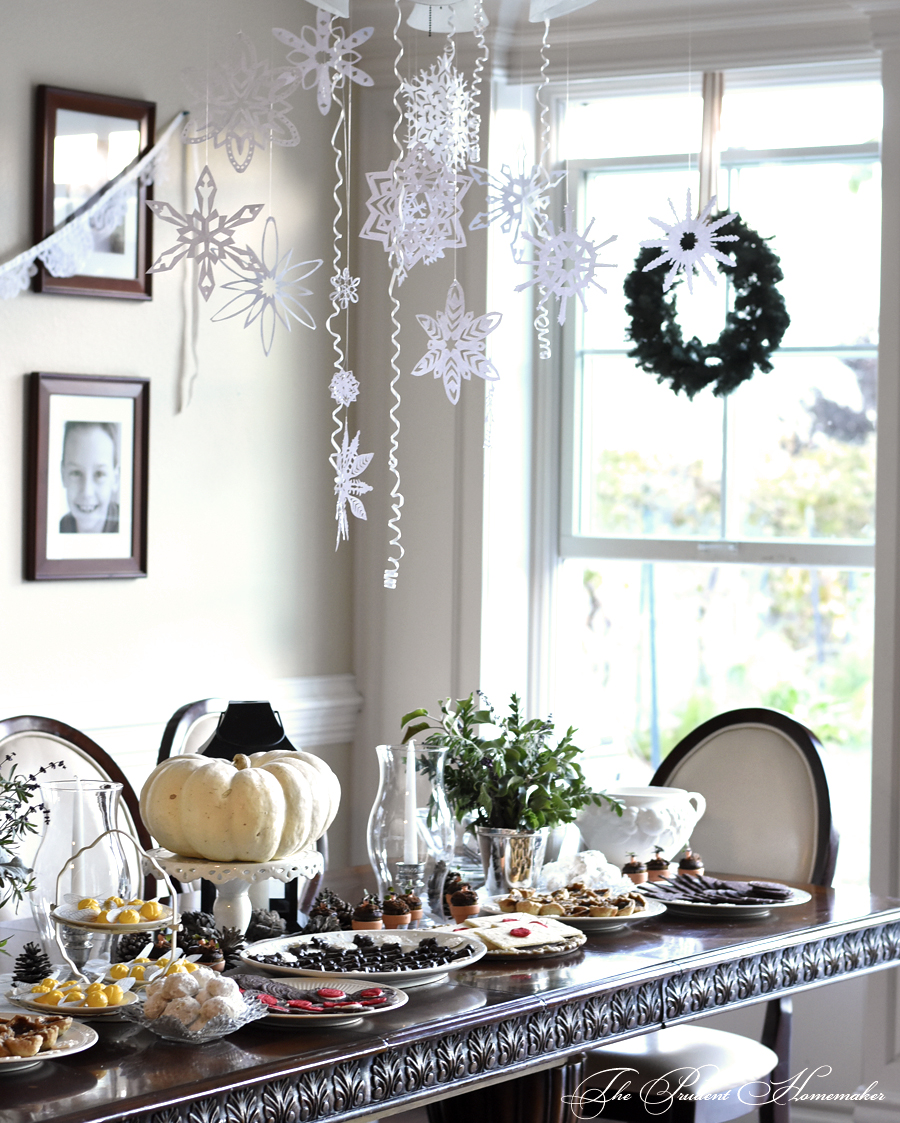 I hosted a Harry Potter themed baby shower this past week. I had several people ask me if they could bring anything or help in any way, so I assigned out several things: paper plates, cups, and bowls; salad; soda (and she went the extra mile and made butterbeer, which was delicious!), and a banner.
I made pumpkin soup (a mixture of acorn and butternut squashes plus the mini pumpkins I had bought in early fall for decorations; the butternut squash was from my garden), rosemary olive oil bread, salad dressings, chocolates, mini cupcakes, mini treacle tarts, and cookies. I sliced a lemon from the garden to add to the water.
I sewed a bib for the baby shower, and also gave a free print (the Walgreen's offer) and a rubber duck (bought on sale plus the extra 15% off last week) .
I mended the pocket on a cardigan.
Winter and I took a trip to Goodwill (a thrift/charity shop). The store opened up a little over a year ago, I believe, and it was our first time there. They mostly have women's clothing, but we managed to find several like-new shirts and sweaters that I can use for Christmas gifts for three children. I found a couple of items for Winter, and a dress and two cardigans for myself. The prices were above what I pay at garage sales, but lower than the thrift store we usually go to. The dress was $6.99! It's a bit too cold to wear it now but it will be nice to wear most of the year here.
My mom has continued her quest to find Christmas gifts at garage sales. She found some things Saturday morning, and some of them she gave to us already, including clothes for my girls in the sizes they need (she has a copy of my garage sale list) and a pair of brand-new jeans for me. The jeans fit perfectly, and she paid $2!
I made a double batch of laundry soap.
I added a free one pound container of dry roasted peanuts to my grocery store shopping card (a one-day only coupon that needed to be added on the 5th but can be picked up anytime through the 19th). I also downloaded the Free Friday coupon for some free candy, which I'll use as a stocking stuffer for my husband. I'll pick up these items next week.
I combined coupons and a cartwheel offer at Target to purchase a few stocking stuffers.
I used Duolingo to practice my French skills.
Winter used a free 5-day trial to prepare some more for the ACT test, which she took on Saturday. I canceled the trial in time to not be charged.
We went to a Christmas party at church. Afterwards, we were offered some leftover pasta to take home, which we ate the next two days.
I cut parsley, beet greens, basil, and oregano from the garden. We still haven't had a freeze (despite predictions to the contrary). I picked 2 figs from our Mission fig tree. It always comes close to giving a third crop of figs, but it always freezes before that happens. This year, it looks like we may harvest at least a few more before a freeze!
I sowed seeds for arugula in the garden.
I used a $5 off coupon for the local nursery to pick up some annuals that were on sale for the white garden. While I was there, I also picked up some free tree trimmings, which I used in the urns in the garden (along with some of the pinecones we had gathered).
What did you do to save money last week?