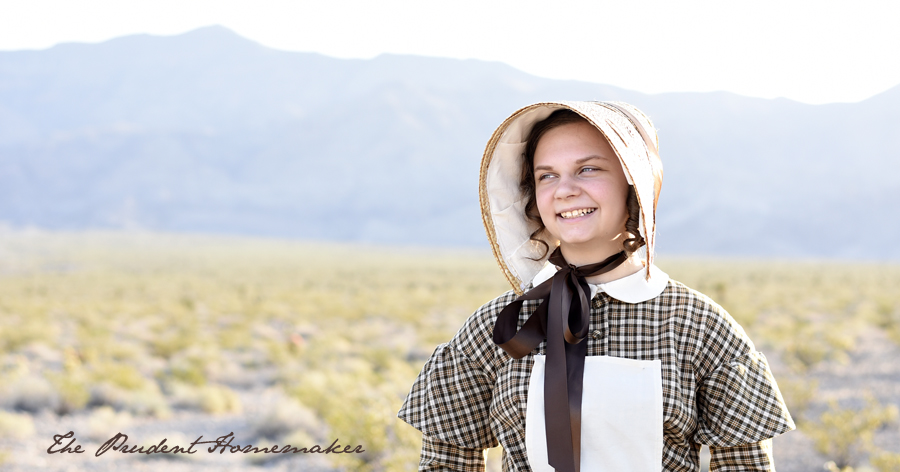 Note: This post contains affiliate links.
My 14-year-old daughter, Winter, has been working on a sewing project for the last couple of months.
She participated in a Pioneer handcart trek, and everyone was supposed to dress for the time period. This is a living history event where groups of people recreate a Mormon pioneer handcart trek across the plains. Many Mormons crossed with handcarts instead of covered wagons from the 1840's to 1860's.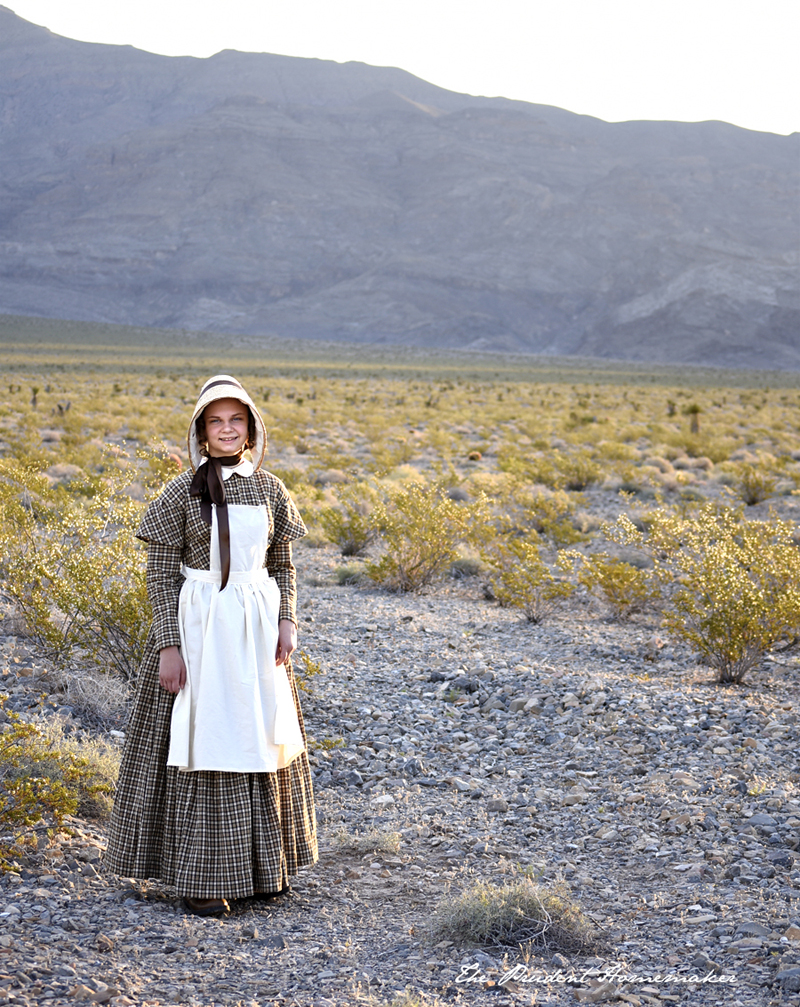 Winter has been researching period clothing and underclothing, down to the smallest details (including what kind of buttons were used). The more she learned, the more determined she was to sew something accurate. Having studied and modeled historical clothing myself (I used to model for a historian while I was a university student), I have a strong love of historical clothing. I wanted her to make something accurate, but I didn't want her to feel obligated to do so. Seeing her get excited on her own about the project the more she studied what people actually wore during the period thrilled me.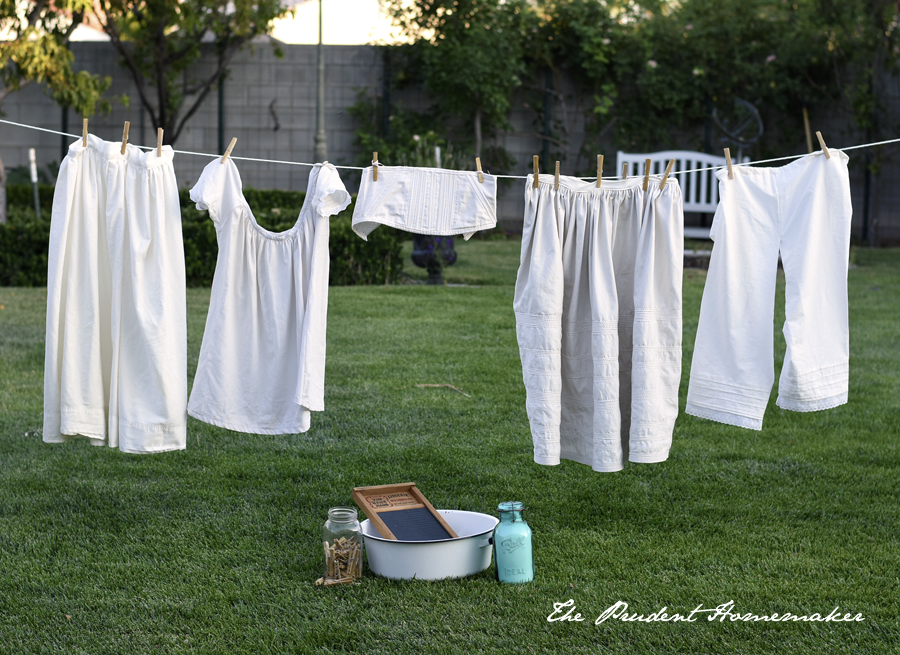 She used old sheets to sew the split drawers, the corded petticoat, the second petticoat, her chemise and her corset.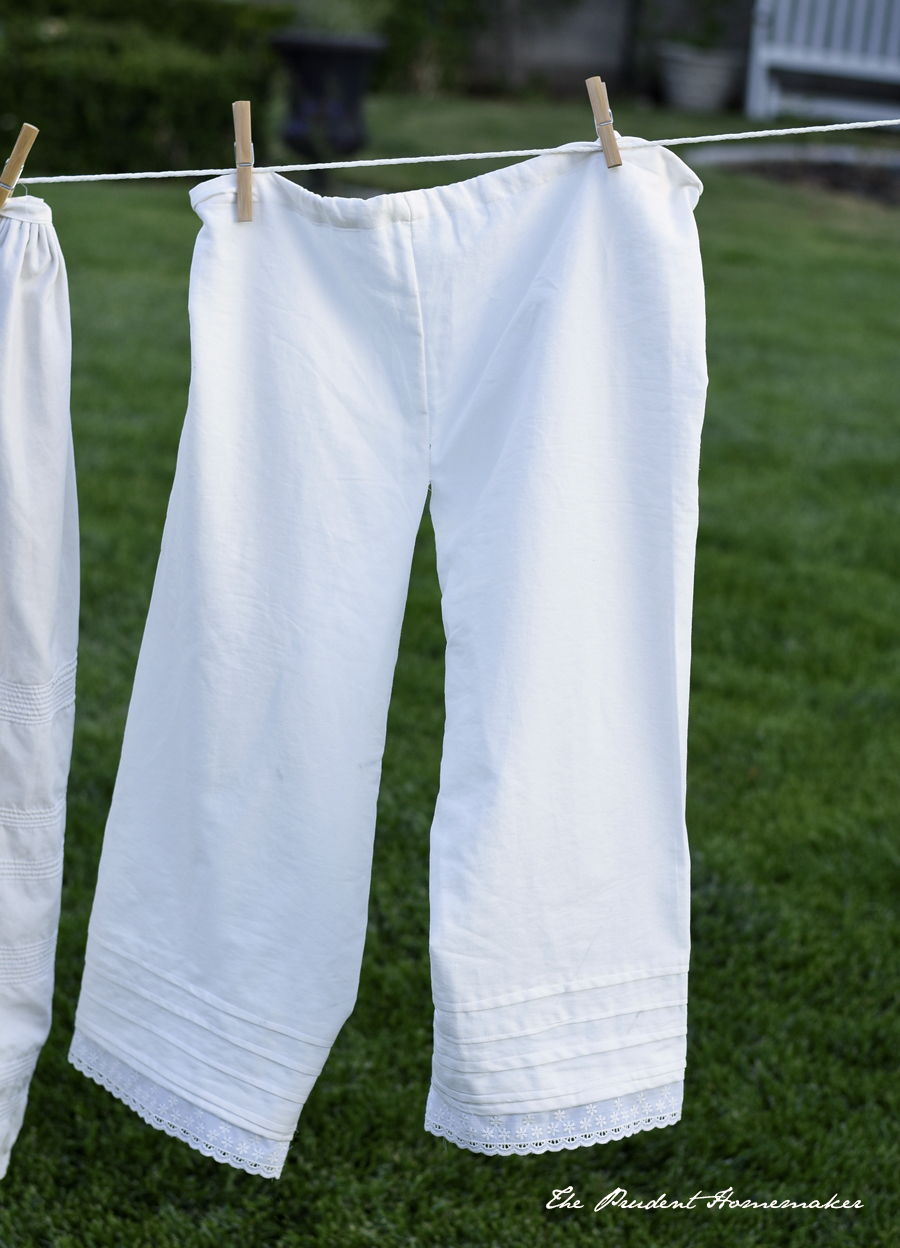 She edged the chemise sleeves and the drawers with a bit of lace that I had in my stash (which I'm pretty sure came from my grandmother or my mother-in-law's stash).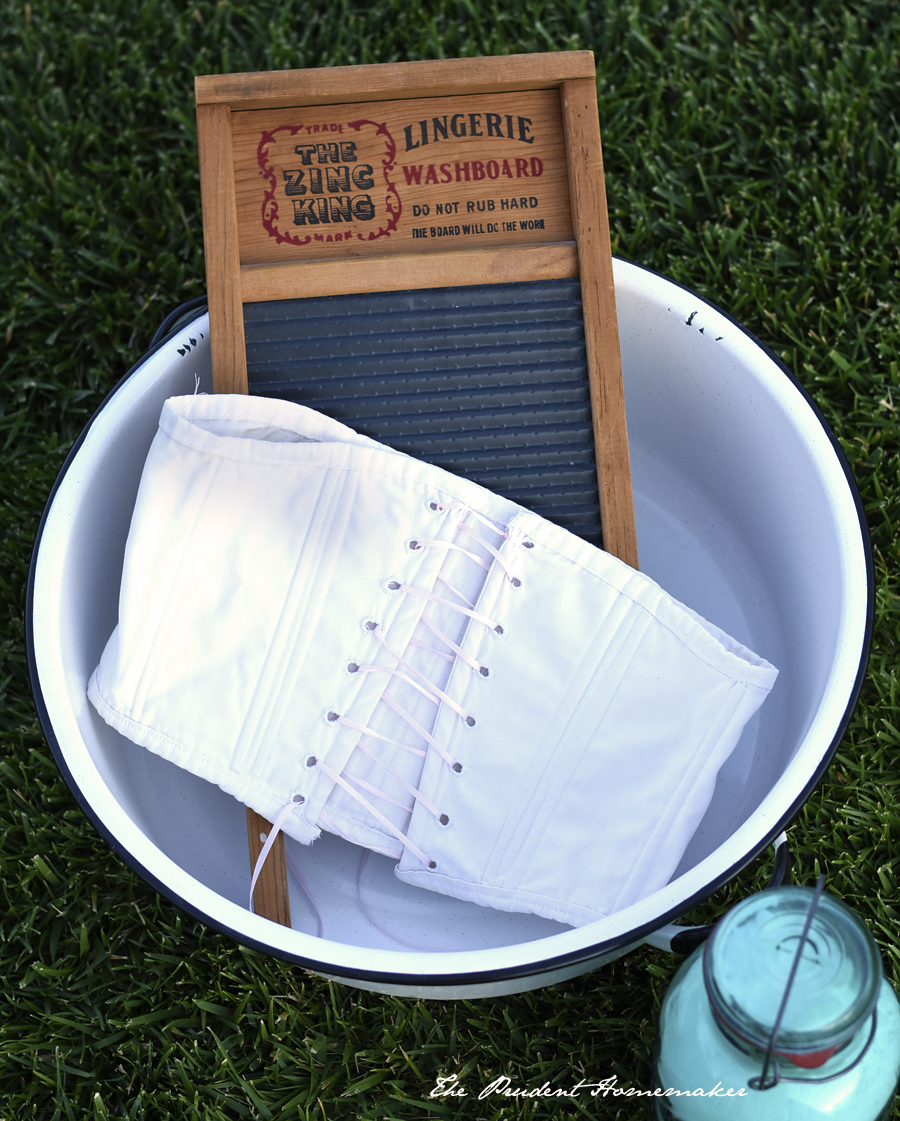 The corset boning is actually zip ties, with the buckle part cut off. They were just the right size and less expensive than boning, and about the same stiffness. She sewed the holes for lacing it by hand, using a buttonhole stitch. She laced it using a method called spiral lacing, which she says is easier to lace by one's self. At this period in time, the corset was more of a support garment. Winter says it is really comfortable, and she loves the back support it gives her.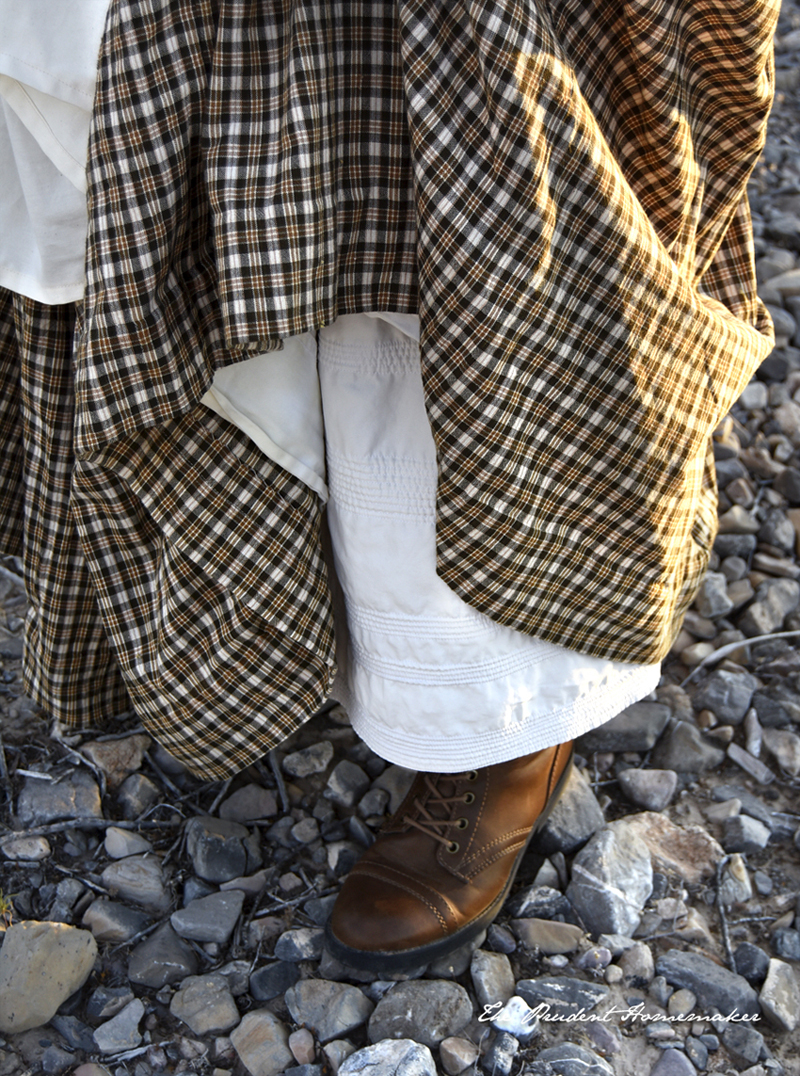 The corded petticoat is two layers of fabric, with cording (she used a thin cotton yarn for the cording) sewn in between. The more cording in the petticoat, the fuller it is. It was amazing to see how the petticoat stood out more and more as she sewed in each section of cording, just like a hoop skirt. In doing her research for the project, Winter learned that precorded fabric was available to purchase for women of the era, but she did not have that option. She also learned that in the 1850's, when hoops became more common, that women still wore a corded petticoat over their hoops. The corded petticoat goes on first, with all other petticoats on top. A nice feature of the corded petticoat that Winter discovered is that the corded petticoat means plenty of air flow, as it keeps your skirts away from your legs.
She made stockings, using some jersey knit I had on hand. She tied them up with ribbons from my ribbon box.
She also made and embroidered several handkerchiefs.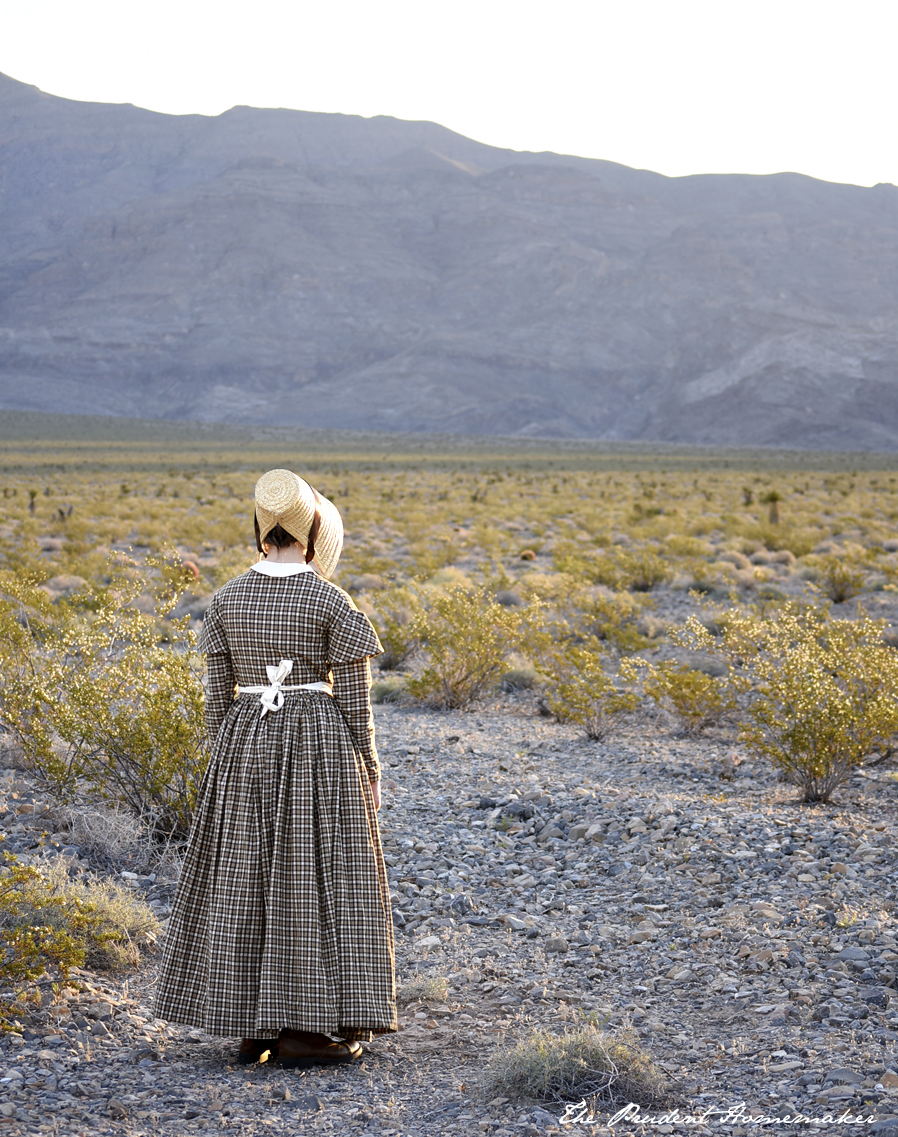 The dress itself was made with a cotton plaid that she bought at Hobby Lobby for $3.49 a yard. She used this Laughing Moon 1840's pattern (view A). The measurements for the dress are taken over underclothing, so she made the dress after making all of her underclothes.
She made her piping using the same yard as cording. She made bias tape for her piping using this tutorial and a bias tape maker.
This is the first dress that Winter has ever sewn. She learned several new techniques making this project, including cording, making bias tape, making piping, covering buttons, making pintucks, cartridge pleating, regular pleating, flatlining, making a mock-up, and adjusting and following a pattern.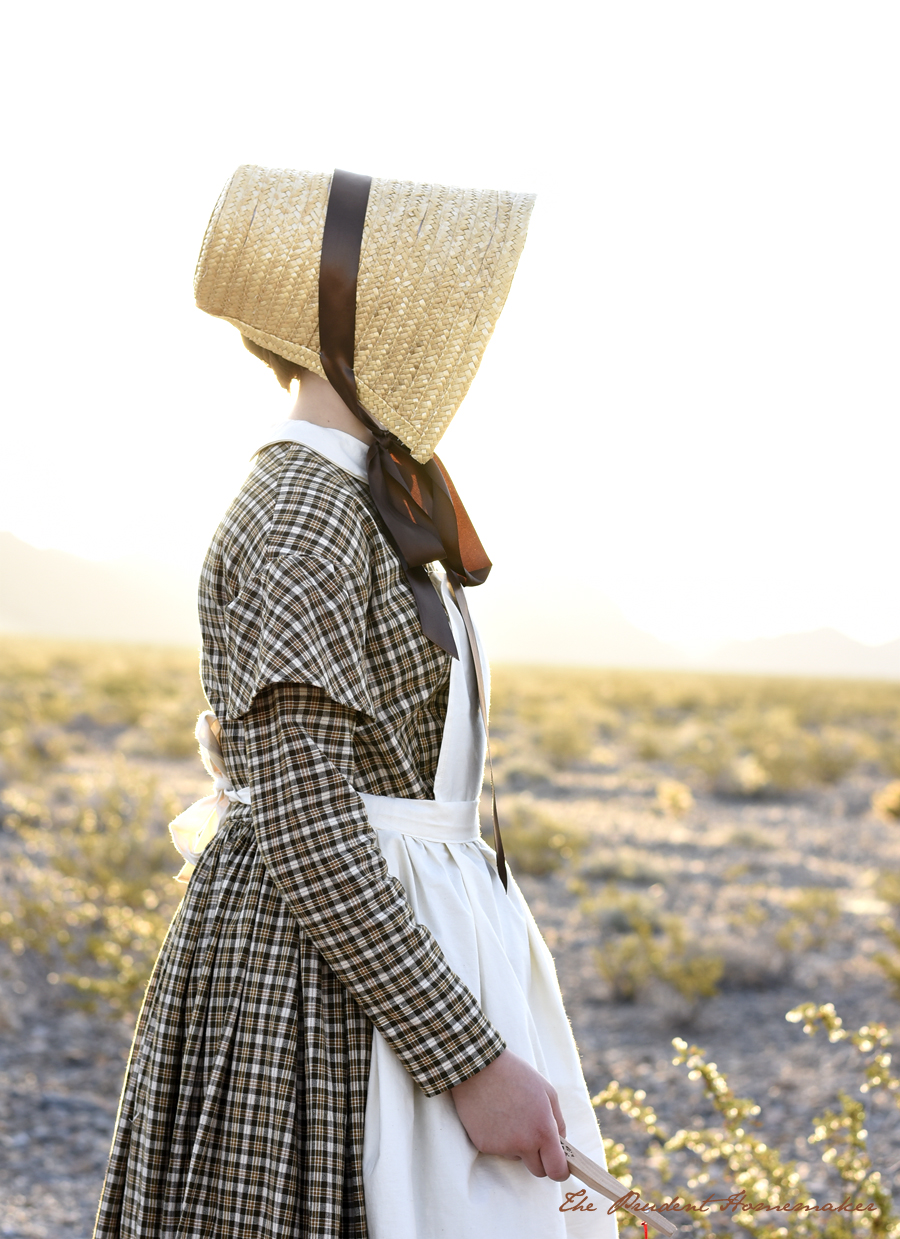 She made her apron and collar using unbleached muslin from my stash (inherited from my grandmother's stash). You can purchase unbleached muslin from Joann's in the quilting section.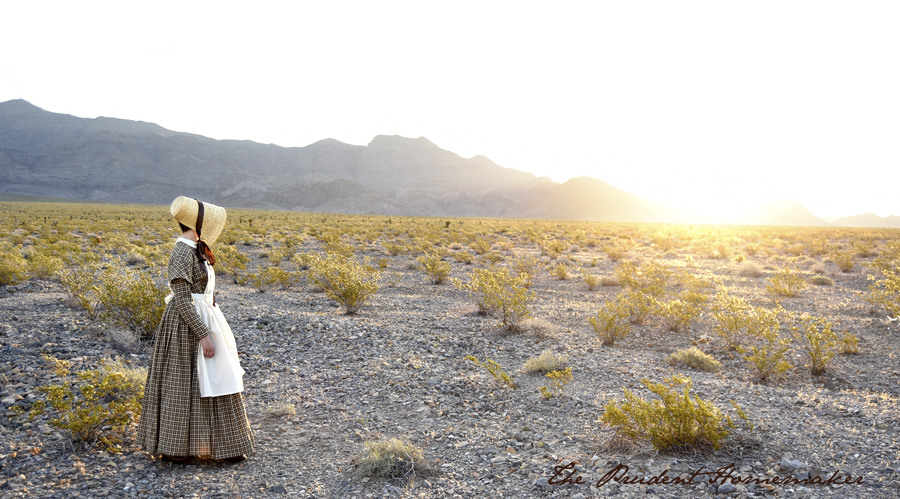 The straw bonnet is quite amazing. She used this pattern to make the hat. She first started with a straw hat that she bought at the thrift store for $2. It had lace hot glued onto it that she removed before she unstitched the hat.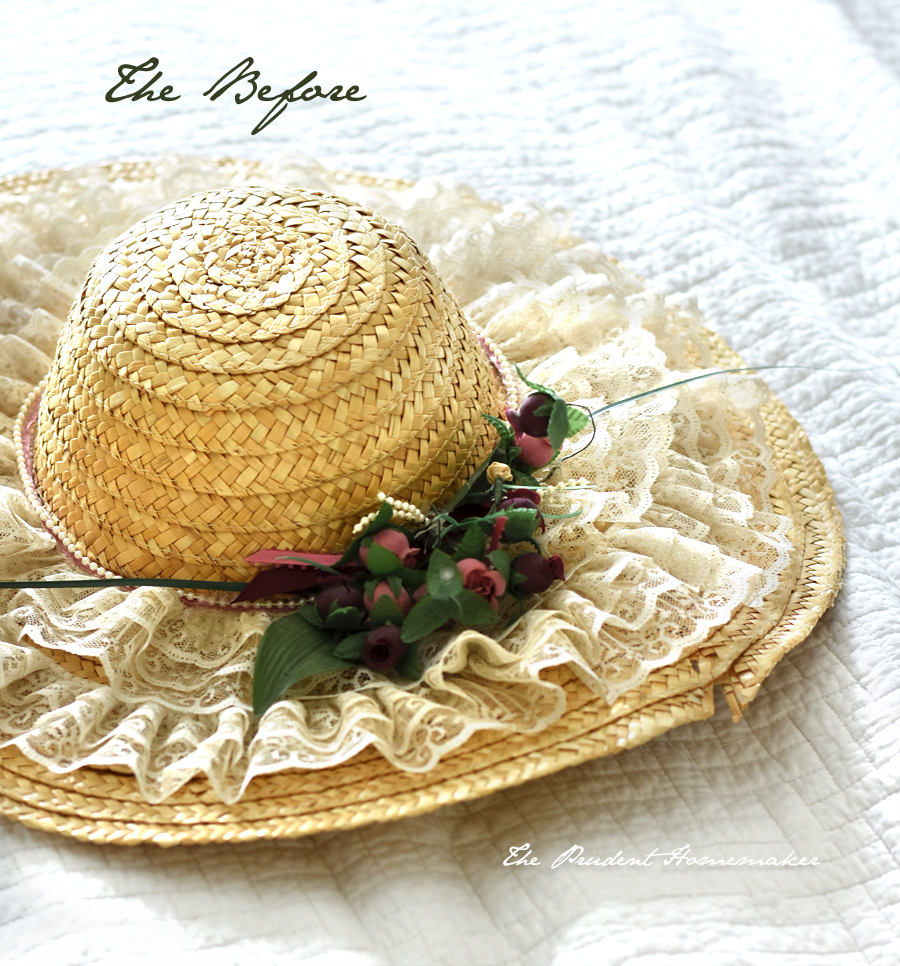 She then cut the straw braids and sewed them together into the new hat, before lining it with buckram and pleated muslin. She tied it on with a brown satin ribbon from my ribbon box.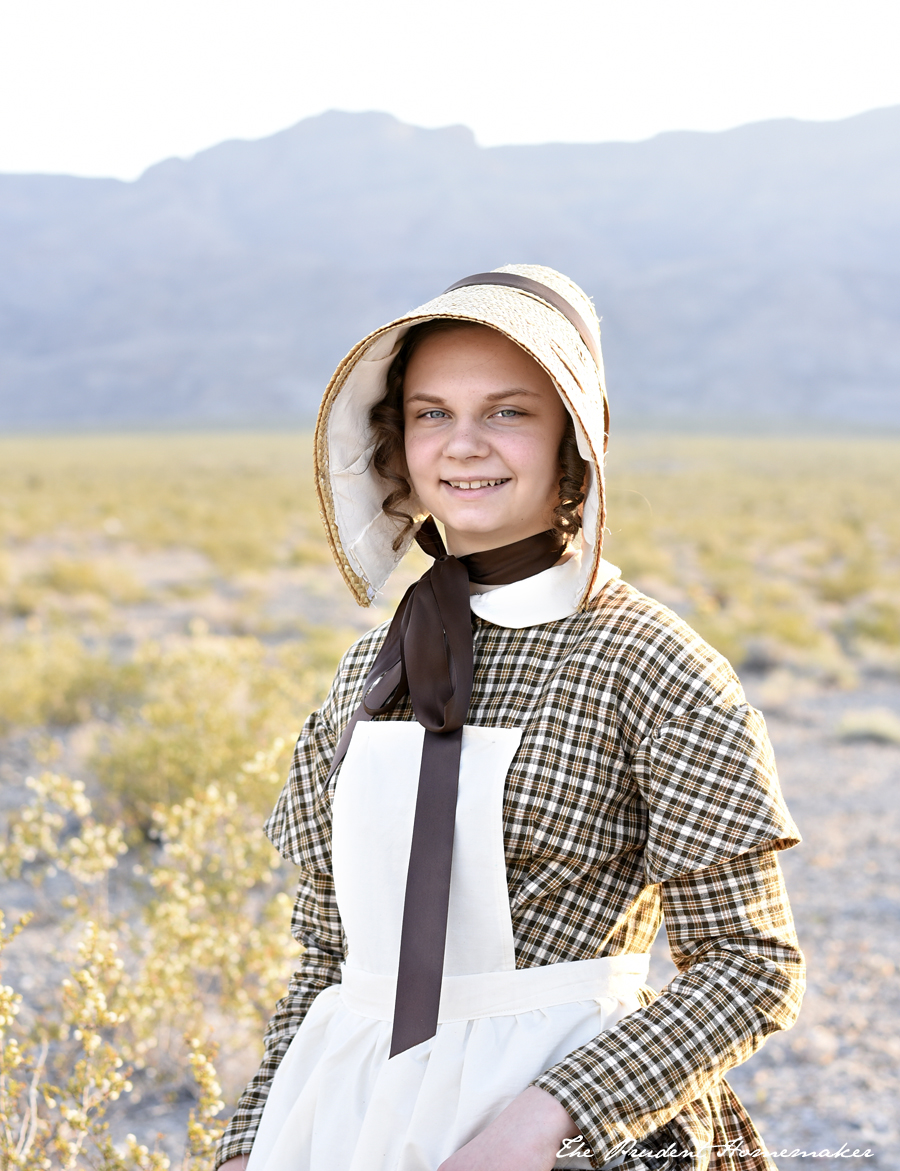 To keep her cool, I ordered her a wooden folding fan that she can keep in the pocket of her dress. She also made a large bandana–more like a shawl–from an old sheet to tie around her neck. She took a Sammy cool n'dry with her that she said was very effective in keeping her cool (we use them at home and they are wonderful).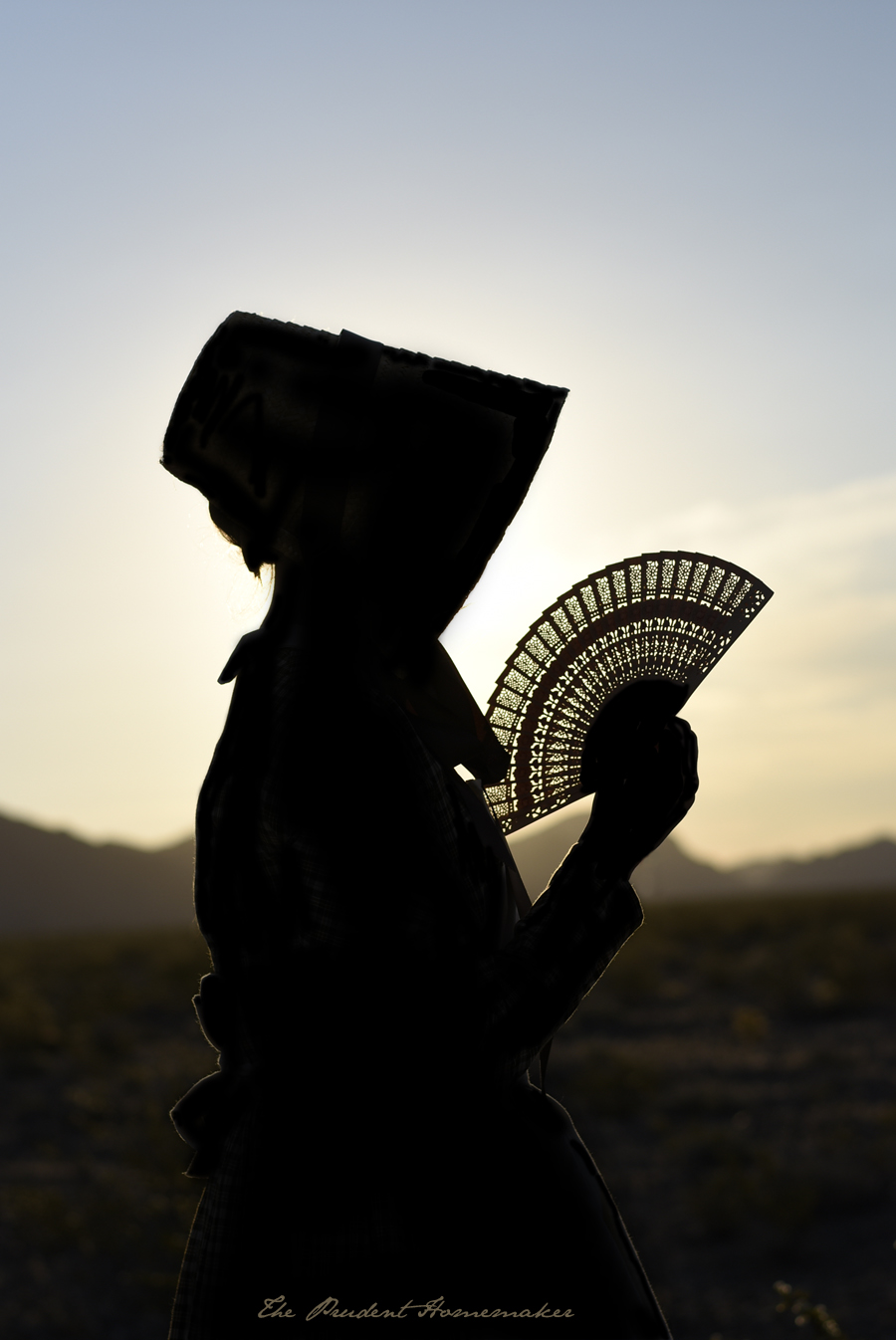 The project has been fun for her (it was all her idea!). It's been fun for me, too, to watch her confidence in her sewing abilities increase, even as she had to use the seam ripper to take seams out and fix things again. What I see now is that she feels like she can sew anything!
If you're looking to make clothing from the same time period, here are some of the tutorials and patterns she used:
Bonnet pattern and Lining Inspiration The bonnet can also be made from cloth.
Bias tape tutorial and bias tape maker
Fan (purchased)
Additional Reading:
The Transitional Dilemma: Dressing Teen Girls
Quick and Easy Way to Mark Cartridge Pleats
Buttoning Down the Past: A Look at Buttons as Indicators of Chronology and Material Culture
Winter also searched online for photos of women and teens from the 1840's, which helped her ultimately decide on several aspects of her project, including the fabric she chose. Here is her Pinterest board for the time period.
She has already planned several other ways that she can use her dress, including volunteering in some local elementary schools to go into classrooms and read works from an author from that time period (Louisa May Alcott!)