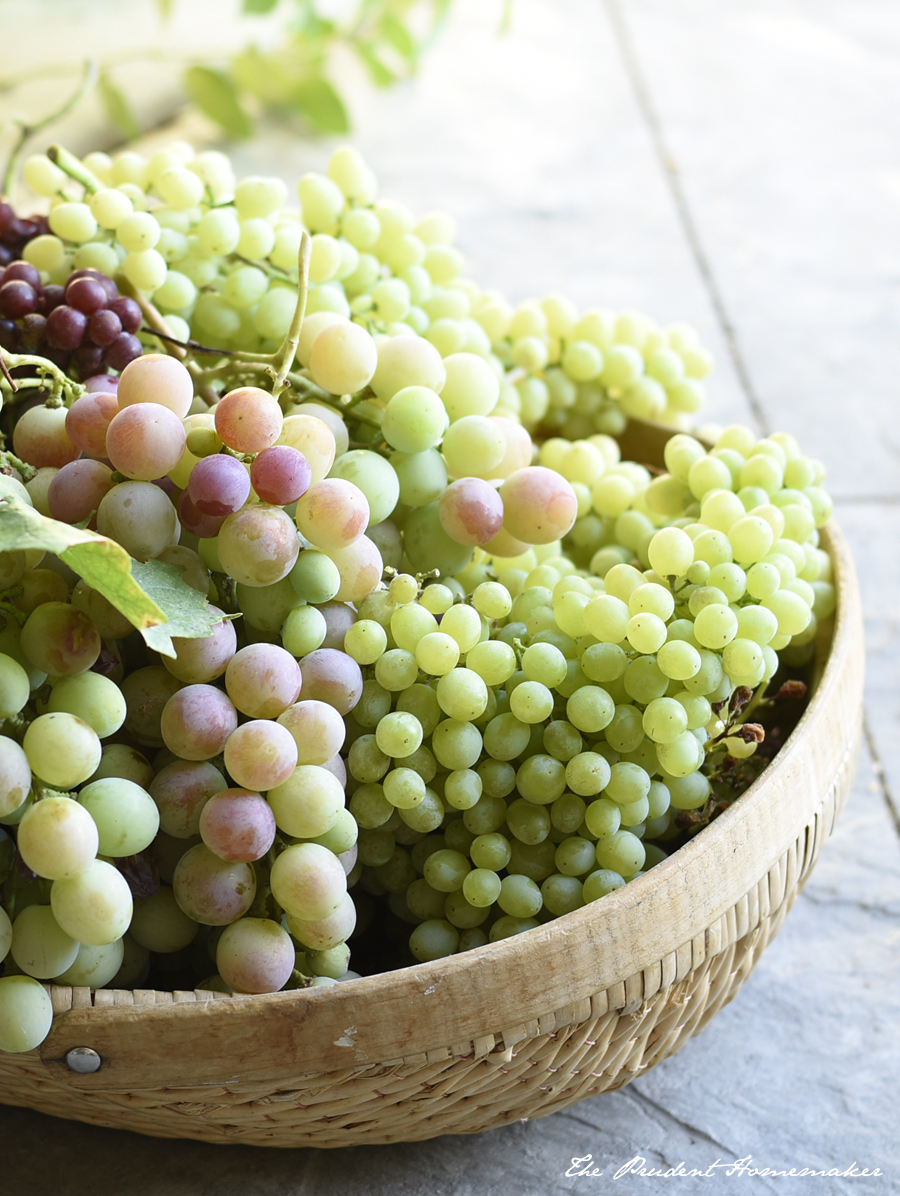 Peaches and grapes are ripe in my garden, albeit a few weeks earlier than normal. This year, the mockingbirds have appeared in my garden, and they have figured out that my green grapes are ripe. I'll be covering as many grape bunches as I can with paper bags to allow them to continue to ripen before they are all eaten.
My Concord grapes are ripening too (also earlier than usual). I've never harvested more than six individual Concord grapes in a year, so seeing so many bunches this year is exciting! They are small bunches, unlike my other varieties of grapes. I have several vines now, as I took cuttings from my vine several years ago to make new vines. These vines are now producing.
I've seen the ads for this week and though it is the season for peaches and grapes, the stores are listing them at $2.99 a pound! I did see one store that had peaches for less ($1.48 a pound). I have never seen prices so high for these. This month should bring better sales for these items; I have seen them in years past for $0.99 a pound. Usually grapes are on sale several times for that price, and peaches only one or two weeks of the summer at that price. I used to buy 80 pounds of peaches to can when I saw them at that price. Now I just pick them from my own trees to eat fresh, freeze and can.
I've got one Armenian cucumber ripening in the front yard. The seeds I planted last week for more plants are up. I hope to have a fall harvest that allows me to can pickles this year.
I still have apricots on the trees, oddly enough. We'll be picking the last of them this week.
I'm moving our budget back up this month as we are able to do so. My budget for this month is $400. This includes food and toiletries.
This week is a great time for American readers to stock up on holiday sales that are out for barbeque foods for the Fourth of July.
I've already been to Walmart this month; it was an unexpected trip while I waited to have a new battery put in and get a new key made (my key broke and my battery died on the first; batteries die often here in our high temperatures and replacing them is prorated under the length of your warranty).
Walmart:
Canning lids (I'm slowly building up my supply of reusable canning lids, but with fruit ripe and needing to be canned now, I picked up some lids).
Mrs. Wages dill pickle mix (in anticipation of cucumbers later in the year)
Oxi Clean stain remover spray (the refill bottles)
Borax
Washing soda
Sam's Club:
Flour tortilllas
Milk
Eggs
Mozarella cheese
Winco:
Vegetable oil (it's currently $4.98 for a gallon)
Potatoes (currently $0.25 a pound)
Oats (a 25 pound bag; I ended up not getting these last month)
Vons: I was busy canning yesterday and missed these sales. I'l look for more this month on these items.
Whole chickens (on sale for $0.67 a pound)
Gulden's spicy mustard (on sale for $.99 each when you buy 4)
Smith's:
Ice cream (I'll look for a sale later in the month)
Pasta, if it goes on sale for $0.49. I see this price about 3 times a year and if it comes this month I want to have money earmarked for it. If not, I will look for a sale on it another month.
Target:
Sunscreen (there's a good deal right now listed here)
Toothbrushes for my husband (his favorite kind is on sale buy one get one free)
Salon Graphix unscented hairspray. I have a couple of coupons for $1 off (thanks to a reader!)
I'll also visit Target for back to school sales on school supplies later in the month. I'll look for other good toiletry sales there this month too, as well as watch the grcoery ads for any other great sales this month.