Gifts for stockings can easily add up to be quite a bit, even if you take a trip to the dollar store.
Here are some items to give using items you already have in your pantry, cupboards, along with a few items to make using what you already have on hand:
From the kitchen and pantry:
1. Apples, oranges, and clementines
2. Nuts. Put a small amount in some tissue or a bag and tie with string or ribbon, or make a little paper cone for them.
3. Hot chocolate packets
To make from the kitchen:
1. Cookies. Put these in a bag or some tissue paper.
2. Caramels. Here's a microwave version. Wrap caramels in waxed paper.
4. Homemade candies
7. Homemade granola. Here's my recipe for cranberry almond granola.
8. Fudge
From the cupboards:
1. Pens, pencils, and crayons that you bought on sale at back to school time
2. Personal grooming items: razors, cotton balls, toothpaste, toothbrush, toiletry samples
To make from the cupboards:
1. A miniature first aid kit to tuck into a purse, backpack, or glove compartment with Band-Aids and pain relievers
2. A small book with printer paper or lined paper, covered in cardstock or contrasting paper. Sew it together by machine or by hand, or staple it instead.
3. Bookmarks. I have a large selection of free printables on my site here.
4. Bookplates. Free printables are here.
5. Dollhouse artwork, wallpaper, and rugs. Free printables here.
6. Seed packets with seeds gathered from your garden. Free printable here.
7. Date with mom coupons. Free printable here.
To make from repurposed items:
1. Scarves from scraps of fabric, old curtains, flannel sheets, a repurposed skirt. Think flannel, velvet, sheers, etc. Likewise, you can knit or crochet a scarf using the yarn from old clothing items, or make a striped scarf using leftover bits of different-colored yarn.
2. Handkerchiefs from old sheets (a great way to repurpose a sheet that has a tear).
3. Earrings from broken jewelry
4. Decorative bobby pins with old buttons
5. Decorative bobby pins with broken jewelry
6. Mittens from an old sweater or sweatshirt (a shrunk wool sweater is perfect for this, or a stained sweater or sweatshirt–just cut your pattern around the stains.
7. Hand-warmers stuffed with rice. Use repurposed clothing or scraps of fabric to make these. Microwave them to put in pockets before leaving. Try a heart shape for a little fun.
8. Headbands from ribbons and hair elastics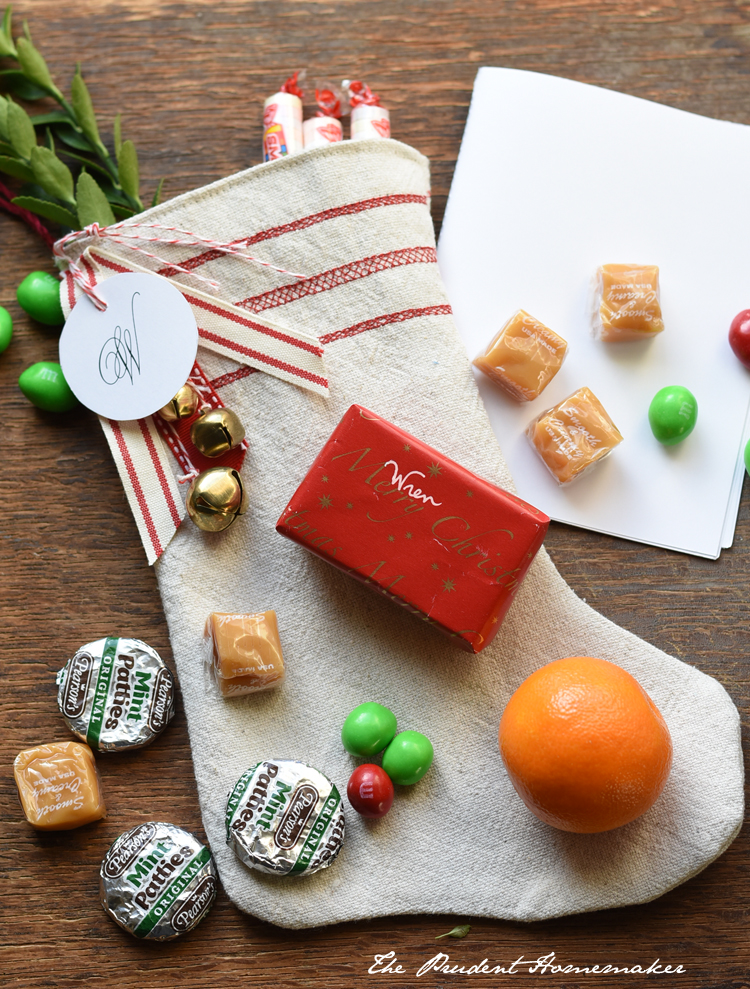 Something that also helped me was to hang smaller stockings. Two years ago, I needed a couple more stockings for our family. I decided to make new stockings from a drop cloth, and I made them smaller. The previous stockings we had were so long that my children would put their entire arm in their stockings and not be able to reach the bottom! Having smaller stockings relieved the presure from me to feel like I needed to buy more to fill our stockings.
Consider a stocking with a piece of fruit in the toe, some candy and/or other edibles, and one small gift per person this Christmas. It's simple, it will be used, it won't take up lots of space (or be broken in a week), and it works with a tight budget!