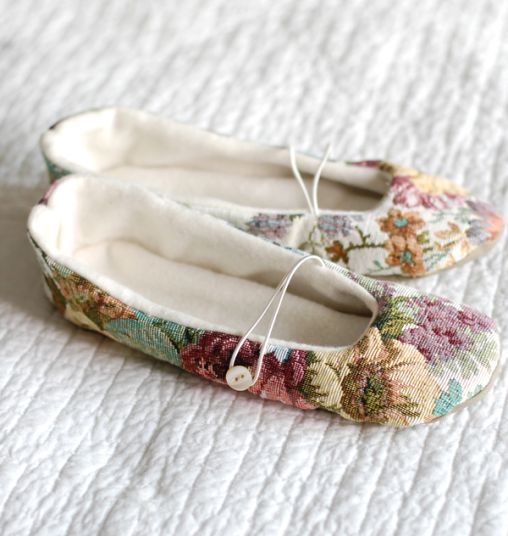 For the fifteenth day of A Gift a Day, I made slippers. Last year I made slippers for all of my girls in cream-colored satin with a flower in pink or blue on them. This year I am making them slippers again, but I've changed a few things. I am using a different fabric for the soles. On this pair, I chose cotton duck cloth, which is a heavy cloth. I hope that this will produce a more long-lasting slipper.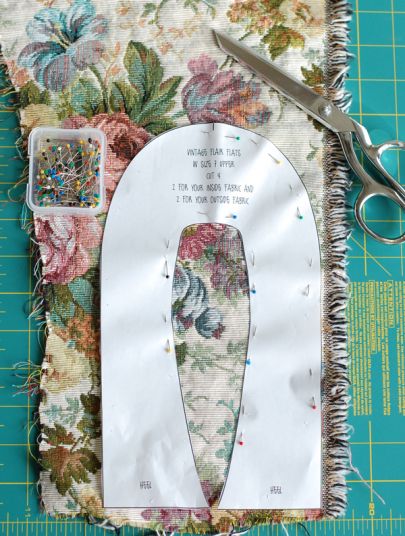 As tapestry is very prone to unravel once cut, I zigzagged each seam (and did not trim the seams).
Slippers
Supplies:
fabric for outside ( I used a scrap of tapestry)
fabric for lining (I used fleece)
fabric for bottom (I used cotton duck)
matching thread
pattern (I used the Vintage Flair Flats pattern from Winter Peach)
buttons
elastic cord (I found mine here; she has lots of colors from which to choose)
Tools:
scissors
sewing needle
sewing machine
Time:
The total time for one pair of slippers was 3 hours.
Today I made one pair of slippers.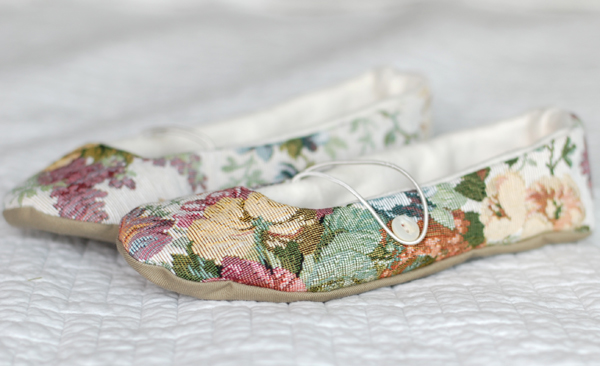 Cost:
$0.12 per pair. I didn't spend anything on it this year, as I had the supplies already (my .12 was spent last year).
I bought the pattern last year and have used it to make 5 pairs of slippers since then.
The tapestry was a scrap that was given to me from my mother-in-law several years ago.
Tapestry is rather expensive. However, you don't need a large amount to make these. The ones I made above are a women's size 7. You only need a piece 22″ long by 16-17″ wide. If you want to match the pattern, you will need a larger piece for matching. You can buy a remnant of tapestry, buy a small amount on sale, check the fabric close-outs at the fabric store (I often see discontinued tapestries there), or pick up a scrap at a garage sale.
I bought the fleece last year on Black Friday sale at Joann's.
I bought the elastic last year. I found last year that I needed a longer piece of elastic for my girls wide feet and high arches. This time I cut the elastic 8 inches long instead of the recommended 6 inches in the pattern. I Left very little overhang and I didn't cut any off.
The cotton duck fabric was from my grandmother's stash.
The buttons were vintage buttons that were given to me as part of a woman's personal button collection. I used them for the same daughter's slippers last year; I cut them off of that pair (which is worn) to use this year.
What did you make today?