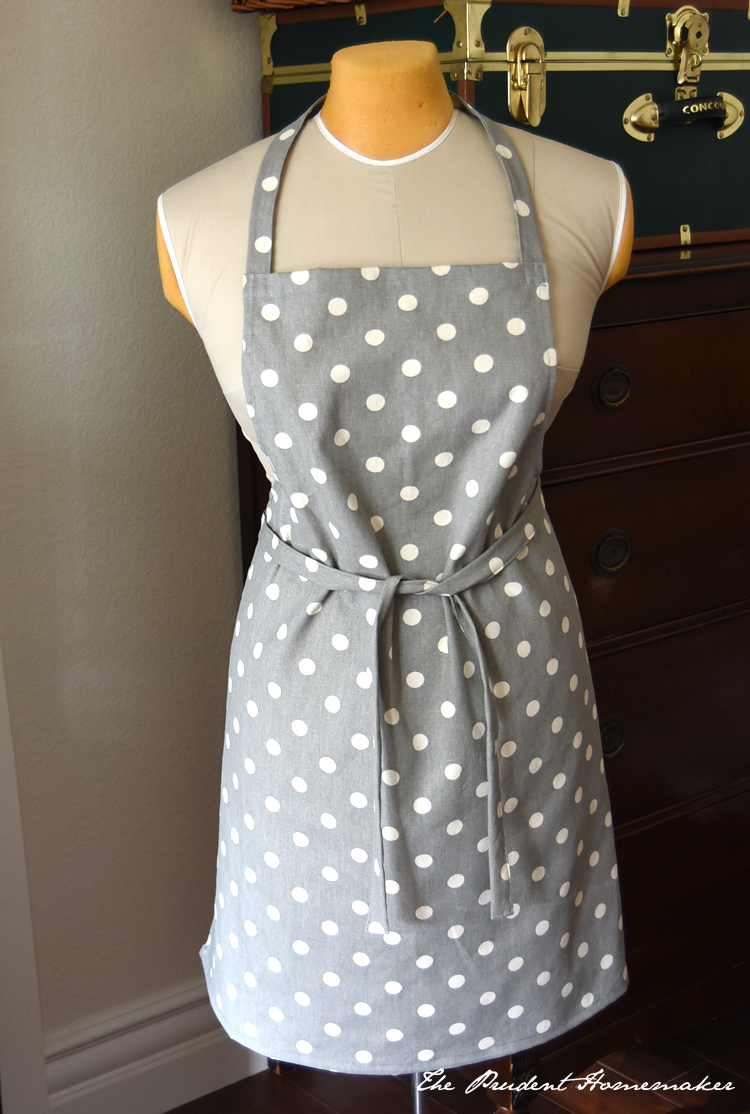 Aprons are used every day at my house. They protect clothing from stains and holes while cooking, doing dishes, gardening, and other projects around the house.
For this gift, I made Winter a new apron in her favorite color.
Supplies:
1 yard of fabric 58″ wide
thread to match
existing apron to copy or free apron pattern (search Pinterest for a myriad of free apron patterns)
Tools:
Sewing machine
Scissors
Iron
Sewing pins
Long ruler or yardstick to measure apron ties
I copied an existing apron to make this apron. I used the existing apron as a pattern, folded in half lengthwise on top of the fabric (which was also folded in half) and cut around the apron, cutting about 1/2″ away for a seam allowance. I cut the ties from the remaining fabric that was left lengthwise. (I did not fold my fabric down the middle for the apron. Instead, I folded it only as much as I needed, giving me more fabric on one side of the piece from which to cut ties.)
Time:
I prewash and dry all fabric before sewing, and I don't include that as part of my actual project time. Total time for this project was about 2 hours, and most of it was spent ironing hems.
Cost:
I bought this fabric on sale for 30% off at Hobby Lobby. I normally wait to buy fabric until it is 40% or preferably 50% off, but the store is new and I don't know if their sales go that low. Regular price this fabric is $10 a yard. (It is a slightly heavier weight fabric from the home decor section and is 100% cotton). I only needed a yard for this apron, but it you are making pockets, you will need a yard and a quarter.
Total cost: $7