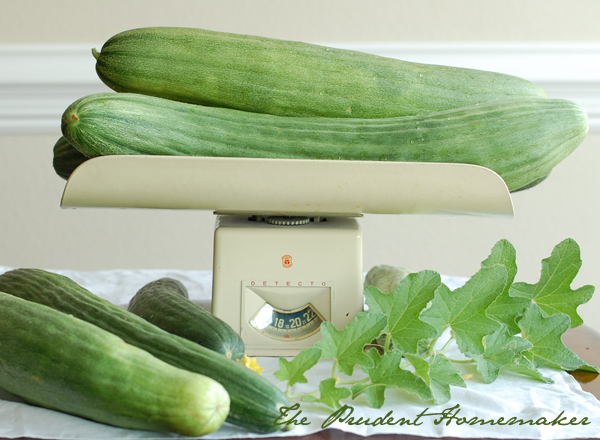 Last year's Armenian cucumbers
It's the 11th of August and I still haven't been to the grocery store.
I have, however, finally written down my priorities for the month, which are all long-term pantry items.
I never did make it to Walmart last month, instead choosing to buy multiples of some items at Sam's Club while I was there, so all of last month's Walmart items are on my list, plus a few more. I also didn't make it to Winco, but my husband ran in to get margarine and potatoes, so I have the other Winco items on my list as well. I also somehow forgot to purchase some things on my Sam's Club list! Those are back on my list for this month.
The garden is full of herbs (basil, mints, thyme, rosemary, oregano, chives).
My red noodle beans are coming in. I have more vines that are growing, too, which should increase my yield.
The first two of my Armenian cucumbers are starting to ripen on the vine, and I think we'll get quite a few this month. If you recall from photos I've posted in the past, these can easily get two feet long without being bitter. Also, as they are technically a melon, they can be left on the vine longer to turn into a large, peach colored, sweet melon. I love that they serve a double duty in the garden.
My Asian pears are ripe this month, and my Bartletts may be ripe this month as well.
My Jonagold apples are ripe this month.
We're still cutting green onions (we harvest those all year long).
I plan on harvesting a good number of grape leaves this month.
I expect some other things will be ripe as well, including Thai peppers, and hopefully a few more tomatoes.
We were also blessed this month with zucchini from friends' gardens and peaches from my father-in-law's tree. I'm hoping my own zucchini plants produce, but they are not flowering yet.
Winco:
Brown lentils
Pink Beans
Old-Fashioned Oats
Non-iodized salt (for canning pickles)
Couscous (I haven't bought this from here before, but I haven't bought any in a long time and I know they sell it in bulk)
Carrots
Walmart:
Knorr Tomato Bullion powder
Vegetable Oil
Powdered milk
Sam's Club:
POM toilet paper
Popcorn
Knorr Chicken Bullion powder
White vinegar (I'll need several gallons for the pickles I will can from our cucumbers this year)
Mozzarella cheese
Salt
Mayonnaise
All-Pupose flour
Sugar
Costco:
My mom has a card, so I'll go with her for some things.
Balsamic vinegar
Tomato Sauce
.99 Store:
My mom usually goes to this store once a month, so I'll either go with her or ask her to pick these up for me.
Cotton Swabs (1000 in a package)
Target:
I did run to Target earlier this month to purchase a couple of clothing items for my daughter that she needed for camp. I will be watcing Totally Target blog for any deals on items that we can use that are worth a trip. I am grateful for this blogger who helps me match up the coupons, Target Cartwheel, and sales at Target.
Eye drops (store brand)
Antibiotic ointment (store brand)
Zest soap
In addition, I'll watch for great sales on items I need. In years past, I have purchased peaches and pears on sale to can in August. I may or may not purchase either of these, depending on prices this year.