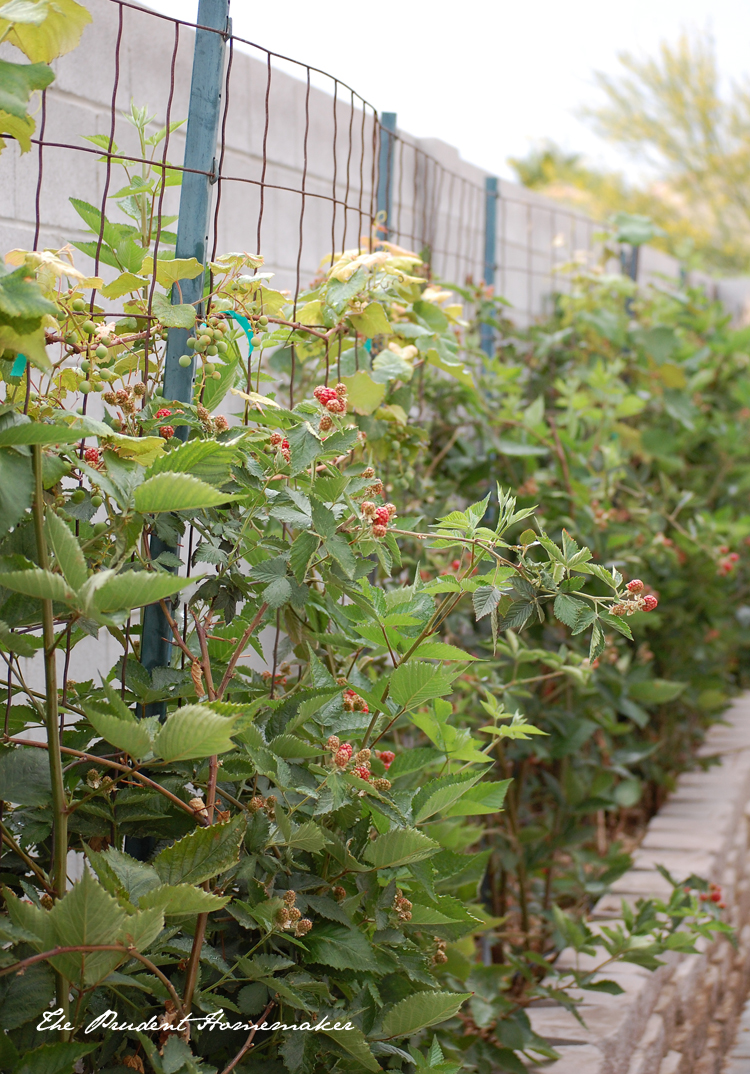 The blackberries above grow in a space only about 12 inches wide next to the wall. This is the side of the house that has the air conditioning units, and it was a slope when we moved in. We cut it back, poured concrete, built a wall, and brought in new dirt to go next to the wide concrete footer of the wall between us and our neighbors. This spot gets afternoon shade, which is essential where I live to keep the berries from getting burnt on the vine.
Last year I cut the new shoots to four feet tall, to encourage them to branch out more. It was the first time I have done that and just like with fruit trees, it made a huge difference. I have so many more berries than last year. In the last couple of weeks I have been cutting the new canes to four feet to encourage them to branch out. It is a double win–every year the top two feet of berries were small and cooked in the sun, turning hard and brown before they ripened. The berries towards the bottom of the bushes have always been triple the size of the ones at the top.
My plan is to grow grapes on that top wire, which will also help shade the berries from the normally intense heat of this time of year. The concord I transplanted from further back in the corner last year is finally growing (it needed more sun) and I have grapes on it finally! I took several cuttings from it last year and two took; they are growing up the wire and I am pruning off all side branches until it gets to the top wire; then I will train a branch on either side of the wire to grow there. I also have several Thompson's seedless vines that I took early this spring that have taken and trained to do the same thing. I'll then have more blackberries (which will also be larger) and the addition of grapes from this space.
This morning I awoke to overcast skies and a tiny sprinkle of rain. The forecast said cloudy with a 0% chance of rain. This unusual weather is a huge blessing to the garden, as well as to our electric bill. The rain stopped almost immediately, but came back a couple more times for a few brief minutes. I doubt it will be anything measurable, but I turned off the drip and sprinklers for the day anyway. We have the windows and the back door open and are enjoying the lovely smell of rain and cooler temperatures than normal (it's been between 5 and 15º below normal this month).
I went to Winco last week to pick up the items on my list, and to my surprise, I found out that they did still have dahlia tubers! They had just moved them from the front door to their seasonal section inside the store. Instead of being $4.49 each, they had lowered the price to $1.49 each! I bought two pink ones.
I bought two used pots from a Facebook garage sale page last week for $5. I'll be filling those this week.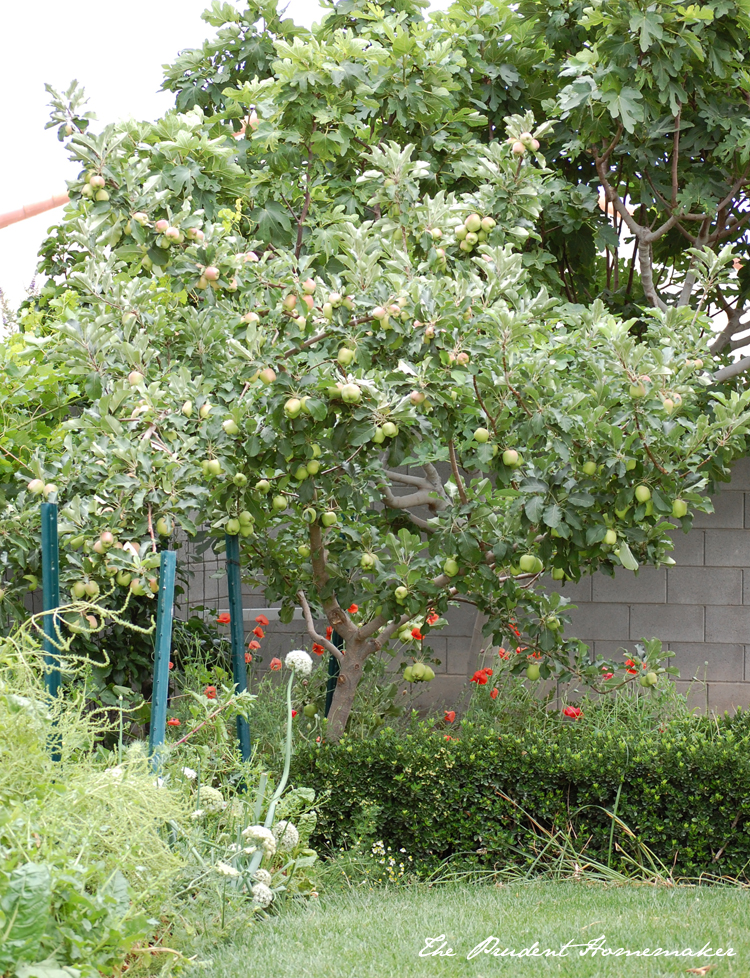 My Dorsett Golden apples tree is heavy laden, even after I picked several baskets of tiny thinned apples earlier this year. Looking at this photo, I can see a couple of spots where I missed thinning properly. These apples are almost ripe.
My poppies only grew really well under the apple tree this year, and I have enjoyed looking at them each day. I fell in love with red poppies in Clermont-Ferrand, France, in another May many years ago, and this is why I grow them.
The gangly mess on the left is one of the chard plants I am letting go to seed. When the garden goes to seed, it looks wild and messy, but that is what is needed to colect seeds to plant in a new season. I have some onions going to seed there as well. The seeds are not quite ready to be harvested, but once they are ready I will tear them out and plant something new.
Garden:
1. Plant dahlia tubers
2. Fix leak in the drip line. I thought I had fixed all of the leaks but it looks like I have multiple problems in one spot of tubing where I will have to replace the tubing.
3. Plant apricot tree after tubing is fixed (otherwise the tree will drown)
4. Dig up three euyonomus bushes I started by tip layering and transplant them into pots.
5. Plant more seeds
6. Collect dill seeds
7. Pick blackberries as they ripen
8. Continue to take off infected leaves from grape leaf skeletonizers. This is a long and time-consuming task. Despite spraying before, the caterpillars are alive. I am seriously considering spraying again this week before the temperatures climb back up to their normal above 90º temperatures.
9. Transplant some seedlings from one pot to another
Sewing:
1. Mend 5 items
2. Make one pair of pajama shorts for Ezrom
3. Make one project from my Pinterest project board
Cleaning/Organization
1. Clean desk (and nearby areas where the mess has spilled over)
2. Photograph and list at least 5 items for sale on Facebook garage sale pages
3. Hang two pictures
Shopping:
1. Order some schoolbooks online
2. Try another local place for church shoes for Winter
3. Trip to the thrift store for a couple of items for myself and Winter
4. Possible trip the to nursery for a specialty piece to fix irrigation
Blogging:
1. Edit photographs, take more photos, and work on 3 blog posts