Last week was a busy week!
I sprouted alfalfa seeds. I made steak sauce.
When we were asked to bring a refreshment to a cub scout event, we brought popcorn that we popped on the stove, rather than making cookies (which would have been a lot more money).
I watched some shows for free on Hulu.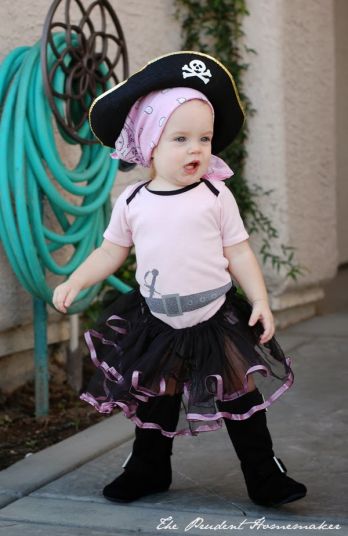 My brother gave us the onesie and the tutu (I think both were from the dollar store); my mom found the hat at a garage sale for .25 several years ago, someone gave us the bandanna, and the boots were a recent hand-me-down from someone. I showed Ivory this picture of herself and she said, "Arr!"
I sewed 4 pirate eye patches using black elastic that I had received from my mother-in-law and some felt that I had. I cut two bandannas from bandanna fabric that I had from my grandmother's stash. We used these as part of our pirate costumes for the children to receive a free dozen donuts on Talk Like a Pirate Day at Krispy Kreme Donuts. They gave us 6 dozen donuts for free.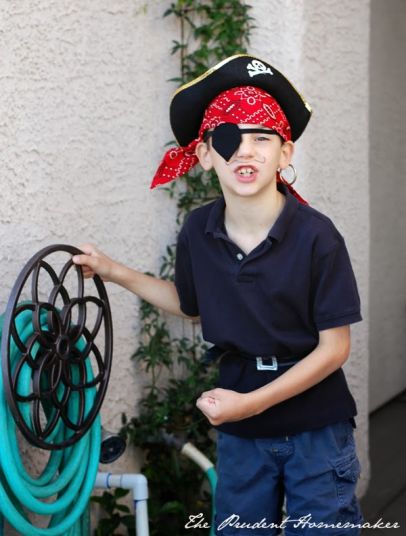 Since the donut shop was close to Smart and Final, and I'm rarely over that way, I stopped in to check out some prices. I purchased rice vinegar at $9.79 for a gallon, a 2 quart container of molasses at $5.59, a gallon of red wine vinegar for $5.49, and Kosher salt at 3 pounds for $2.99.
I also was able to purchase 8 dozen eggs on sale this week at another store for $8. My husband's office is in the same parking lot so he just walked there, saving us gasoline to purchase them.
I said yes to food from a reader's freezer (the same reader who was so generous to me last week; she is moving and doesn't want to move all of her food across several states). There were many, many meals worth of food there.
When I returned her moving boxes, she gave me more from her pantry! I was very excited to see several items that were low in my pantry.
She also asked me if I wanted a bicycle. I said yes! She gave us a man's bicycle. We did not own any adult bicycles (I have been borrowing my father-in-law's bicycle) and my two oldest children are not far from being tall enough to comfortably ride an adult-sized bicycle.
I mended the hem of a dress. It had torn right along the bottom of the hem. I mended the tear but then shortened the hem by an inch to make it more stable and neat.
I cut zinnias from the garden to enjoy inside.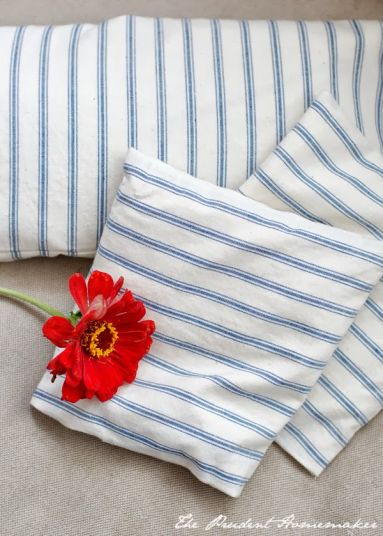 I made a couple of rice bags to use like ice packs when the children get hurt, and a wheat bag that is similar but will be warmed in the microwave for sore muscles.
I canned 13 quarts of tomatoes from tomatoes that were given to us.
I returned plants to the nursery that didn't make it, according to their return policy. I was able to replace them and I am so glad that I took them back. They gave me store credit, and I decided to put snapdragons in the front yard instead of the carpet roses, at least for now. This made the credit I had go further. I also returned empty pots for them for store credit.
What did you do to save money last week?