This post contains affiliate links.
She told me that she wanted an Eiffel Tower birthday.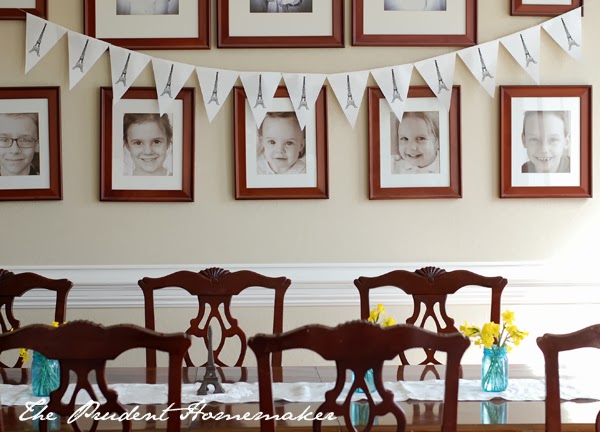 Elsa wanted an Eiffel Tower cake. I had found these Eiffel Tower chocolate molds
by accident when I was looking for this Eiffel Tower cookie cutter
. I had planned on making cookies originally, but this turned out to be a simpler project, and it met her request of having an Eiffel Tower cake.
I used Ghirardelli melting chocolate that I purchased in January 2013 on clearance after Christmas at Sam's Club. It came in a huge bar. Last year they switched to selling melting wafers
. You can purchase the Wilton brand melts
all year long at Joann's or Michael's; they go on sale around each holiday.
I found it best to melt just a small amount (around 1/3 of a cup) at a time (larger amounts burned on me). I heated them for 30 seconds in the microwave, gave them a stir, and then heated them for 30 seconds more. I then stirred them again. I used a small spoon to fill the chocolate molds. I then tapped the mold on the counter a few times to remove any air bubbles. I needed to melt chocolate a few times in order to fill all the molds, but working with a small amount at a time gave me the best results.
I made cupcakes from scratch and made cream cheese frosting for them (using cream cheese I purchased in November on sale). The cupcake wrappers were a gift from a reader who was moving out of state. Amazon has several different colors of polka dot wrappers
.
I put the chocolates on top of the cupcakes and pushed them down slightly into the cupcakes to get them to stay. If you're going to make these, I suggest putting the chocolates into the cupcakes after you've moved the cupcakes to the table where you will be displaying them, to keep them from falling.
I had this dress designed in my head since October. This pattern (Pascale from Martha Pullen) has become my favorite pattern and it's almost the only one I use anymore. I love the vintage styling and the lined bodice.
I made the dress from poly/cotton broadcloth bought several years ago at a Black Friday sale at Joann's. It runs around $2 to $2.50 a yard that weekend, and I bought several yards in colors I knew I would use.
The black was a scrap from my grandmother's fabric. The buttons on the front were vintage ones that were my grandmother's and the ones on the back were purchased for 40 cents when I bought the fabric (60% off). I always stock up on embroidery thread when it goes on sale. I used 2 strands to embroider the entire thing and it used very little thread; around 1/4 of a skein.
I made the piping using the tiny drapery cord that you can get at Joann's (last time I bought it was .20 a yard) and covered it with bias strips of the same black fabric as the collar.
The dress cost me $3.50 in materials.
The socks are Circo brand from Target. They fold over once. I used some black crochet thread that I've had since I was 9 (we used it to string a marionette that I made) to crochet a simple chain stitch on the edges (5 chains and then I went into the sock, repeat). I purchased these last year with the intention of doing a few for gifts for the girls.
I've seen necklaces like this one for sale for as much as $40. It cost me $1.50 to make this.
A few other fun things if you want to have your own Eiffel Tower/ Paris themed party: