We have had wonderful, unusual weather this first week of May. We are still harvesting lettuce! Usually it bolts in mid-April. When it starts bolting, we eat some every day, but I always manage to have plenty of extra. Three people who came to my house this week got lettuce; I was really delighted because two people told me they were on their way to the store to buy just lettuce right after they left. I love that I got to save two people trips to the store. I also was able to share green onions with them. This week will probably be the last of our lettuce.
If you do not grow your own lettuce, and it is cool enough to plant it, I would encourage you to do so (it also grows well in a fall garden!) A packet of 750 lettuce seeds can be purchased for around $4. That is a lot of lettuce! It can be grown in a pot if you only have a small space, and it will even tolerate a little shade. Looseleaf lettuce can be harvested three times, so each head that you grow is like growing three in that space! Lettuce is one of the biggest cost-saving things you can grow. If you grow open-pollinated varieties, you can collect the seeds after it bolts and plant them to grow next year.
I am planning on collecting seeds from several plants this year, as I planted open-pollinated types. My goal is to completely eliminate buying lettuce seeds in future years.
I picked 4 small tomatoes from our garden on the last day of April. This is the earliest that we have ever picked tomatoes. I started with larger plants this year for the first time. I am hoping that will make a big difference in our yield this year.
I cut rosemary, green onions, and Swiss chard from the garden.
My husband and I had been planning to shop for a new home insurance provider this week. (We usually shop our insurance every couple of years). At the same time, we received our renewal notice from the insurance company. They said the new rate would be almost $500 more per year than last year!
I was able to get us a better policy with a much lower deductible and higher coverage for less than we are paying now. I saved us $657 this year because I made a phone call to our insurance agent.
I used two coupons from two free magazines that I received for two free 8-ounce containers of paint from Lowe's. I will use them for small projects.
I collected green onion seeds from my green onions that had gone to seed. I packaged some, along with larkspur and zinnia seeds from my garden, for a friend for her garden.
I potted an apricot seedlings that had started to grow under my apricot tree for my neighbor (the one with the mulberries) who wanted an apricot tree and loves growing trees from pits.
I made pasta salad, mulberry muffins, rosemary olive oil bread, Swiss chard soup, and pancakes. We had salad from the garden every day. I made balsamic orange vinaigrette for our salads. Salad was our main dish for several meals.
I used E-6000 glue to mend Liberty's sandal.
We celebrated my father-in-law's 85th birthday with a surprise birthday party. Most of the family was there. He has 62 grandchildren and great-grandchildren, and most of them live in town, so when we get together it is a lot of people to feed. Everyone always brings something. I brought a salad from my garden and some balsamic orange vinaigrette. The children enjoyed playing with their cousins.
The boys attended Cub Scout day camp this week. They had a lot of fun.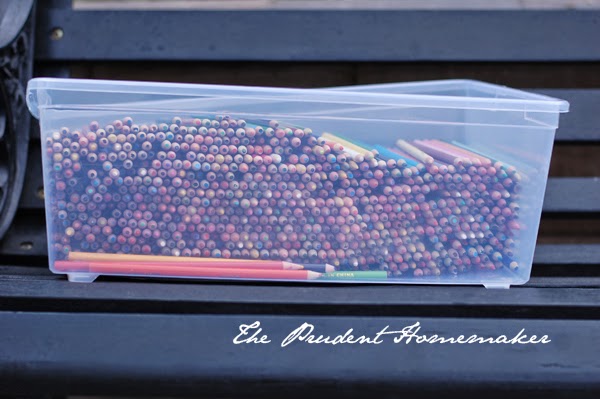 This was $5, including the container with a lid. I won't be buying colored pencils for years.
On my way to driving them to day camp, I noticed a garage sale sign. I stopped on the way back and bought several books and a huge container of colored pencils. One of the books was one that Winter had been wanting, and I paid 25 cents for it!
Winter and I went to the thrift store to buy some new jeans for her. On our way, we stopped at two garage sales. At the second sale, I found a necklace that was very similar to one that she had seen and liked a few years before in a store with me. I showed her the one at the sale and she really liked it. I bought it for her for $1.
The thrift store was well-stocked. Winter found three pairs of jeans that she liked. I will be turning two pairs into jean shorts for her.
I also found some dresses for myself for $6 each. I have been needing some new clothes and I love dresses.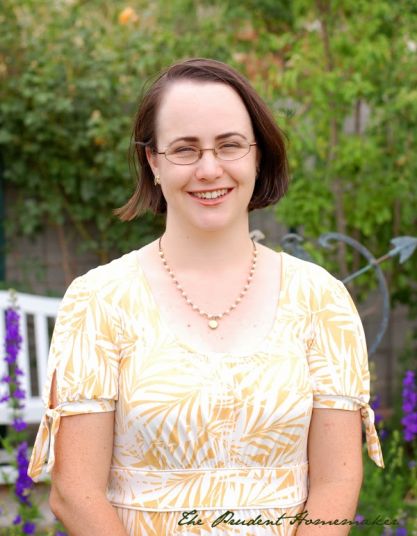 This was my favorite dress of the three that I purchased.
I was also super excited to find a set of flannel pajamas there. It was the same pair that I had seen and liked at Target this past fall, but on which I could not justify spending $30. They had one set in just my size for $4.
Winter and I found a few books for the family there as well, including some that we will give to Cyrus for his birthday. We also purchased 2 like-new books (the same as ones that we already have and love) to add to our gift box for future birthday parties.
In our church, the girls ages 12-18 go to a week-long girls' camp each year. This will be Winter's first year. The girls are highly encouraged to earn their own money to pay for camp. This year the cost is $180 per girl.
When we had our garage sale earlier this year, we moved it forward a day after learning that the young women would be having one the same day. Winter made flyers to hand out at our garage sale the day before to give to people who came to our sale, telling them about the sale the next day (this turned out to be very effective, as their first 5 customers were from our sale flyers!) All that we didn't sell went to the garage sale, and then we spent several hours helping that night and the next day with the young women's sale (I bought some things at the sale as well). They made enough for each of the girls to have $40 towards camp. That left Winter to earn $140.
My husband worked with her to create advertising and price supplies to paint lampposts in neighborhoods nearby where the houses have gas lampposts that they are required to maintain. They put out flyers, and Winter handled the phone calls. Then they went together and painted lampposts, replaced mantels, and replaced glass for those who called her. From her earnings, she paid back my husband for all of her supplies, and has earned 2/3 of the $140 that she needs this week. She still has supplies and a good number of fliers to put out. She is hoping to earn the rest this way, and to earn enough to purchase her own camera to take with her to camp. We are excited that she is learning about entrepreneurship.
What did you do to save money last week?