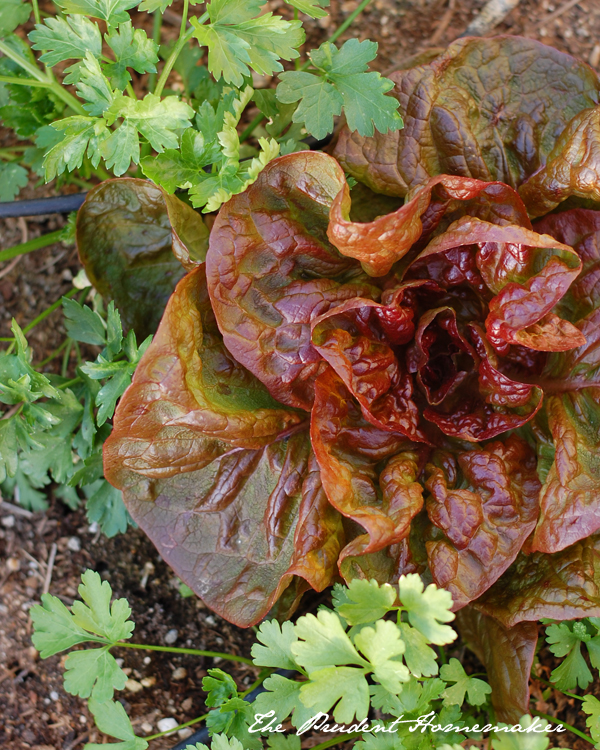 Lettuce: Four Seasons, aka Merveille de Quatre Seasons
, with Italian Parsley
This month I plan to continue to restock items in the pantry that are low.
After discussing our food needs, we have decided to buy more beans. As meat prices have continued to climb, we are eating beans more often, and I will go through a 25 pound bag of beans much more quickly.
I looked at the new order form at the LDS Cannery, and it looks like they haven't discontinued the bulk black and white beans in bulk like I had heard they would! This is wonderful news, since a 25 pound bag is $15. I want to get more of both of these.
I won't be buying any Valentine's candy. I will make candy for the children using supplies I have in my pantry. I have a silicone heart-shaped mold that I bought at the Dollar Tree a few years ago. I'll make some chocolates in it. I also will make heart-shaped cookies. I'll put their treats in these free printable bags that I've had pinned on my Valentine's Day Pinterest Board for a while. (I used a couple of ideas from my board last year; you can see photos here). For Valentine's Day, my husband and I will either have a special meal from something in the freezer, and/or I'll make us a special dessert for just the two of us after thc children are in bed. We'll have an at-home date that evening.
On my list this month:
Winco:
Oats
Gold n Soft spreadable margarine
10 pound bag of carrots
LDS Cannery:
Black beans
White beans
Sam's Club:
Flour
Brown sugar
White vinegar
Mozarella cheese
Granulated garlic
Milk
Albertson's or Smiths:
Asparagus (This is on sale for $1.28 a pound right now. I have a few spears just starting to poke out of the ground, but I still don't grow enough for our family, who loves asparagus. Even though this is the lowest in-season price, it's much higher than years past, where I could get it for .99 a pound. This means changing my price point on this item. My mom picked up two pounds for me yesterday while she was at the store getting some for herself.)
Sour cream (I'll look for a sale price of $1 a pound if I can find it, or $1.25 if that is the lowest sales price. If there isn't a sale that low I won't get any; I generally find it on sale at this price every few months).
Walmart:
Oil
Washing soda
Powdered milk ( I don't remember if this is lower at Winco or Walmart, so I'll check. Walmart is $15.98 for the 64 ounce box, which makes 5 gallons. Powdered milk is about the same price as I pay for fresh milk right now, and sometimes a bit higher. However, I like having powdered milk in my storage for times when I need milk in baking and I'm not able to get to the store; I can just just a little bit in a recipe at a time. You can read more about powdered milk here.)
Target:
Oil of Olay bar soap (I'll look for a sale on these; I printed two $1 off coupons for these)
Up and Up trash bags (There is a Target coupon for these, plus a 5% off Target cartwheel offer. Hopefully there will be a sale sometime this month as well. This is the store brand. I buy the kitchen trash bags in the largest box, and they sometimes go on sale for $1 off a box. )
I have a $5 gift card from Target that I got last month as part of a promotion to use as well.
Though that will take up most of my month's budget, I'll also keep an eye out for great deals and sales for both food and toiletries that are within what is left.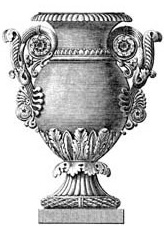 I will be making a trip to the nursery this month. The nursery is my favorite place to shop–it's quiet, peaceful, and full of flowers! I'm limiting my trips there this spring (and it is very much spring here, with temperatures in the 60ºs and 70ºs!) to reduce the tempation to buy things that I know aren't in my budget this year. My garden budget is not part of my grocery budget. I'll be buying some tomato plants and possibly a chocolate mint plant. I still haven't decided between the large or small tomato plants, and the comments I received last month gave me lots to ponder.
I'll also purchase some manure for both the garden and the lawn. I have a $10 off $50 coupon to use at the nursery. I'll keep it close to that amount. Most of it will go for manure on the grass (our nursery has a 2 cubic foot bag of manure for $1.99, which is much lower than elsewhere). So far this year I have spent $79.90 on seeds. I bought extra large packets this year on seeds that have a 3 year shelf-life, to (hopefully) eliminate the need to buy more seeds next year (I also plan to collect seeds frm my open-pollinated plants this year). I am also still planting seeds that I purchased last year and the year before, as well as seeds that I gathered from my own garden last year.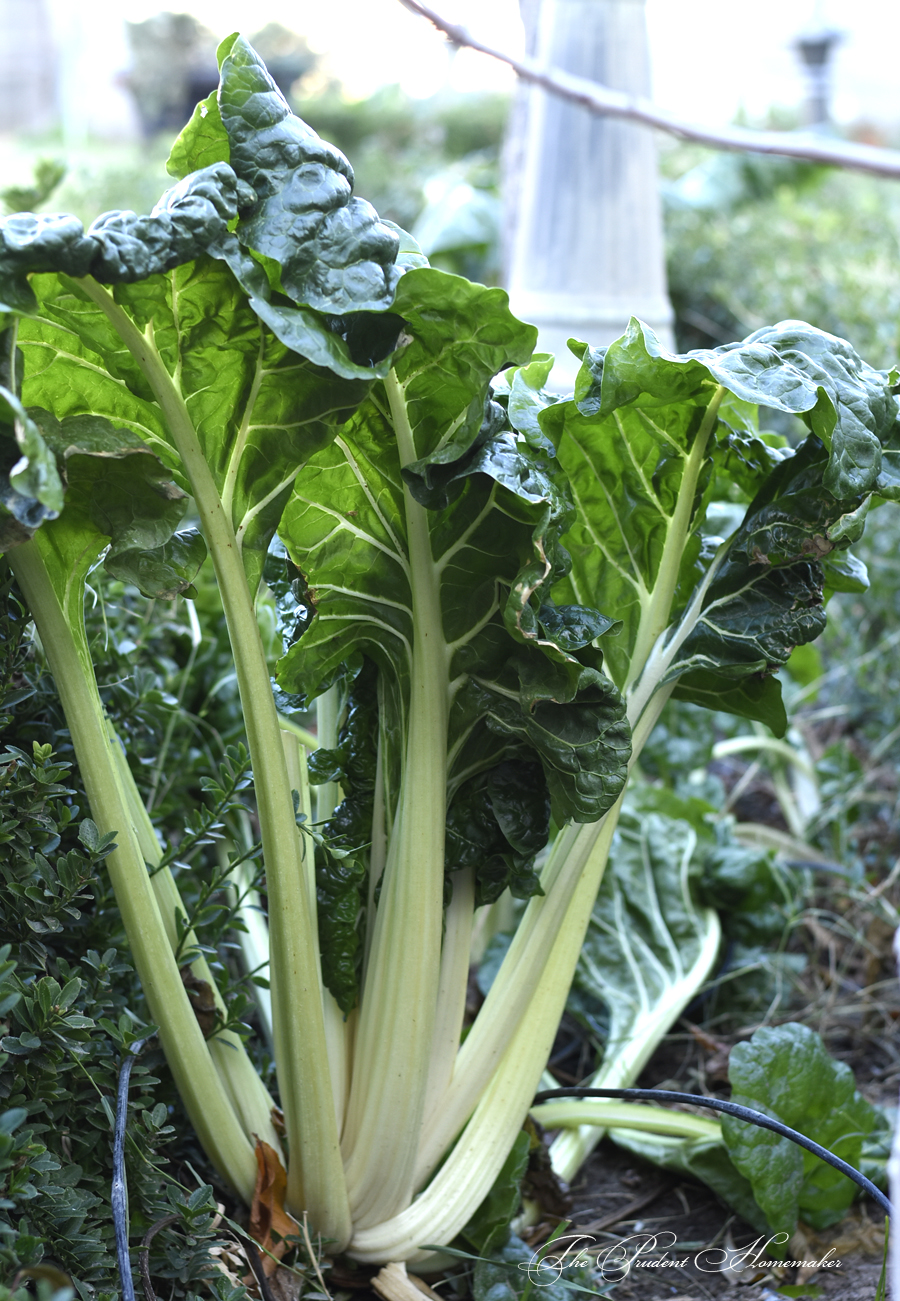 Swiss chard
I'm harvesting in the garden every day. The variety that I can pick will increase as the month continues and my plants get bigger.
This post contains affiliate links. You can read my disclosure policy here.