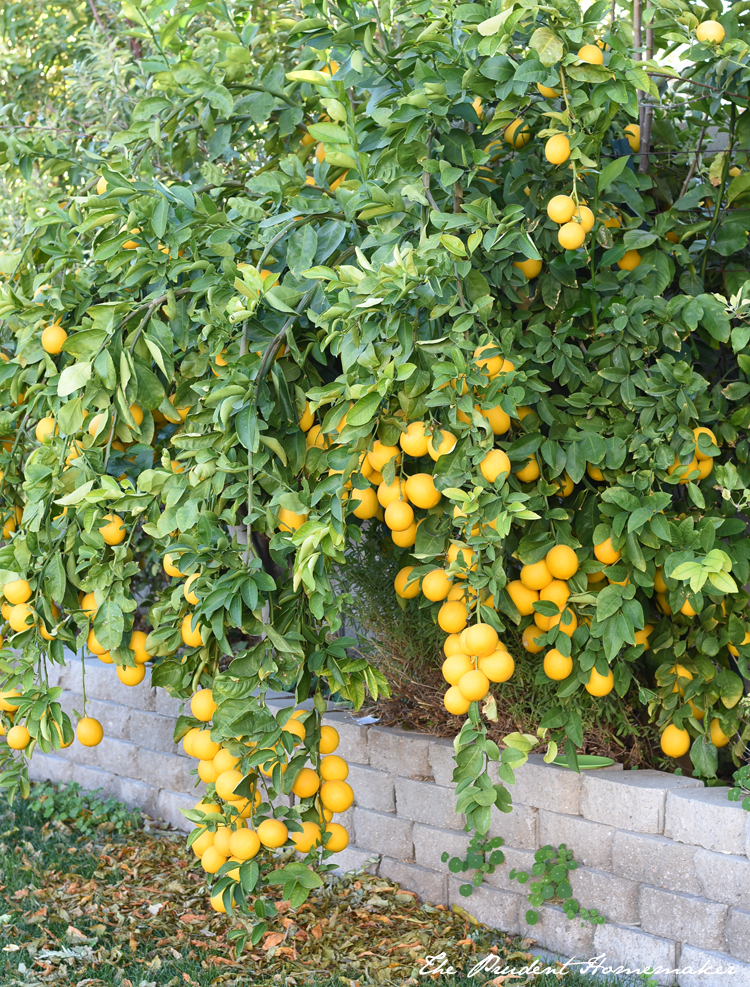 This post contains affiliate links.
I'm zesting and juicing lemons this month from the garden. I am freezing lemon juice and zest to use throughout the year. In order to have enough space in the freezer for so much juice, we're eating lots from the freezers. This time of year, we eat the frozen fruit from the garden that I froze over the last year. We're also eating meat from the freezers.
The pantry is still plenty stocked, including canned fruits and vegetables, butternut squash, pumpkins, and onions.
I'm glad I was able to can so much applesauce from our tree last year, as due to massive borer damage on all but one branch, we had to pull the tree last month. I'm replacing it with another. It will be a few years before the new tree is large enough to start bearing.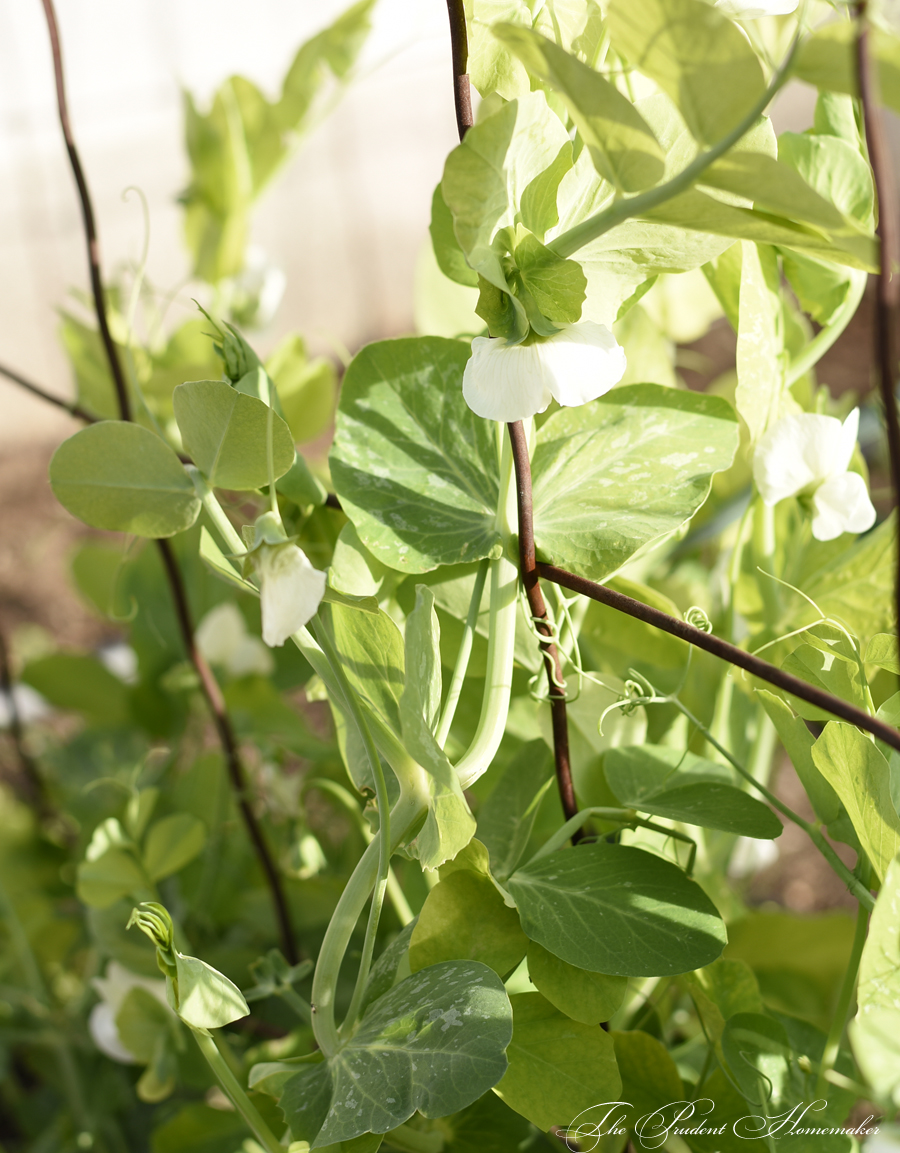 In the garden, (In addition to hundreds of lemons) we have green onions, oregano, nasturtiums, Swiss chard, New Zealand Spinach, and the first of the snow peas ripening this month.
I'm focusing on filling holes in the pantry. I've been asked before what percentage of the grocery budget I allot towards filling the pantry. Stocking up on pantry staples is my first priority, not my last, nor a tiny bit. I then look to purchase fresh items in addition to any pantry needs. I find that my money goes further this way (such as 25 pounds of oats for under $17 at Winco!)
Each year I aim to increase the yield in my garden to allow for plenty of fresh vegetables and fruits throughout the year for my family. I succession sow seeds, I grow vertically, I've added additional fruit trees in pots (underplanted with flowers and herbs), I've planted more that grows well in my climate (especially more cut and come again vegetables like Swiss chard and green onions), I've covered the walls with berry bushes and grape vines, and I re-landscaped my small front yard to allow for 5 fruit trees in the ground and 3 in pots, in addition to herbs, vegetables, and flowers. Doing all these things not only helps us to have something always ripe in the garden to harvest, but it also allows me to be able to can and freeze fruit. I currently have a total of 29 fruit trees, including 3 nut trees and 8 potted fruit trees. Everything in the ground is watered by drip irrigation (and a few of my potted trees are also on drip irrigation).
I have a budget of $200 for February's purchases. Here's how I'll spend it:
Smith's:
Pasta. American Beauty brand pasta is on sale for $0.49 when you buy multiples of 6 (regular price is $1.25 a pound). This is the price I've been waiting to see; it's the lowest price I can find for pasta, and this sale only happens 2 to 3 times a year, so I'll stock up. Smith's is our Kroger affiliate, so you may have this sale price on pasta where you live, too! East of the Mississippi River, it's often the Creamette brand of pasta that goes on sale this low. (Note: One reader noted that her store has this sale for $0.38, but it's on 12-ounce packages pasta rather than 16-ounce.)
Target:
Diapers. There should be a spend so much get a gift card deal back on diapers this month. Every year, Target has a similar offer in January, but February's offer is usually a little better. Last year, it was spend $100 on diapers, get a $25 gift card. If I don't see this deal for some reason, I will hold off on buying more diapers. I still have plenty for my youngest and I don't need diapers for the baby yet. I will still have a 15% off coupon coming for one purchase from my registry to use on diapers if there isn't a great sale before the baby arrives. For the 15% off coupon, the item has to be on your registry. I created a registry just for this purpose, and I made sure I put diapers on the registry. (I will also pick up my registry freebies this month when I go to Target). (Update: It looks like it will be spend $100, get a $20 gift card starting next week. You'll need the coupon, which will be in the ad and also in the Target app, in order to get the $20 gift card).
Salon Graphix hairspray (unscented super hold)
Walmart:
Oxi-Clean spray in the refill bottle (I pour it into this pretty spray bottle to use for laundry)
Equate dandruff shampoo
Winco:
Oats (25-pound bag for a little over $16)
Potatoes
Vegetable Oil
Our last official frost date is February 15th, at which time our local nursery will have a large number of vegetable and herb plants available. I spoke with the manager, and because of our record heat this year (it's going to be 76ºF/24ºC on Monday), they are expecting these plants to come in earlier. (They had a few tomato and vegetable plants and a number of herb plants on January 26th when I went in; normally there are no tomato plants there until February 14th). For those who are local, Star Nursery traditionally has a sale on tomato, vegetable, and herb plants on President's Day weekend. I plan on purchasing tomato plants and two fruit trees (to replace my dead ones) for the garden. I'll be watching for sale prices as well as coupons (usually there are coupons this month in the Val-Pak and/or in the ads that wrap around hte grocery ads in the mail) and I will be purchasing these items on sale. (My garden budget is not a set amount. I have spent as little as $150 a year on my garden up to $1500, not counting years where we landscaped the garden. Larger purchases include non-edible things like dirt, bushes, sprinkler and valve replacement parts, drip irrigation, etc. I take money for the garden from my miscellaneous budget, which includes clothing and household purchases for the family. That amount is generally equal to or less than my grocery budget for the month. This year, my miscellaneous budget for the garden, clothing, and household goods is $200 a month, but I will spend less if I don't need anything.)
I'll sow seeds for Armenian cucumbers, Red Noodle beans, lettuce, radishes, alpine strawberries, pumpkins and squash this month in the garden. I'll also sow flower seeds. I already have these seeds, purchased in past years and collected from my own garden.
I don't know if our record highs this month mean we'll see a longer spring or just an earlier summer. Either way, the ground is warm enough to plant now, so there's no point in waiting. Hopefully, everything will germinate well and my seedlings won't be eaten by bugs, and I'll have lots of fresh food and flowers to enjoy from the garden this year!