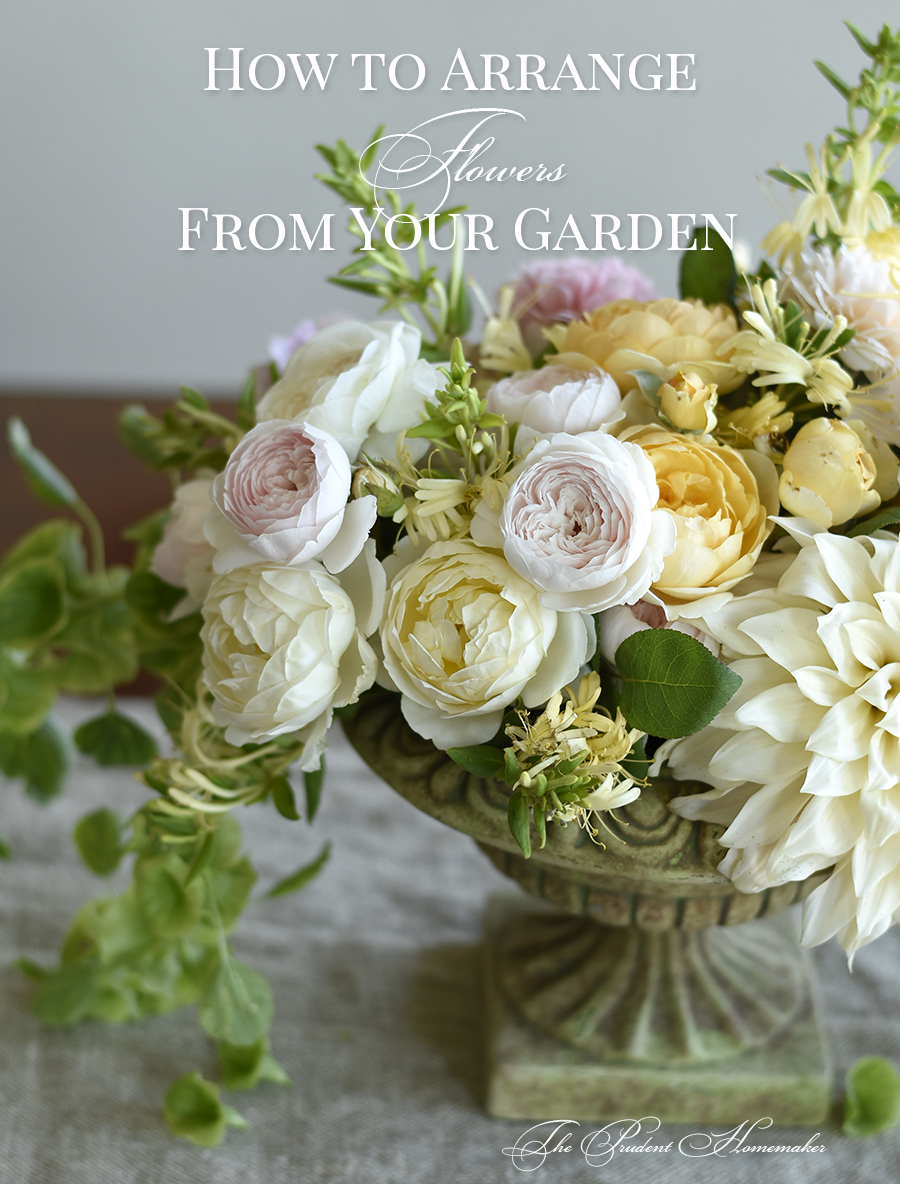 This post contains affiliate links.
I took a floral arranging class as a university student. I often say that that class and my public speaking class are the two most practical classes I attended.
Floral arrangement styles have changed over the years. I follow several florists on Instagram (who have styles I love but that are very different from what I learned), many of whom are also the growers of those flowers, and they have inspired me to grow flowers I have never grown before. I find myself really drawn to very full arrangements, and in order to achieve those, I need to be able to cut more flowers at once from the garden. In the past, my arrangements have been smaller, because I had fewer flowers in bloom at the same time. Changing the layout in my garden beds has allowed me to plant more flowers.
Want to grow more flowers in your garden without spending a ton? Check out my article on Growing Flowers for Less.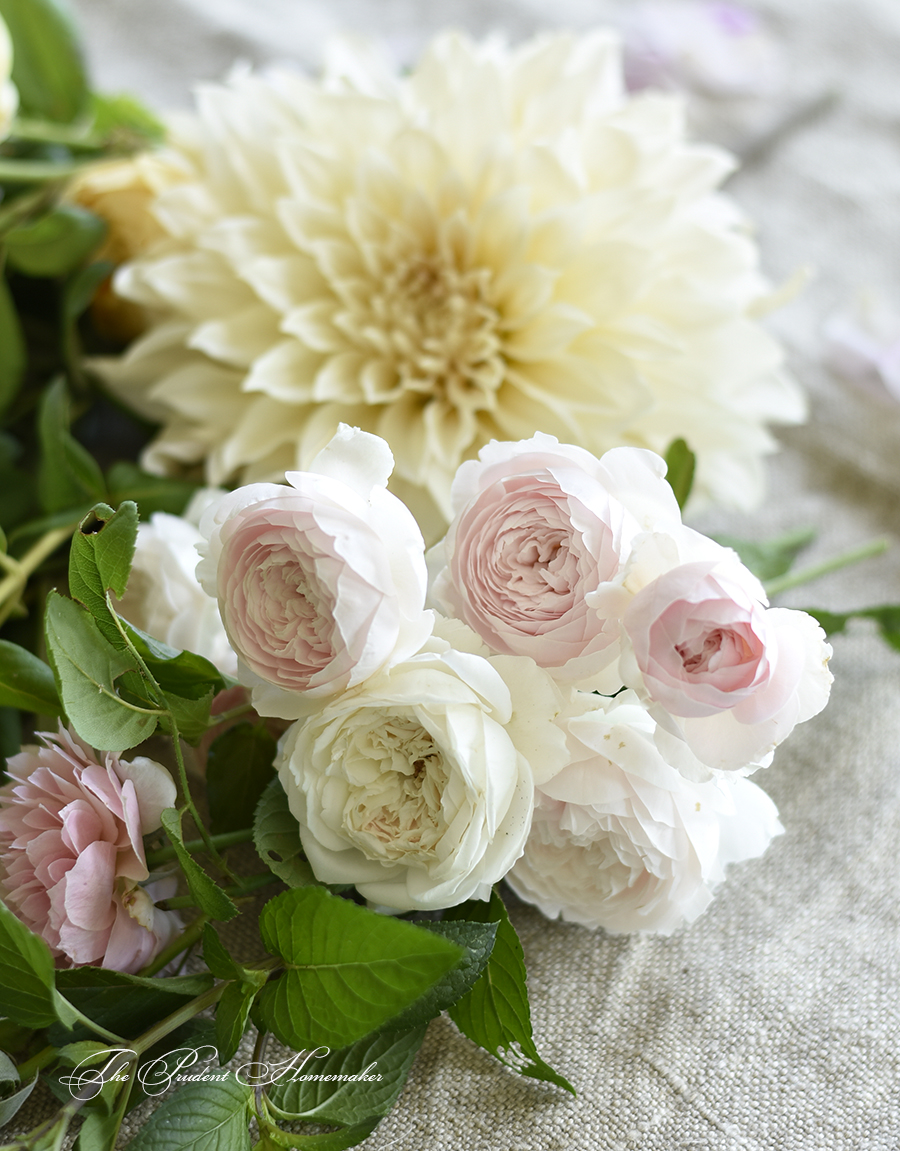 When cutting flowers from your garden, it's important to cut them early in the morning to reduce wilting. I find that the closer to dawn I cut, the longer my flowers last. This is even more important in summer when dawn temperatures are quite warm.
Cut your flowers at an angle with sharp shears, and remove any leaves that will be below the water line to keep the flowers lasting longer.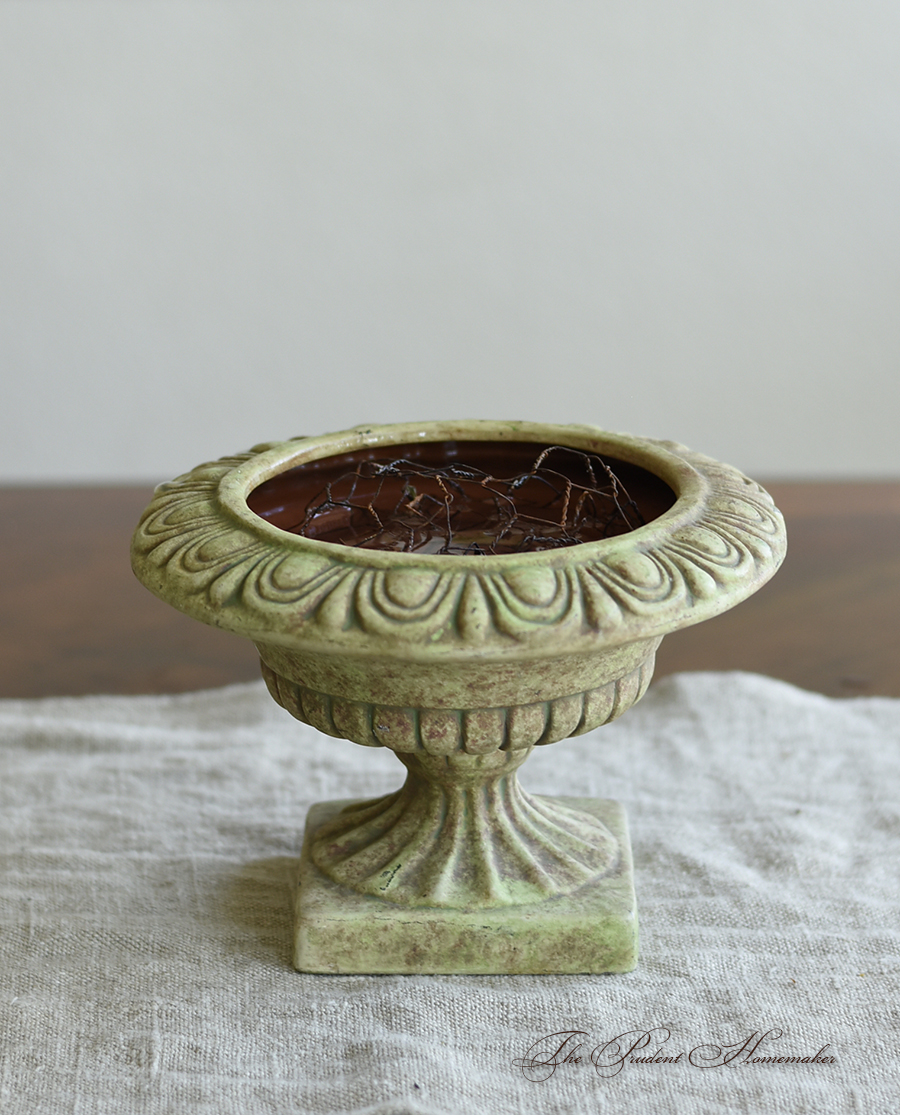 I like to use chicken wire balled up inside a wide-mouthed urn to hold my flowers in place. Chicken wire will rust after a few uses, but it's still useable. I prefer to use it inside a container where it won't show for that reason. In a clear vase, I'll use a flower frog.
You can use floral preservative, but you can also use an aspirin in the water, or just change out the water each day to keep disease from taking hold in your vase. At the very least, add water to your arrangement each day (which is usually what I end up doing). Fresh water each day is best, as it gives your flowers needed oxygen.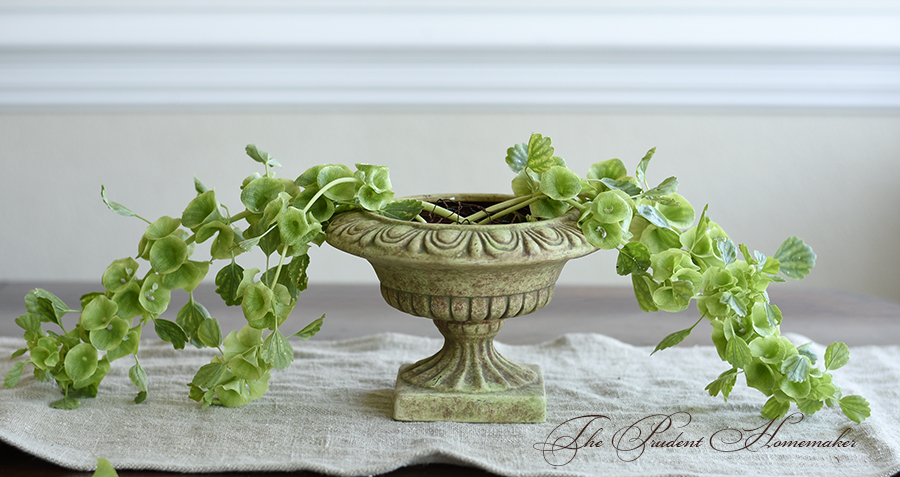 I started my arrangement with any long greenery that I want to use on both sides. Here I'm using Bells of Ireland, which I grew from seed. These are a long flower that usually grows tall, but mine grew more sideways with our constant wind, so I decided to use them this way instead. Often I'll use vines here, such as honeysuckle.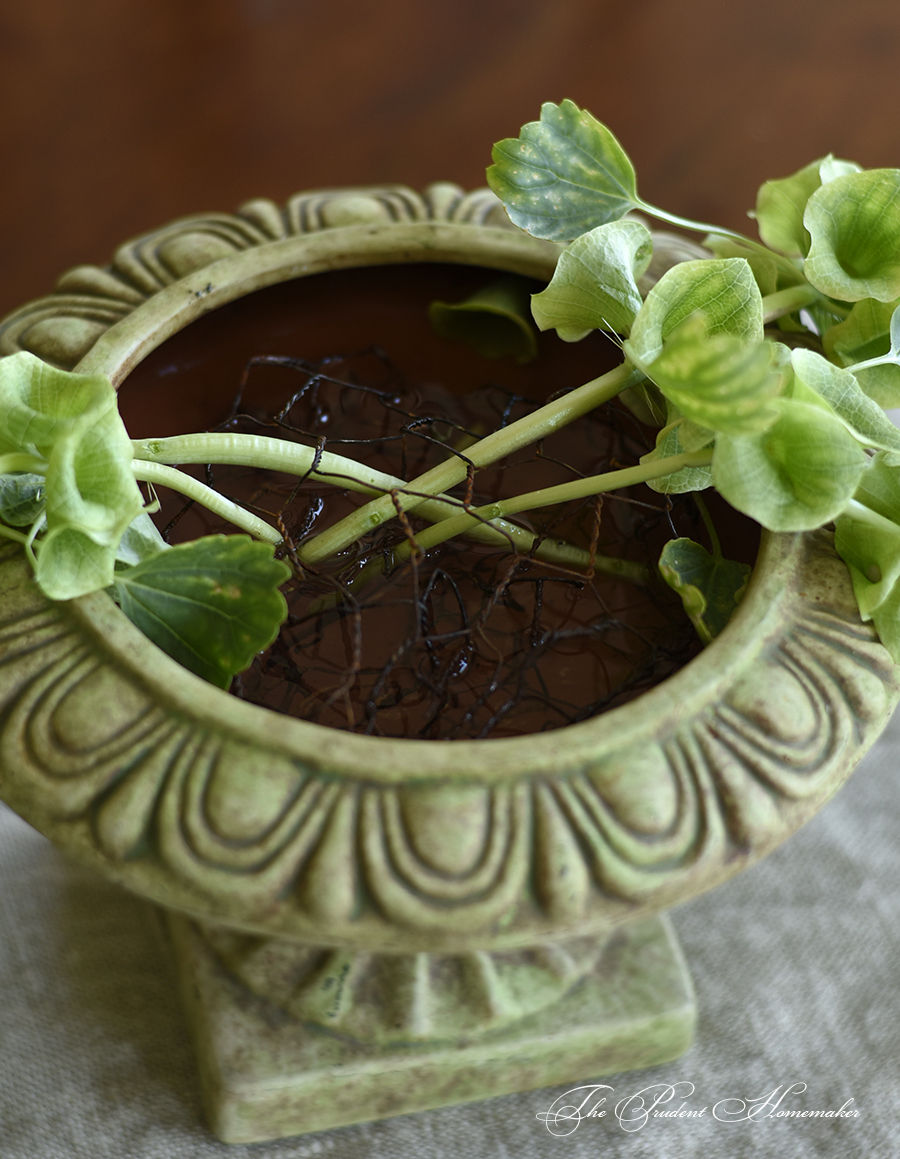 I use the chicken wire to hold the stems in place. I prefer chicken wire over floral foam for many reasons: it's less expensive, it can be reused, and you can move your stems if you don't love where you first put them.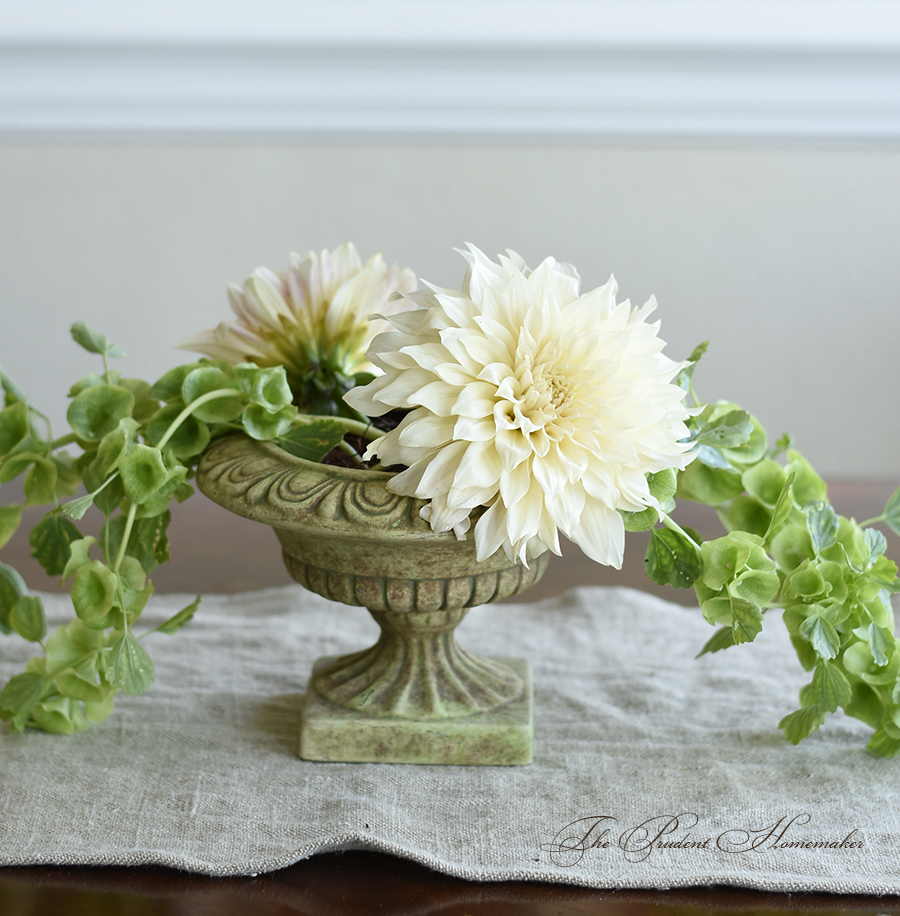 The next thing I added is a large Cafe au Lait dahlia on each side. A large flower or three are easy to add at the beginning. If you have several large blooms, the general rule for flower arranging is to have an odd number of them. In this case, I only had two dahlias in bloom, but on each side of the table, only one will be visible.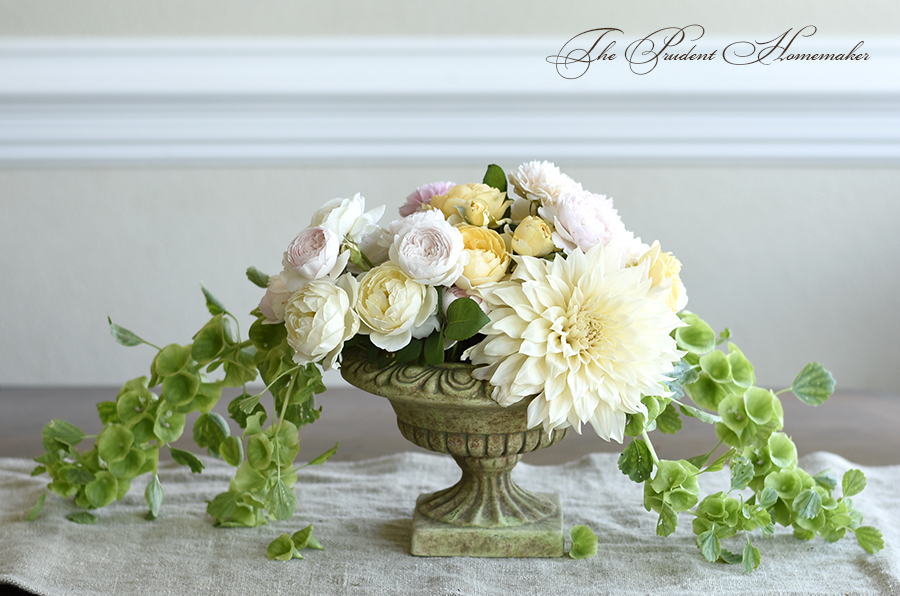 Next, I added in several roses from the garden. These are a combination of David Austin and Kordes roses.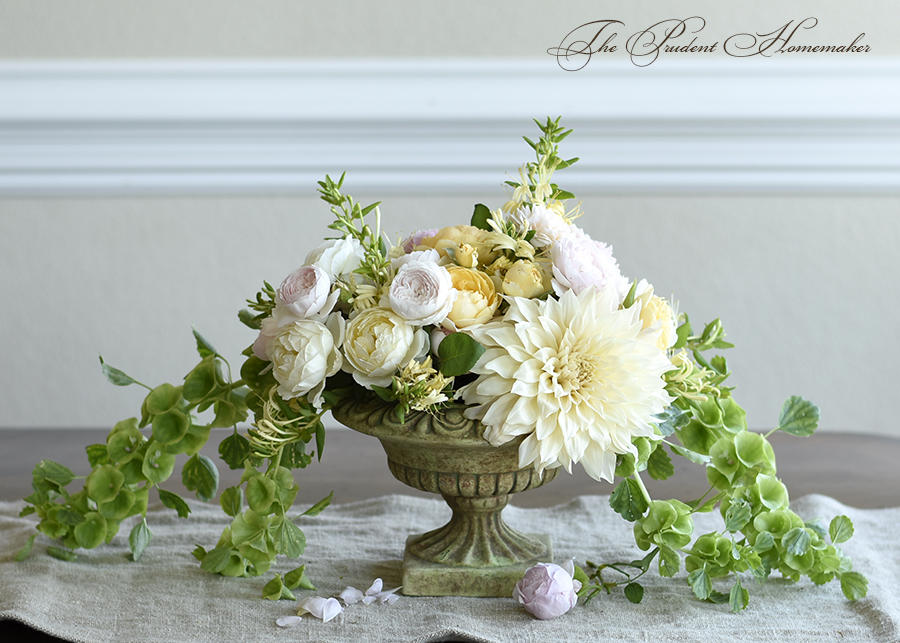 Lastly, I added short bits of honeysuckle in bloom.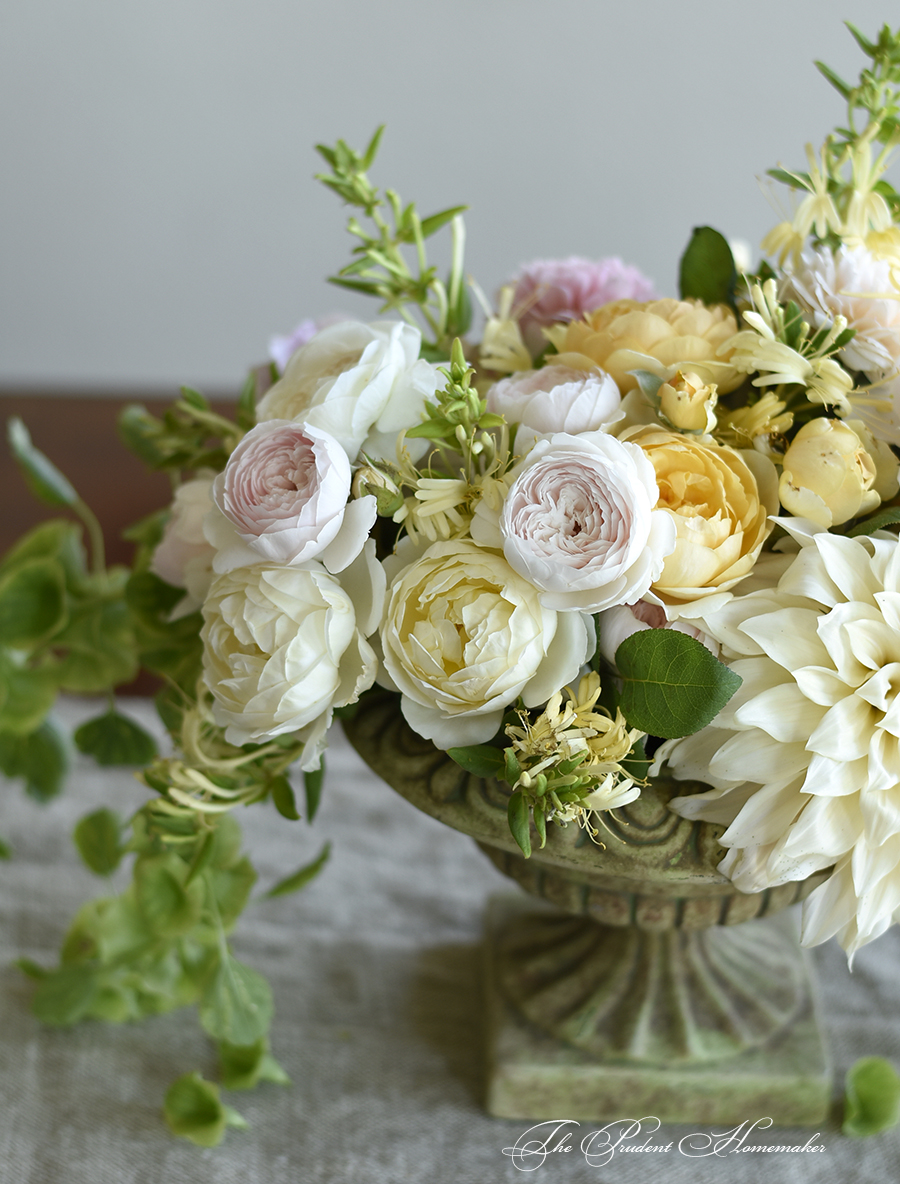 In my garden, I try to always have something ripe to eat throughout the year. I am now working to also always have flowers in bloom to be able to cut flowers each week for the house. It means doing a lot of succession planting and also seeking out flowers for each season of the year. Erin at Floret has a great article on succession planting; it's designed for flower farmers, but you can apply the same technique in your own garden.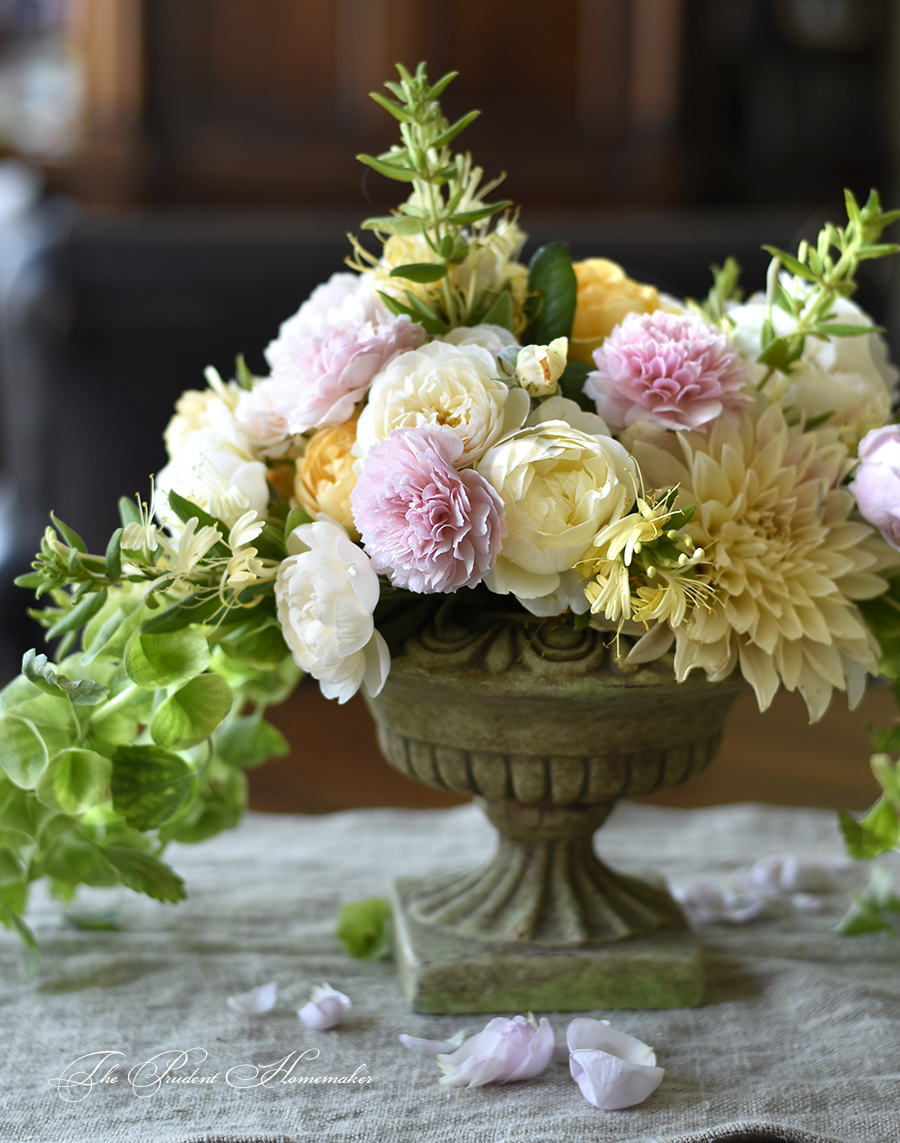 This is the other side of the arrangement. Having enough flowers in bloom in the garden at the same time for this full of an arrangement is a challenge for me, but I am planting more flowers each year so that I can make arrangements this large more often for our home.
Looking to learn more? Here are two great floral arranging books from two of my favorites: