A low floral arrangement works well at a meal, so that you can see over it to converse with the people across from you.
I started with a wide-mouthed pint-sized canning jar. You can use anything you have–an old jar that used to have food in it, a short glass–just something wide enough that it won't tumble over from being top heavy.
Fill the glass with lukewarm water if you're cutting fresh from the garden (and cool water if you're using storebought flowers). Over the next week, when you need to add more water to the arrangement, use cool water.
This time of year, I don't have a lot of flowers blooming in the garden, so I planned an arrangement that is mostly mixed greenery. If you don't have any flowers in your garden this time of year, but still have some evergreens, you can still make a beautiful arrangement with just the greenery, or you can add a small amount of storebought flowers to complete the arrangement.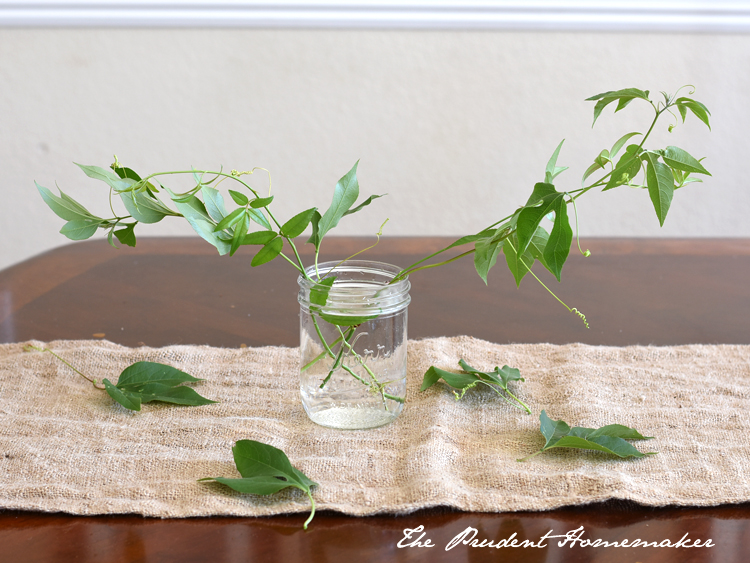 I started this with a few vines that needed to be trimmed from the walkway. I cut passionfruit vine and Lady Banks' rose vines for each side of the arrangement.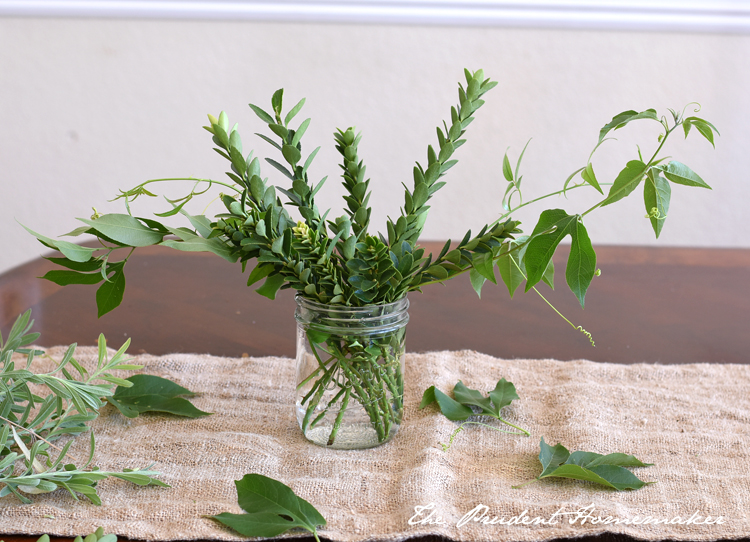 I then cut and added euyonomus branches that needed to be trimmed. When I pruned my hedge in October, I left a few spots untrimmed so that I could cut from them later for arrangements. I pulled the leaves off anything that would be underwater, as leaves underwater drastically shorten the vase life of arrangements. These branches will last for 3 weeks or more after being cut.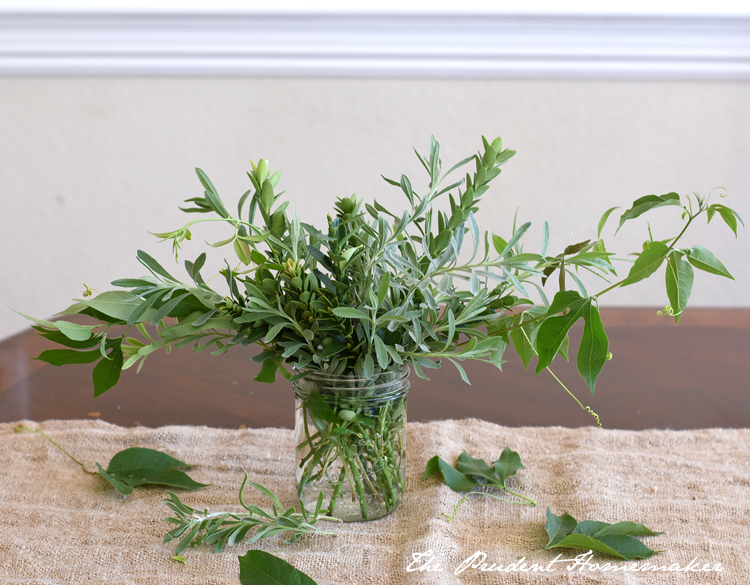 I then cut some lavender, again tearing off any leaves that would be below the water line. Though it is not blooming at this time of year, the lighter shade of the greenery add a nice contrast in the arrangement.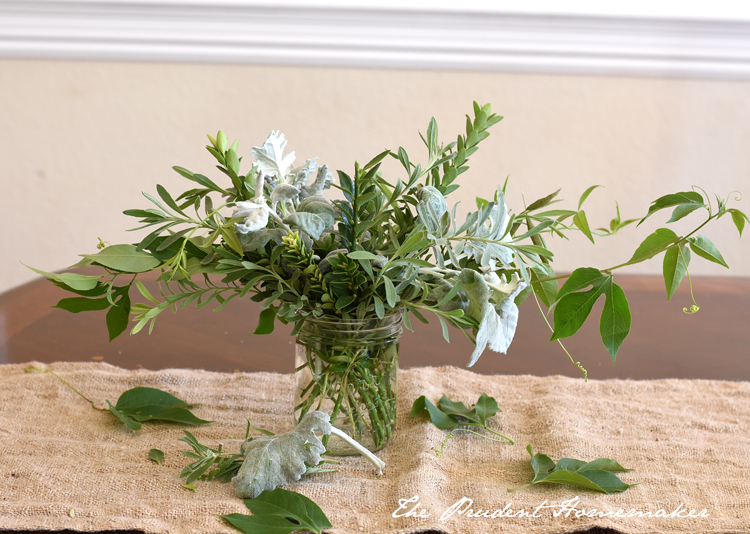 Next I added three sprigs of dusty miller. Since this is bigger, and almost flower-like, adding an odd number of stems is good. As this arrangement is two sided, make sure to look at both sides of the arrangement when adding items.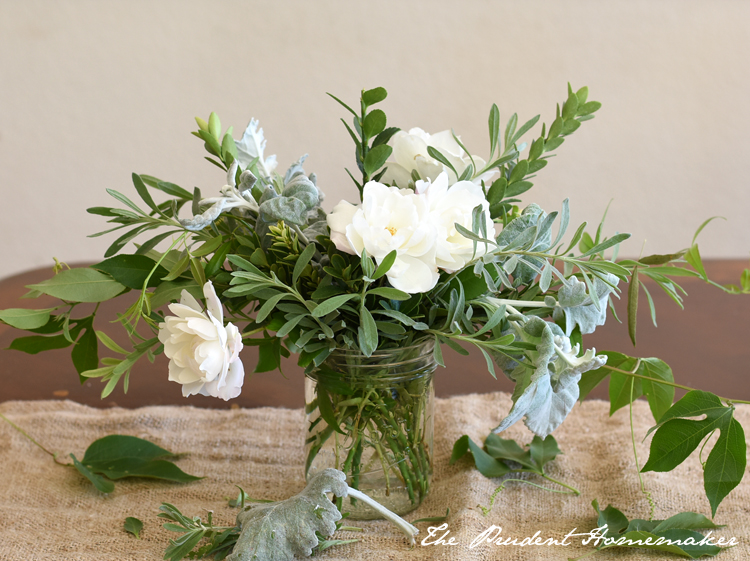 I then added in my flowers. I cut three stems of roses from the few in the garden. Ideally, I would have many more than this, and there is room in the arrangement, but this is what I have blooming in the garden right now.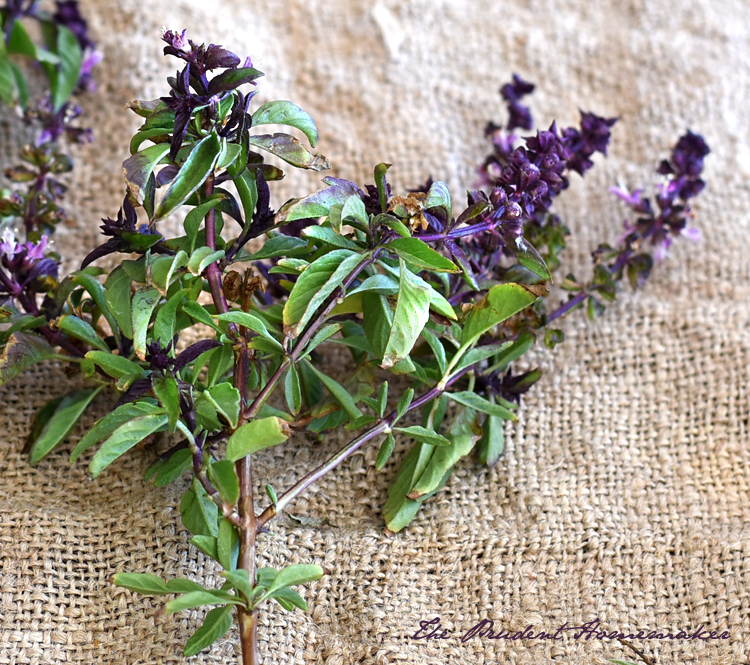 For a little more color, I added in some Thai basil flowers. If you don't have anything small flowering, you could add in some skinny bare branches.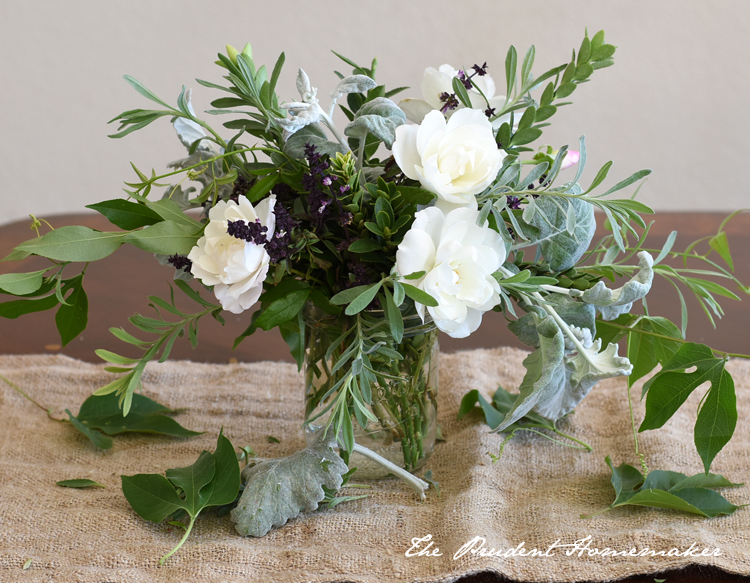 When I was done, I set the glass jar into a silver-plated medium sized mint julip container, but of course it can be left the way it is. You can also start out by tying a bow around your jar before you begin you arrangement.
A note if using storebought flowers: You should always recut the stems of any flowers you buy before putting them in water to extend the vase-life. For a low arrangement like this, you'll be cutting them a lot shorter than they were when you purchased them. Cut individual stems different heights to fill out your arrangement.
Grocery stores often carry less-expensive individual flowers to make your own arrangements. I've found the lowest prices and greatest selection at Alberston's. They carry bunches of individual flowers for $3 to $4 a bunch. I've occasionally also seen individual flower bunches at Walmart (especially carnations) for $3 to $5.
You can also use this method to arrange a grocery store Thanksgiving bouquet. Start with greenery from your yard, and then add in the greenery from your arrangement, adding in the flowers last. Often there is one odd flower in mixed bouquets. If you don't want to include it in your arrangment, try putting it in a seperate bud vase (an old vinegar jar works well for this, too) to enjoy elsewhere in the house. Don't feel obligated to include all of the flowers in your arrangement if you don't like the way they look together–just make something different with the others.
Roses have the shortest vase life of this bouquet. They can be pulled out when they have died, and replaced with something else, or the arrangement can continue to look good for weeks with just the greenery.
Be sure to add more water each day, and change out the water completely as often as possible, replacing it with cool, clean water.