Saturday's garage sale finds: Vase $1, lidded basket $0.50, bust $1, silver-plated knife $0.50
I updated my garage sale list in preparation for going to the community garage sales on Saturday. There will be even more this upcoming Saturday and I hope to find lots of items on my list.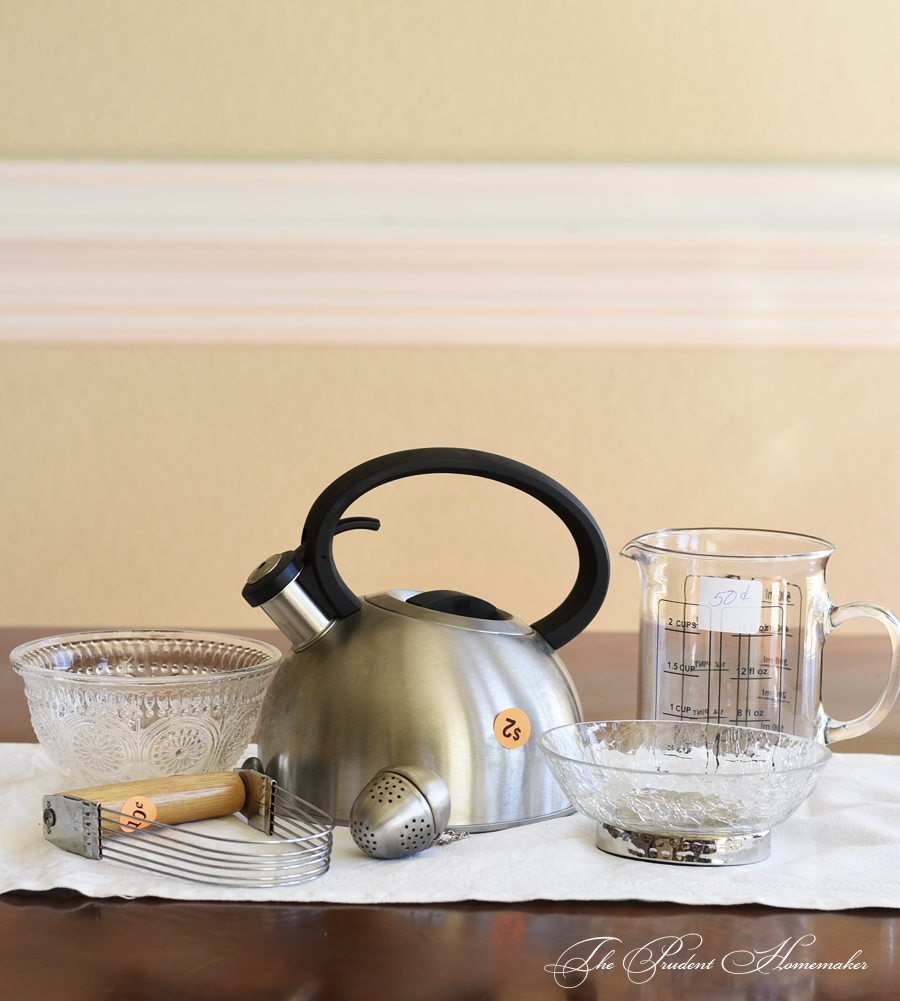 I found several things for my eldest to put aside for her future college apartment, including a brand-new stainless steel teapot that was just the right size for one person (and included a brand-new tea ball!) for $2, a pastry blender for $0.10, a small fancy bowl (just for fun) for $0.50, a soap dish for $0.50, and a 2-cup glass measuring cup for $0.50.
I found several pairs of jeans for $0.50 and $1 for my two eldest girls and myself.
I found a couple of items for my youngest that I will give him for Christmas: a board book and a brand-new hat with the tags still on.
My mom and I went to the sales together, and she found a couple of items to give as Christmas gifts to two of my children. Last year she made a goal to purchase all of her Christmas gifts at yard sales. She said that as the year draws to a close, she always has to watch to make sure she doesn't take too much out of her IRA and receive a penalty. Buying gifts at yard sales not only saves her money but helps her to stay under her maximum withdrawal amount.
I found a brand-new watch for myself for $5. I was going to get a new band for my existing watch, but this was less money.
I sowed seeds in my garden for Swiss chard, artichokes, nasturtiums, and arugula.
I cut garlic chives from the garden to top our baked potatoes.
I paid off our hospital bill and emergency room bills from earlier this year over the phone, saving myself the cost of 2 stamps.
My eldest accepted a regular twice a month babysitting job.
My eldest and I attended a free presentation from a local university 's (UNLV) financial aid counselor on the FAFSA, which was very helpful.
We were able to turn off the air conditioner for several days and most of the day for the other days last week.
I downloaded the Target app to my phone so that I could use two coupons that were only in the ad or available on the app. With these, I was able to get a $20 gift card and a $5 gift card for buying things that I had planned to buy anyway (diapers and hairspray).
I was taking photos of a house for sale and remarked about the owner's pomegranate tree looking ripe. She offered me a bag and said I could fill it full of pomegranates! Then after I filled it, she handed me another bag and told me I could fill it too! As most of the flowers on my pomegranate trees were blown off in our high winds, I was delighted!
A fun note about the bust above: I bought it from a French couple who has lived in town for 27 years. My mom bought a bicycle from them. While my mom was working out how to fit the bicycle in her car, I had a lovely conversation with them in French. I came home elated because I noted that I was able to speak without hesitation and that I had no problems at all with comprehension! I can see where my French study has really paid off and it gave me a confirmation that I need to now concentrate on the little grammatical errors that are easy to miss and so important in being fluent versus speaking well. I'll also continue to work on learning more French expressions to use in my conversations with French friends.
What did you do to save money last week?