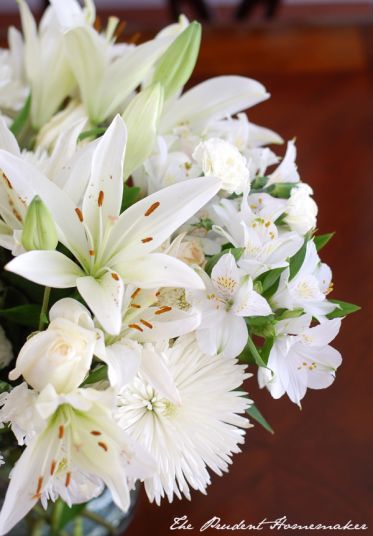 My brother sent us a beautiful sympathy bouquet that also included a vase that I love.
We were given some sliced watermelon and 2 loaves of bread.
My mom gave me a pot of white spider mums. I am going to plant it in the front garden.
We returned the extra dirt that I purchased for the garden for a refund.
I returned the plants that died to the nursery (via their store policy to replace plants that die within one year) and was given store credit for them.
I used a $20 off coupon at the nursery to purchase more plants for the garden (I also used my credit for some of that as well).
I used a $10 off coupon for Lowe's that came in the mail to purchase the urn that I wanted for the focal point in the front yard. It wasn't the color that I wanted, so I used paint that I had purchased to repaint our bench to paint the urn. There is still plenty of paint left to paint the bench.
I went to a social and at the end of the night, I was invited to take home some of the leftovers, including a whole watermelon! I also was given some lettuce to take home. Mine bolted two months ago with the heat; this was from a woman who is growing it here in her greenhouse, which they are keeping cool and humid with a swamp cooler and a fan. (Their entire house is off grid, running on solar and three windmills. I never thought of having a greenhouse to keep a garden cooler, which is fascinating.)
I gave the elastic cords from the hang tags of my new Meyer lemon trees to my girls to make bead bracelets. They were just the right length.
I watched one show for free on Hulu.
I gave the baby a bath in the kitchen sink instead of in my bathtub. It used a lot less water. I am going to bathe her there from now on, until she is too big.
I continued to catch water in the shower while waiting for it to warm.
We picked tomatoes and apples from the garden, and a handful of strawberries. I also cut basil from the garden, and I picked our first Armenian cucumber (this year) from the garden. I made a cucumber tomato salad one day.
I picked apricots from a friend's garden again.
I picked Green gage plums from our garden.
I finally went shopping for some food last week; I spent $6.10 and I bought 20 pounds of food: 10 pounds of carrots and 10 pounds of potatoes.
I mended a dress.
What did you do to save money last week?