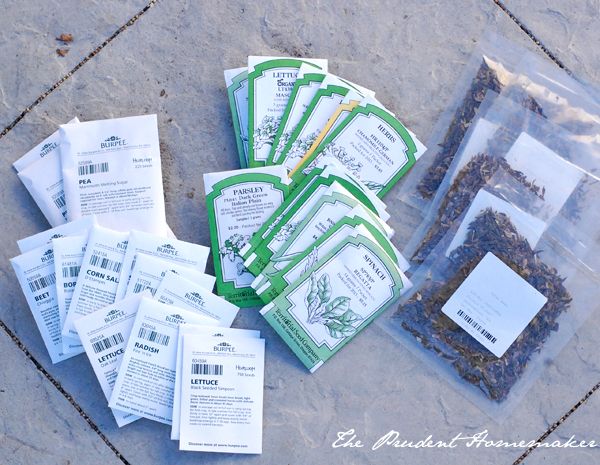 I ordered quite a lot of seeds this year. I usually have lots of seeds leftover from previous years that are still viable, but this year I ordered several new ones. I do still have some seeds left that I am also using, including some flower seeds that I ordered last fall, but most everything is right here.
I decided to order through only two companies for my vegetable seeds this year. I usually rotate through three different companies, but I only order from two each year to keep the shipping costs down.
I primarily ordered heirloom/open-pollinated seeds this year. I hope to get better at collecting seeds (especially those tiny lettuce seeds!) so that I can really cut down on ordering seeds. I have also found that open-pollinated/heirloom varieties grow the best for me.
I chose several things because of their heat tolerance. Come April, my lettuce is bolting. I'll harvest bolting, bitter lettuce into May, but then I won't plant it again until October. I plant lettuce in January and February. Looseleaf varities of lettuce are best here (rather than head lettuces) because of the heat. I just harvest the outer leaves and the lettuce continues to grow.
For a complete look at what I plant when, check out my garden calendar.
Swiss chard grows all-year-long here. It slows in winter considerably. It will grow for about 10 months before it bolts, sometimes around April/May. I harvest the outer leaves from it until then. It even grows in the hot summer months here, which is wonderful. (It's the only leafy green I can grow in the summer). I am planting lots more this year in several places in the garden so that I can harvest it much more often (hopefully at least once a week in large quantities).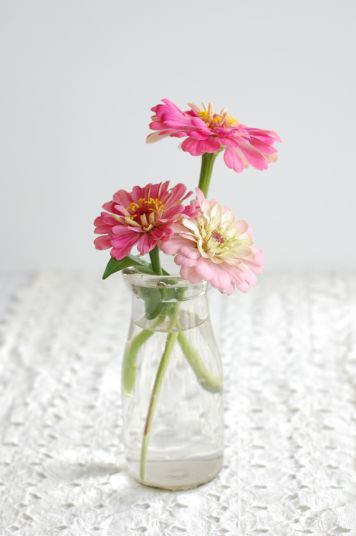 I grew zinnias last year. They did so well. I ordered them in 4 colors this year: white, pink, red, and yellow. Last year I just grew pink ones. They were blooming in late summer through our first frost in December. I plan to plant earlier this year so that I can hopefully have blooms for a longer period of time. I ordered these from a different place. They are from Wildseed Farms. Do you see those huge packets of seeds on the right in the photo of seed packets? Those are the zinnia seeds. I get all of those for the same price as a packet of around 20-50 from anyone else, and I can pick just the colors I want (rather than a mixed batch). I have been really happy with seeds from this company and I love the giant quantity that comes when you order. Not only that, but they are wildflower seeds, so they often reflower if you plant in a place that is undisturbed. I am still growing and collecting rocket larkspur seeds from the seeds I ordered there many years ago. You can see those around my armillary here.
Last fall I ordered more johnny jump-up seeds (mine reseeded themselves for several years, but they did not last year for some reason) and more red corn poppy and mixed corn poppy seeds.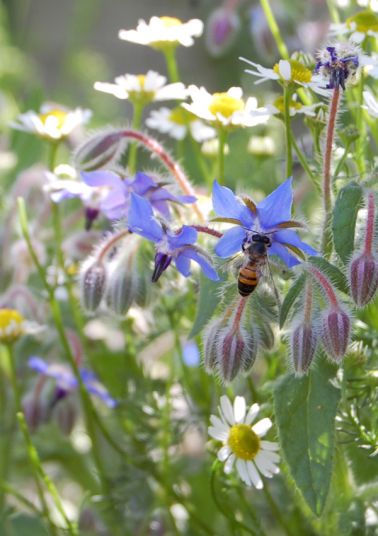 I will also be replanting chamomile and borage this year. Both of these usually reseed themselves for me each year, but I am disturbing their growing area this year with some digging, so I have ordered seeds for these again. I grow borage to attract bees, and the blue flowers are very nice to use on desserts, in salads, and to float in water or in a homemade punch for a party.
I am changing the sunflowers I am growing this year. I am growing one type so that I can harvest seeds, and another so that I can have multi-flowering sunflowers that can be cut and brought indoors. I have a goal to have lots more flowers to bring in this year for our table, and hopefully to put throughout the house as well.
I love the ever-changing garden plans. It's always ironic to me how I planned the garden one way, even before I saw this house (we looked up the property online and I drew up plans days before we even looked at the house!), and how it continuously evolves–as a living thing should.
One of the questions that I am asked at every single garden tour is what varieties I am grow. Here are the seeds I ordered this year:
Territorial Seed:
Lettuce:
Continuity (Open-Pollinated)
New Red Fire (Open-Pollinated)
Optima (Open-Pollinated)
Valmaine (Open-Pollinated)
Mascara (Open-Pollinated)
Spinach:
Galilee (Open-Pollinated)
Regatta
Herbs:
German Chamomile
Italian Flat-leaf Parsley (Open-Pollinated)
Sunflowers:
Sunseed
Waooh
Other seeds:
Imperial Star Artichoke (Open-Pollinated)
Red Noodle Bean (Open-Pollinated)
I also ordered 2 passion fruit vines. I hope these grow well and are productive here. These won't ship until April.
Burpee:
Lettuce:
Black-Seeded Simpson (Heirloom)
Oak Leaf (Heirloom)
Four Seasons
Salad Greens:
Selvatica Arugula
D'Etampes Corn Salad (aka mache) (Heirloom)
Summer Squash:
Fordhook Zucchini
Winter Squash:
Burpee's Butterbush
Root Vegetables:
Chioggia Beet (Heirloom)
Tokyo Cross Turnip
Fire N Ice French Breakfast Radishes
Other seeds:
Fordhook Giant Swiss Chard
Mammoth Melting Sugar Pea (Heirloom)
Blue Boy Cornflower
I ordered a Portobello Mushroom Kit, which has arrived and is hopefully starting to grow.
I also ordered Italian Loiacono Garlic (Heirloom) , which won't ship until April.
What I already have on hand:
Armenian cucumbers
Johnny-jump-ups (originally called Johnny jump and Kiss Me)
Red corn poppy
Mixed corn poppies
More shirley poppies
Cilantro
A few different lettuce seeds
Experiments I'm planning from pantry ingredients:
Celery
Yellow Mustard
Dill
Bread Poppies
I purchase tomato plants from the nursery in February. Our last frost date is February 15th. I also purchase potted herbs if need be then, though most of my herbs overwinter just fine. This year I am planning to buy Genovese basil from the nursery. Though I have had success growing lots of it from seed in the past, for the last two years I have not, so I have planned to buy plants this year, rather than buying seeds that don't germinate, and then needing to buy plants later.
The tomato plants I grow are Early Girl and Yellow Pear. I also like Lemon Boy, but I'm not always able to find this one at the nursery.
I usually get the 6-pack tomato plants for a lot less, but I know people who buy the larger plants and because of it, they have tomatoes setting fruit much earlier and more prolifically. The cost is a big difference, but I am considering buying part of my plants in the larger forms this year to see if it makes enough of a difference. For the 6-packs this year, I am going to try warming them with large glass jars over the tops this year (something I don't usually do for my tomatoes) to see if I can get the small ones to grow faster during the cooler weather.
If you'd like to know the rest of what I grow in my garden (which is quite a bit), check the sidebar on any of my garden pages.
I planted several things in the garden this week (my cool season vegetables) and I have a few more to plant today and tomorrow. A few of the seeds that I planted on Monday are already coming up! I'm looking forward to eating lots of salads soon!
You can use the code "BXTEN" for $10 off a $50 order from Burpee from now until May 31.
This post contains an affiliate link for Burpee.