I cut flowers from the garden for arrangements in the house.
I mended a hole in a shirt.
I studied French online using free sources.
We had a free video call with our former exchange student from France to wish him a Happy Birthday.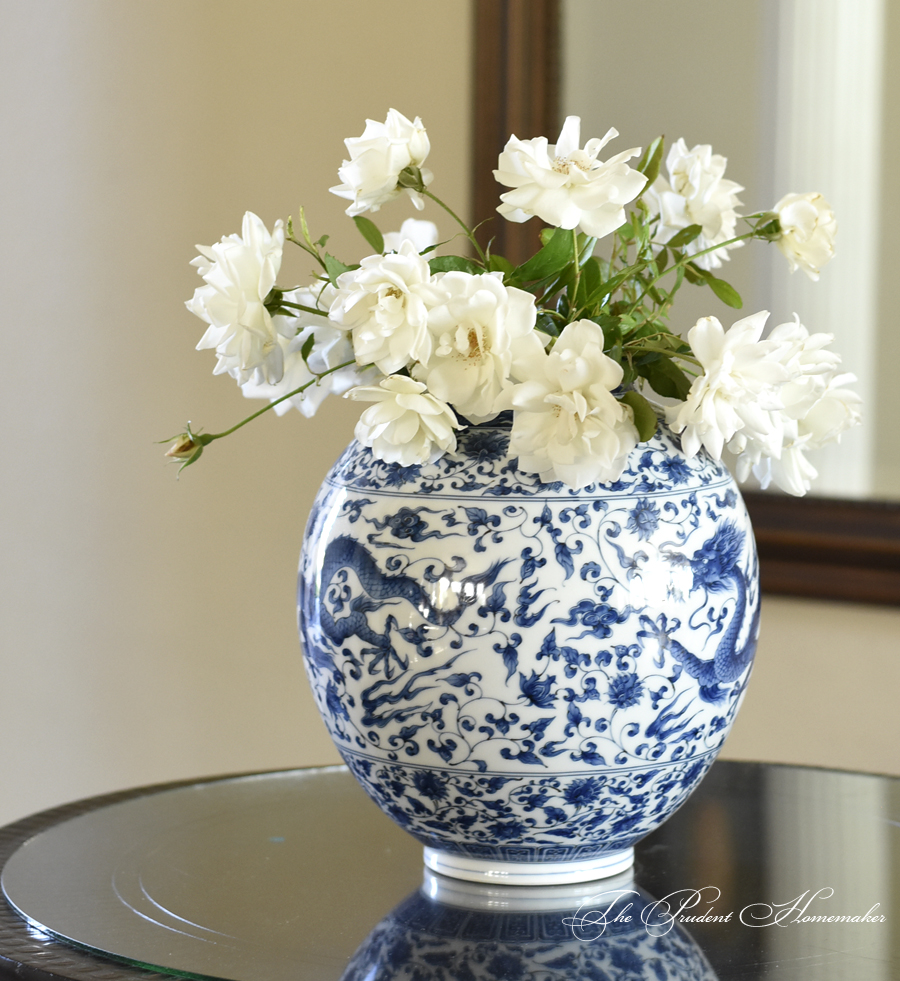 I have had blue and white vases on my garage sale list. I didn't find any the last couple of Saturdays, but I was on a local Facebook garage sale page and I noticed someone had posted photos of her garage sale from last Saturday. I saw a blue and white vase in her photo and asked if she had sold it, and if not, how much. She said she was selling it with two blue vases for $20. I only wanted the blue and white one, so I sent her a message telling her so. Then, instead of asking how much for just that one vase, I tried the question my mom and I often have success with at actual garage sales. I asked, "Would you take $5?" Most of the sales we go to don't have prices, and when we ask that question, we often get a yes, and end up paying what we consider a reasonable amount for the item. She said yes, and I picked up a great vase!
I planted seeds in the garden for arugula and alpine strawberries.
I harvested Swiss chard from the garden.
My husband and I attended the free Henderson Symphony concert together as a date (thanks to a reader in Henderson who told me about this!).
I redeemed 2200 Swagbucks for a $25 gift card to a restaurant, which I will use for a lunch date for my husband and me.
I used 7 of my remaining free 100 prints at Sam's Club to print photos for the refugee family to whom I am teaching English. I gave them the two brand-new frames I had picked up at garage sales the previous week for $1 each, filled with free pictures. They were delighted with them! (I shared a picture of the frames with the photos in them over on Instagram).
My mom found a few more neighborhoods having community garage sales this past Saturday using the yardsales.net website (October and April are the most abundant garage sale months here, as the weather is perfect, so most homeowner's associations allow their residents to hold sales on two weekends a year in October and April). I found a few more items to give to my family for Christmas gifts, including Legos ($20, and I will divide them between 4 daughters), 3 origami books and origami paper ($2), and blank Harry Potter journals ($2 for 2); a game ($2) that my children have been wanting, a pad of watercolor paper ($0.25), and a few books for $0.25 each. I found a king-sized bedskirt ($1) that looks like it could be a little girl's skirt (it's white eyelet and is rather long). I'm going to cut it up and make some skirts and/or slips with it for my younger girls. I found a warm pink scarf at the same sale that I liked but noticed a hole in it. The seller said I could have it for free. I'll mend the hole.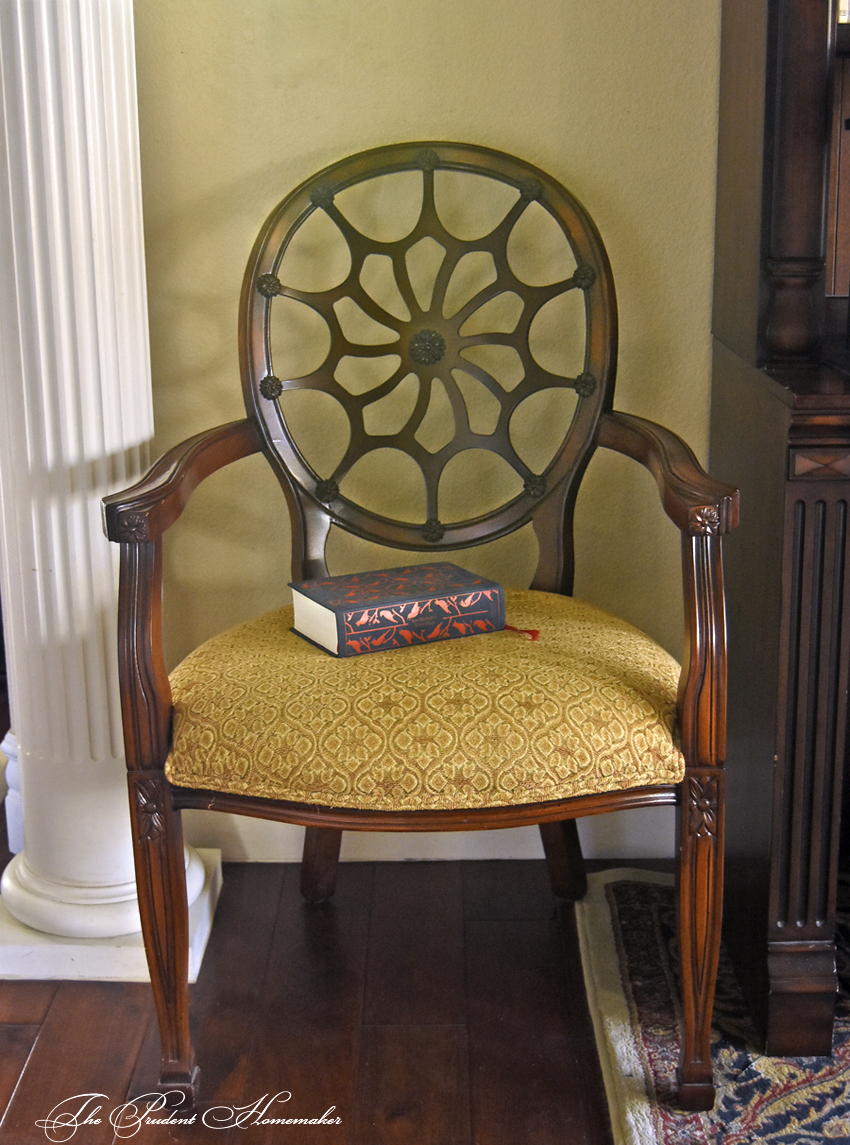 The best find of the day was a chair. I have been wanting a chair for the above spot in the house, and there was a chair that would fit in this narrow spot for $30. I said, "Would you take $20?" expecting her to come up to $25 or possibly insist on the $30, but to my surprise, she said yes!
I still hadn't found any clothes for myself in my new size in three Saturdays of shopping garage sales, so I headed to the thrift store. I was able to find one long-sleeved t-shirt ($3) that fits that will work for the in-between cooler days of fall. I still need to find some more things for the current temperature, so I'll need to do more shopping at the thrift stores than I had anticipated. I plan to return to the same store later as well as try another thrift store nearby. I don't want to spend much, and the thrift store charges $3 to $5 for shirts (versus $1 to $2 each at garage sales) so I will try to find just 4 to 5 shirts for our shorter period of nice weather where it's too hot for a light sweater but a little chilly for short-sleeves.
What did you do to save money last week?