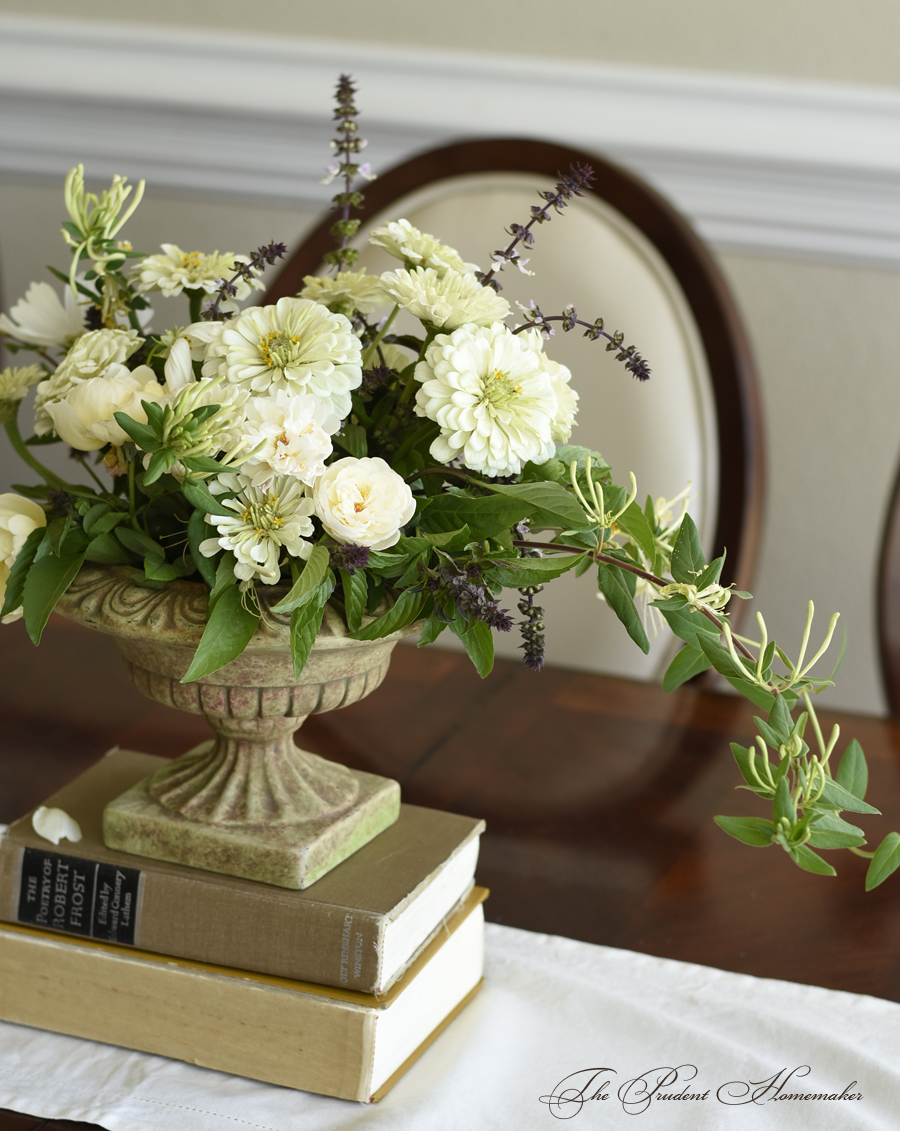 This post contains affiliate links.
I cut and dried lots of basil from the garden.
I printed free school worksheets from Education.com (they have a limit of 10 free worksheets each month).
I planted seeds in the garden for artichokes, Swiss chard, and parsley.
I covered my artichoke seedlings from a previous week that had come up with small canning jars, to keep the bugs from eating them and to create a mini-greenhouse, allowing them to grow faster larger.
I made a triple batch of laundry soap.
I experimented making a few loaves of pear bread, using quarts of home-canned pears that have been on the shelves for a few years. I ground whole wheat into flour in our grinder and used that in the recipes. The first two loaves were fine, but lacked excitement (we ate them anyway). I'll keep trying some variations until we find something we really enjoy, as we have a number of older jars of home-canned pears that need to be used up.
My brother-in-law was offered a number of free tickets to a show downtown on Tuesday. My husband and I were able to attend. We were even told to park in a certain lot downtown. We saw a parking garage on the way, but our vehicle was too tall to park there. We found the lot that we had been told to park in; it was a small lot and the entrance wasn't even clear. To our surprise, the lot stated that it was free to Nevada residents for 24 hours, provided the driver had a valid id! We did have to walk a distance, but the weather was pleasant and gave us a chance to talk. (For those who live in Las Vegas, this lot is east of Planet Hollywood, and you enter it from Harmon Ave. There is no noticeable entrance; just a fence with a small entrance and a drive behind it. As you drive to the lot, you will see Bally's employee parking lot is connected to this lot.) We ended our evening by going out to eat using a gift card that we had.
(I know some of you are wondering about the shooting in Las Vegas. We don't live close to downtown and are very rarely there, though as I mentioned we were earlier this past week. You can read about the shooting here–warning about the photos.)
My husband used barge cement to repair two pairs of children's shoes.
I gave our youngest a haircut. He thinks the trimmers tickle, which makes it a bit tricky, but he was very good about having his hair cut!
My son brought home leftover cookies from a Scout Court of Honor that no one else wanted to take home.
My mom went to a garage sale and blessed us with several items she found: 3 pint jars, brand-new girls' hair elastics (I was just about to go buy some at the dollar store, where they sell them 100 for $1, but this saved me a dollar!), sidewalk chalk, and sewing machine oil.
What did you do to save money last week?