Note: This post contains affiliate and referral links.
The garden's abundance this week was wonderful. I picked peaches and figs from the trees. I cut grapes and cucumbers from the vines, picked tomatoes, cut green onions, parsley, and basil.
I also dug my garlic (later than I should have!). Being spring planted, the garlic is small; I will keep it to plant again in fall for a harvest next spring.
I shared grapes with a couple of neighbors.
A friend, from whom I won a basket of tomatoes at the service auction, had such an abundance in her greenhouse that she gave me 3 1/2 baskets of tomatoes, plus a small head of cabbage and a few small cucumbers. I canned 11 quarts of tomatoes and we ate the rest fresh.
I made sauerkraut (with the cabbage I was given) for the first time. It was incredibly easy. I am going to let it ferment a little longer still; the Ball canning book says to let it sit 3-6 weeks before canning. I may can it or I may end up just refrigerating it. I have been wanting to try making sauerkraut for a long time. This was so easy that I will definitely make some for canning in the future.
I made 17 pints of dill pickles with the Armenian cucumbers from the garden.
I canned 12 quarts of peaches and 9 quarts of grape juice.
I planted some more seeds in the garden in blank spots.
My husband and I celebrated our anniversary with a nice meal at home. We used a gift card that we were given years ago to go to lunch later in the week.
Williams-Sonoma was across the street, and I needed to replace my silicone spatulas (I really like their spatulas and the ones I had for a decade finally wore out). I had received an email in the mail for 15% off my entire purchase from them (since I hadn't bought anything from them in so long!), which was perfect timing, since I had planned to stop by while we were across the street. When we got there, I found out that the spatulas I wanted were 20% off. I was able to use the coupon on top of the sale to get 3 spatulas for $16.51 with tax. I use these every day and I was thrilled to get such a great deal on them.
I used some Zulily referral credit that I had to order a couple of Christmas gifts for two children for nothing out of pocket.
I needed a couple of items from Michael's to make some things for Cyrus' birthday. I went on their site before going to see if they had a 40% off coupon that I could print. They had a 50% off coupon that was for that day only! When I clicked on it, I saw that they had some other coupons as well for a few of the items that I needed. I purchased some bulk paintbrushes with a 40% off coupon on brushes. These will be used for art assignments for the children. I purchased some stretch beading elastic with a 40% off jewelry making supplies coupon, which I'll use to make Christmas gifts for the girls.They also had a 20% off Wilton baking items, which helped with the cake decorating items I was buying.
I combined that trip with one to Kohl's, where I used a $10 off $10 coupon to get some underclothing for a daughter for $2.16 out of pocket.
I did not purchase any food or toiletries last week.
The electric company sends me weekly emails telling me how much my bill is so far and how much (based on my usage so far for the month) they think my bill will be for the week. Last week brought several "cooler" days (only 101º!) with cooler mornings. I keep the house at 79-80ºF. It was 77º outside (and 79º inside) several mornings when I got up, so I turned off the air conditioners for a few hours and opened up the house. It made a difference; the electric company was predicting a bill of $454 this month according to the first week's usage; this week it lowered that estimate to $428. (For those of you who are wondering, our electric company has been raising rates every quarter for over a decade.When we first moved here, our first summer bill was $520. I made several changes: I turned off the desktop computer at night, turned the air conditioner up to 79º from 77º, turned the ceiling fans (of which we have 10)off when we weren't in the room, and turned off the kitchen lights, save the ones over the table, during dinner, which reduced our bill to around $323. I've kept it that low through last summer–7 years–despite the increases, by continuing to find small ways to cut our usage. In summer we only turn on the lights for an hour or less. This year the rates have started to catch up with me, but I am grateful to have made the changes, so that our bill is not several hundred dollars more.)
Our cooler weather was also much more humid than the rest of the year (but normal for mid-July here). I was able to collect 4 gallons of water a day from the air conditioner. That, combined with water from the shower and from cooking/rinsing fruits and vegetables, was enough to water the potted trees and plants without needing additional water.
Sunday the weather returned to normal; it was 115º yesterday on my mom's back porch (she lives next door; her back yard touches our side yard). This morning it was 88º by my front door when I got up at 5 a.m. I'm grateful for the break in the weather that we had last week!
Our compost is breaking down and while it is not ready yet, I can see that this time we will be successful. My husband purchased another trash can for me to use to start some more compost. I started with some shredded advertisements, peach skins from canning, and some grass clippings. I am excited to be able to add compost into the garden.
I watched a couple of episodes of Foyle's War for free on Hulu.
Ivory watched several episodes of Little Einsteins on Disney Junior. (I had no idea when I worked for Disney Online that one day my children would use it!)
I printed coloring pictures and activity pages from last week's Dover Sampler for the children to color.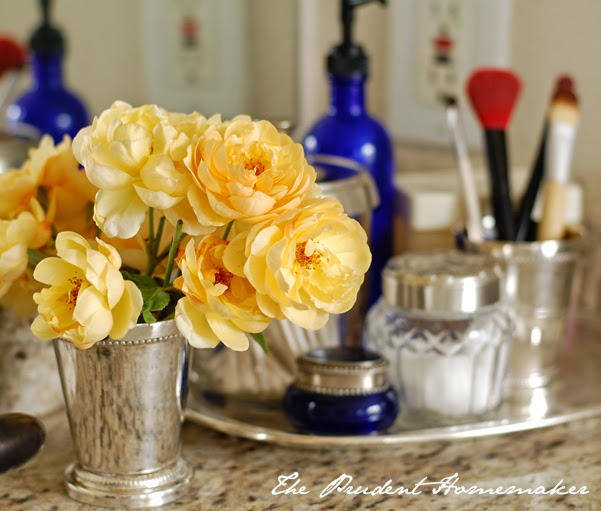 Sources: Graham Thomas roses from David Austin. Small mint julep cups from One Kings Lane. Glass jar with lid containing cotton swabs from Target. Cut glass jar with lid containing cotton balls, 50 cents at a garage sale. Blue bottle from my mom; I refill it with my lotion. Silver tray from a garage sale, $5. Blue lidded box was a Christmas gift years ago.
I cut roses from the garden to put in my bathroom.
Sources: Casa Blanca Lilies from Van Engelen, clock from Pottery Barn. Glass jar was a gift from a friend. The Jesse Willcox Smith image is a card I purchased years ago, in a 50 cent garage sale frame. Lamp was purchased 15 years ago.
I cut lilies from the garden to put on my beside table.
I got a clock working that we had had trouble with. I bought this clock years and years ago and the alarm was constantly going off (user error, I'm sure!). Sometime after that, the knob to set the alarm and the time got lost (since I had to take the clock back off in order to get it to stop going off), and it had been sitting unused in my bedside drawer for at least 9 years. I used a pair of tweezers to set the time, and was able to turn the alarm portion off. I can now enjoy it at last!
What did you do to save money last week?