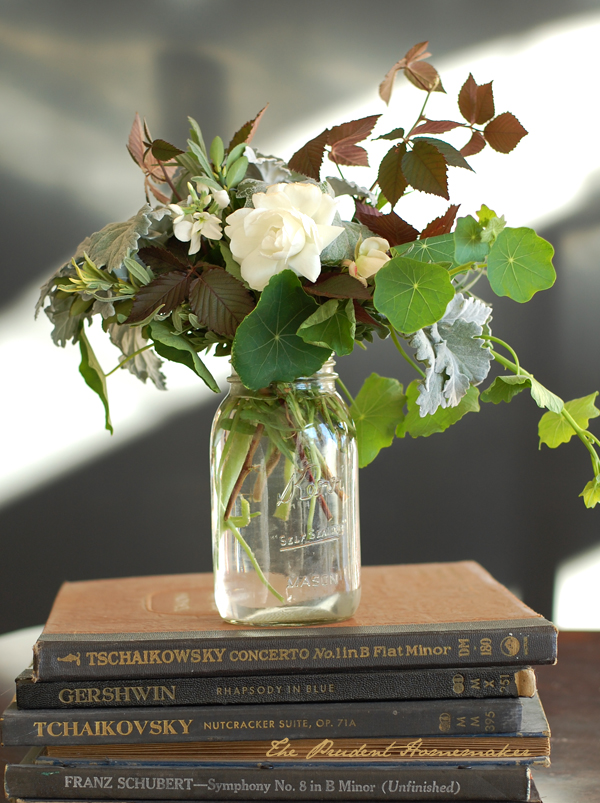 For a gift for a neighbor's party, I wanted to bring over some flowers. Unfortunately, there aren't a lot of flowers in my garden right now. I made an arrangement with cuttings from several different plants, and three flowers: one rose, one rosebud, and a bit of stock.
I made it to Sam's Club, Walmart, Winco and Target this week. Not feeling well enough to go earlier this month turned out to be a blessing. Winco still had oats on sale (though only 2 bags, so I only bought 2). Target had several items on my list on sale, including $1.50 off a bottle on my hairspray (not in the ad, so this was a delightful surprise!), and vitamins were buy one get one 50% off (plus I had a .75 coupon)I used several coupons there, including Target coupons and Target cartwheel (I print it out, since I don't have a cell phone) to save a lot on top of the sales, and I received a $5 gift card to use next time.
I skipped buying broccoli at Winco. My price point was .99 a pound or less (I had purchased some in December for that price and was hoping for a lower price in January). Unfortunately, it was $2.28 a pound! I did not buy any. Nine of my twelve broccoli plants are large enough that they have started to form heads, so we'll just enjoy broccoli from the garden instead.
I harvested Swiss chard, sage, beet greens, thyme, parsley, dill, green onions, and celery from the garden.
I planted more seeds in the garden. I used water collected from the shower to keep the soil moist where I have planted seeds, as a couple of windy days threatened to dry them out before anything could come up.
I put glass canning jars down over the seedlings that came up, to help them grow faster.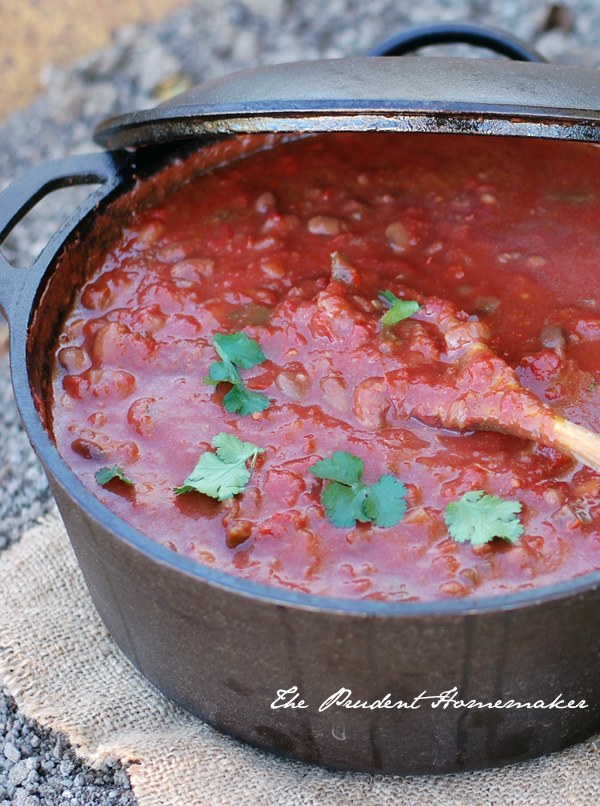 I used my solar oven to cook a pot of white beans and another of black beans. I tried cooking them without any presoaking, and they were done in 4 hours! Since beans take a long time to cook on the stove, this will save on my natural gas bill (in the summer, it will help even more, because I won't be heating up the house as much). While my initial goal for this year was to use the solar oven at least once a week, I had planned to work up to using it more often. From the very beginning, I found myself using it every day! I also used it to cook lentils and chili. The chili recipe is a new recipe now up on the site! You can find it here. (You can get the dutch oven
here).
Some of the things I made last week were several vegetable soups (with beans, Swiss chard, potatoes, carrots, celery, onions, etc.), vegetarian chili, cornbread, white bean dip (I served this with homemade pita bread and carrots), ham and pineapple pizza, roast chicken with Swiss chard, oatmeal raisin cookies, and omlettes.
My husband stopped by the thrift store. He found a couple of reusable water bottles (one for .50 and one for .75) that we can put into our 72-hour kits. We still have more water bottles to get but, I am glad that he found these and, they were the kind he wanted (that sell for $15 each new).
He also found a vintage metal embroidery hoop for me for .50. I absolutely love these and I collect them whenever I find them. He surprised me with this when he came home.
My husband used the discount I had from the grocery store to buy gas for $1.89 a gallon.
I used Swagbucks to get two $5 Amazon gift cards.
I participated in a service auction. The thing that I won when bidding was a dinner and dessert for our family! I just have to call the person a couple of days ahead of time for when I want to redeem it.
We watched free shows on Hulu.com, Pbs.org, and DisneyJunior.com. For our family movie, we watched something different this week. I found season 3 of Charlie and Lola on You Tube (someone put all of the episodes together). We watched several episodes.
We printed free coloring pages from Disney Junior. I also printed my 10 free pages for the month from Education.com. These can be printed to your computer as a pdf, so that you can print them again later. I have been making a collection of their United States geography pages this way.
We used a vintage drawing book that is archived online for drawing instruction last week.
What did you do to save money last week?
Note: This post contains affiliate and referral links. You can read my disclosure policy here.