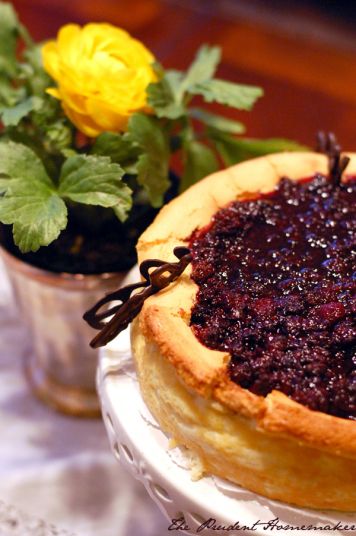 We celebrated Elsa's birthday this week.
For decorations, my son made a doily banner using doilies that my sister-in-law had given to me and some crochet thread (for the string) that had come from my grandmother. I left the ranunculus on the table that I had purchased at the nursery last week. They were a pretty part of our table.
For her cake, I made a cheesecake, using cream cheese that I had bought months ago on sale (cream cheese will store for many months unopened in your fridge. Freezing it will ruin the consistency, but it can easily store for almost a year in the refrigerator). I topped it with a blackberry sauce that I made with blackberries that I had frozen from my garden last year and I piped some chocolate butterflies with melting chocolate (bought on clearance at Sam's Club after Christmas) for the edges.
She also had carrot cake muffins for breakfast, per her request.
I made a necklace for Elsa for her birthday using materials I had on hand. The other gifts I gave her were two puzzles from the dollar store, which she has done multiple times every day. She told me today that they are "super". She also received money from her grandparents and her great-grandmother, her siblings (they made her some gifts), and gifts from another set of grandparents who had dessert with us on her birthday.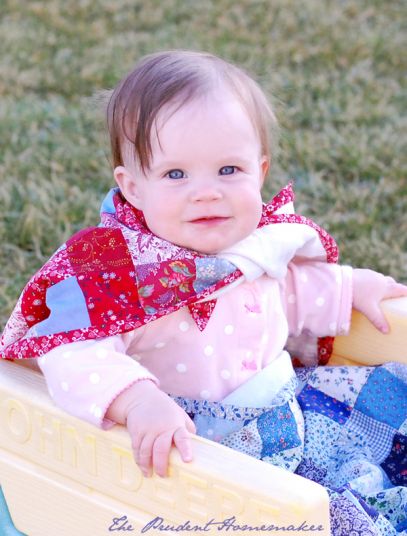 "Queen" Ivory with a doll blanket for a cape and a doll blanket for her lap. Ezrom pulled her around in this tiny wagon. The costume was his idea and doing. I love that she is tiny enough for a doll blanket to be a cape!
The children played simple and fun games outside this week (including Red Rover). They reread several books that we own. It was nice enough outside for them to read outside. They played on our swings, merry-go-round, and trampoline. They rode their bikes, pulled Ivory in the wagon and pushed her on the swing (one of our swings is a baby bucket swing). I pushed Ivory and Elsa on the swings.
Ezrom folded some oragami this week, including from some instructions from this week's Dover Sampler. He just uses computer paper and cuts off one end to have square paper.
I planted more seeds in the garden, including flower seeds.
I had a couple of at-home date nights with my husband. One night we played a card game. Another night we enjoyed a late dinner after the children were in bed.
I had an at-home date with Cyrus. We played several hands of Uno.
I sewed the button back on a dress.
My husband fixed a leak that we found under one of our bathroom sinks.
I watched a few shows on Hulu this week for free.
I made French bread, refried beans, stir fry, waffles, whole wheat crackers, carrot cake muffins, cheesecake, bean burritos, fajitas, and pizza this week.
I updated my garage sale list with our needs and wants so that it will be ready for the community garage sale that I will be shopping next month. There is a community garage sale near here twice a year. I often am able to find items for birthdays and Christmas gifts for my children, as well as clothing, books, and other things at this garage sale. I usually don't find a lot of clothing there for my children, as most of the garage sale tracts belong to seniors, but sometimes I am pleasantly surprised.
My 5 oldest children and my husband attended a free play.
We enjoyed some cake that was brought to us by a friend. She made a beautiful cake for her granddaughter's birthday and had lots left over.
The weather was beautiful. I opened the windows and aired out the house.
What did you do to save money this week?