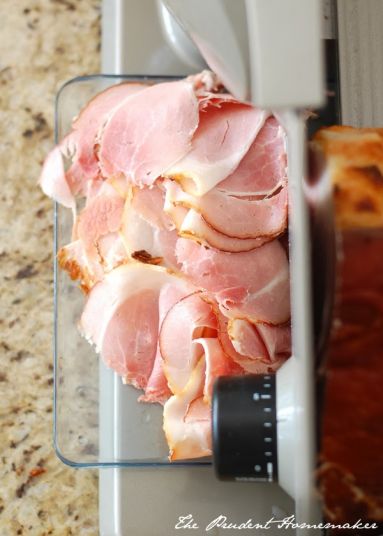 I made Tuscan Tomato Bread soup, yogurt, roasted rosemary potatoes, balsamic orange vinaigrette, I cooked a turkey and a ham this week. I used our meat slicer
to slice the ham for sandwiches.
I cut rosemary from the garden.
I picked pomegranates from a reader's tree.
I bought 90 pounds of pasta for .49 a pound. This price only comes round once or twice a year, so I estimated what I hope is enough for a year in the shapes that they had (we eat four other shapes that they didn't have). I bought fettuccini, angel hair pasta, large shells, small shells, penne, and a few macaroni noodles.
A friend of my mom's gave us two 20 pound turkeys that she picked up for .59 a pound.
Winter wanted to know if I had a certain type of necklace that she could borrow for church. I had one that was just what she wanted in my broken jewelry box. I don't buy much jewelry (I've bought a handful of things in the last decade), but I have a small collection of broken jewelry that was given to me as a child. The necklace needed a clasp, so she put one on it. I made her a pair of earrings to match using some beads that she had.
I watched two shows on Hulu for free.
I made Christmas gifts using items I had on hand.
I used free samples of beauty products.
What did you do to save money last week?