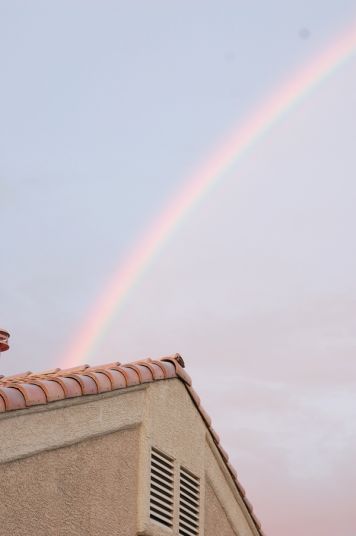 Our unusual humidity continued, so I collected water from the drip off of the air conditioner for several days this week and used it to water the potted fruit trees on the back patio.
We had rain! This is turning out to be the oddest weather year. Normally I can count one day in January and one day in July when it will rain for about an hour or two, and then 3-4 days when we will get literally less than 30 seconds of rain, and that's it for the year. I am very grateful that we are getting rain, and clouds. I'm grateful it's 105º and not 115º like it has been for us so many Septembers before. (I am very curious if our first frost will be mid-November this year, or if it will still wait until mid-December, as it usually does. I am watching the weather carefully as I wait until it is cool enough to plant lettuce again for a fall crop. I am really looking forward to having salad again!)
The water company sent out a newsletter this week. They say that the last 10 years have been a drought (I live in one of the driest deserts in the world, and I've been here 13 years, so I figured this was normal for here) with hotter temperatures and less rain.
I don't know if that means that 14 years ago, things were cooler and wetter, but I have never seen rain before in September. It's certainly been a lot significantly cooler the last two summers than it's ever been since I moved here.
I turned off the water to the garden a few days. Usually I have to wait until mid-October for that.
We enjoyed two huge rainbows this week, both in the same place in the sky!
I mended several articles of clothing.
I planted more seeds in the garden for flowers, food, and herbs.
I treated for ants using items I have on hand. For those of you who asked on Facebook–the cinnamon kept the ants from coming back in the same hole. It hasn't stopped the ones outside (which is where most of the problem lies–in the garden). The borax/sugar/water mix drowned a few inside, but I didn't see any dead ones outside. I'll be trying it again outside, but I did talk to my friend about the anteater. She said anteaters eat about 22,000 ants a day. I said she should bring one over! She said they usually don't like American ants, though. But she still might bring one. She also told me hedgehogs eat ants and other bugs, and right now she has a baby hedgehog at her house. If she ends up bringing over an anteater or a hedgehog I'll take pictures!
I made some birthday gifts for Liberty with supplies that I already had on hand; some were repurposed, some were from other people's stashes that they shared, and some things I had purchased last year and months earlier.
I said yes to a reader who asked if I wanted some things from her pantry that she was getting rid of since she was moving.
My friend with chickens gave me two dozen eggs. I will use some this week for Liberty's birthday cake.
I was given a medium-sized watermelon by someone who received it from a neighbor. She said it was more than she could eat by herself. My family ate all of it with dinner one night.
I made a myriad of things this week, including cornbread muffins, French bread, Greek yogurt, granola, tomato basil soup, Swiss chard soup, and pizza. I sprouted some alfalfa seeds and ate them with homemade salad dressing.
My husband and I watched a couple episodes of shows on Hulu.
The children camped out in the backyard one night.
I cut zinnias from the front yard and the backyard to enjoy in the house.
What did you do to save money last week?